http://www.dnaindia.com/analysis/column-the-cow-jumps-over-the-moon-1810578
The cow jumps over the moon
Wednesday, 13 March 2013 – 10:25am IST | Place: Mumbai | Agency: dna
India enjoys a major advantage over other countries – it has the largest cattle population in the world. This was partly due to Verghese Kurien's success with dairy farming. But it also had a lot to do with India's historical and mythological affinity to cows (rem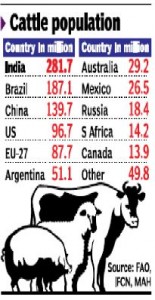 ember Lord Krishna's Vrindavan and Dwarka).
Today, Uttar Pradesh and Gujarat are the largest producers of milk in India. India has around 281 million cattle – cows, buffaloes, bulls and other animals classified as 'bovine'. True, India's cows give much less milk than their counterparts in other
countries. But, unlike milk which only comes from lactating cows, there is one thing cattle generate every day of their lives – dung.
When you have 281 million cattle, you can have a lot of 'bullshit'.
Some would laugh that off. But for energy experts, it is serious matter. According to them, 10,000 cattle can produce enough dung to set up a 1 MW power plant. This means India could fuel 28 GW of power generation capacity without having to depend on imported fuel or even polluting coal.
This is equivalent to seven ultra mega power plants (UMPPs) that the government has been promoting. The management of Parag Industries (producers of Gowardhan and Go brands of milk and milk products) believes that by using better catalysts and processes to aid fermentation, just 3,000 cows can generate enough methane for powering 1 MW of power generation. That could power 91 GW of power.
Or you could use this gas for cooking instead of expensive LPG, or for transportation instead of CNG. Of course, this requires collecting all the dung generated by cattle.
Unfortunately, small cattle owners with 2-10 cattle cannot set up their own gobar (dung) gas plants; only large dairy farms can.
But, then, the central government should be doing what Gujarat has done: It has promoted the setting up of Gobar banks on a public-private-partnership basis. The person who gives his share of cattle dung to the 'bank' gets money, or credits for fertiliser.
This is because, once the methane has been extracted from the gobar, the residual slurry can be dried, pelletised and sold as good manure to be used anywhere, anytime. Thus, besides methane, there is money in fertiliser that can be used to promote organic farming.
Suddenly, you realise that the country has enough fuel to meet its power needs without resorting to import of expensive fuel, or polluting the air with the smoke and ash given out by coal.
This is a natural national strategic advantage waiting to be exploited. Evidently, the government has not woken up to this as yet. Has this been done anywhere? Yes. There are many methane and power generation success stories. Watch this space.
Comments can be posted to RNB@asiaconverge.com