http://www.dnaindia.com/india/report-whither-secularism-government-releases-rs5-coins-with-vaishno-devi-emblem-1925459
Is the government promoting religion through coins?
Coins and currency notes were never meant to promote any religion. However, curiously, just when national elections are round the corner, the government has released into the market five-rupee (Rs5) coins which bear the emblem of Vaishno Devi, a deity revered by many Hindus.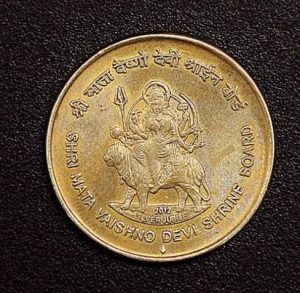 Not surprisingly, many people have already begun collecting such coins in India.
So is this a commemorative coin? After all, the shrine celebrated its silver jubilee last year.
But commemorative coins are purchased. They are not issued as legal tender.
However, the RBI appears to have pushed aside this traditional concept of commemorative coins. According to RBI sources, it has issued six other commemorative coins this year. These include coins for 150 years of Kuka Movement, 150th birth anniversary of Swami Vivekananda, 150th birth anniversary of Motilal Nehru and 150th birth anniversary of Madan Mohan Malaviya.
The RBI only came up with a statement on April 26, 2013, that coins the picture of 'Mata Vaishno Devi' in the centre were minted by the government and were put into circulation by the central bank. And as a banker from a nationalised bank puts it, "There should not be an issue as long as people get the value for money. Ultimately coins are used and circulated among the public. They continue to serve the purpose."
Does this mean that the RBI and the government have abandoned their constitutional obligation of being "secular" and has now even begun promoting religious symbols and organisations from this year onwards? After all, unlike Vivekananda and Malaviya who were national leaders, Vaishno Devi has religious overtones. Is the government now becoming a promoter of religious symbols?
"This is rather curious," admits an investment banker. "This has never happened before. I don't think the RBI could have done this on its own without some persuasion from the ministry of finance or even the prime minister's office."
There has been no explanation or justification to promote the introduction of such an unusual practice. In fact, the numismatics department of the government has been adopting practices that go against the very grain of sensible principles followed by monetary authorities the world over.
During the past 10 years, the government has introduced at least three types of one-rupee coins.
Some of the one-rupee coins can easily be confused with either 50 paise coins or two rupee coins. Many people have to look at coins very carefully, before they part with it, or receive it, lest they either lose money or get shortchanged.
The same problem exists with two-rupee coins as well. The market has at least three different types of two-rupee coins. The most user-friendly type of coin that was introduced was the one with a wavy edge. It allowed people to identify a two-rupee coin merely by touch.
Comments can be posted to RNB@asiaconverge.com