http://www.freepressjournal.in/mumbai/fpj-special-captains-of-industry-to-discuss-making-mumbai-cleaner-and-less-congested-today/1125476
FPJ Special: Captains of industry to discuss
Making Mumbai cleaner and less congested today
— By Staff Reporter | Aug 22, 2017 11:15 am
A copy of the policy booklet on this subject Reimagining Mumbai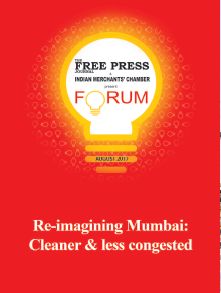 Mumbai: With time, concerns about congestion and waste management for the country's financial capital continue to grow. Despite various infrastructure projects — some that have been completed and some still in inception — here is very little relief.
There is lot more that needs to be addressed which will be discussed at the upcoming discussion 'Re-imagining Mumbai – cleaner and less congested' which will conducted at IMC Chambers, Churchgate on Tuesday, August 22, 2017 (today).
To discuss the topic which is dear to Mumbaikars, the FPJ-IMC Forum with digital partner Firstpost.com managed to bring together some of the best names in the industry and people who matter – Ajoy Mehta, Municipal Commissioner, MCGM; Ajit Ranade, Chief Economist, Aditya Birla group; Niranjan Hiranandani, founder and head of the Hiranandani Group of Companies and Shishir Joshi, CEO, Mumbai First (names placed in alphabetical order).
The panel will be moderated by R N Bhaskar, consulting editor, FPJ. The welcome address will be given by Lalit Kanodia, President of IMC. The panelists will share innovative ideas at the discussion starting at 5 pm. And that is all the more important that this discussion becomes imperative to make this bustling city a more liveable place.
An FPJ initiative:
'Re-imagining Mumbai: cleaner and less congested'
Speakers: Ajoy Mehta, Municipal Commissioner, MCGM; Ajit Ranade, Chief Economist, Aditya Birla group; Niranjan Hiranandani, founder and head of the Hiranandani Group of Companies and Shishir Joshi, CEO, Mumbai First
Venue: Walchand Hirachand hall, 4th floor, IMC, Churchgate
Time: 5 pm
Comments can be posted to RNB@asiaconverge.com