http://www.freepressjournal.in/editorspick/rn-bhaskar-neem-project-the-next-big-agro-revolution/1097354
The 'neem' revolution has arrived
— By  | Jul 06, 2017 07:26 am
Rn bhaskar
Prime Minister Narendra Modi often talks of "Save Water; Save Energy; Save Fertiliser". By May 2015, in order to prevent the diversion of fertilizers for non-farm use, neem-coating it became a national policy.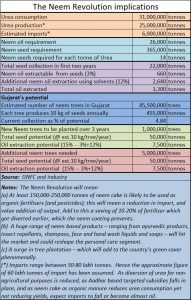 True, the concept of neem-coating urea was floated by the previous government. But it was Modi who decided that all urea – not just a  small portion of it – would henceforth be neem-coated (see video https://youtu.be/xxt2GLcaevI). That would stanch the diversion of urea to non-farm uses (estimated at 10-20% of the total national consumption of 31,000.,000 tonnes). GNFC resolved to help translate the neem coating policy into reality.
After all, neem (Azadirachta Indica) is not a stranger to Indians. It has been used as a traditional (Ayurvedic and Unani) medicine for more than 4,000 years. Villagers mix neem leaves with clay to coat their walls because it is a known insect repellant. It has been used as an antiseptic, tooth-brush, and (antiviral, antipyretic, anti-inflamatory, anti-ulcer and anti-fungal) medication. It is also used for restoring and maintaining soil fertility, which makes it highly suitable for agro-forestry.
As Dr. Rajiv Kumar Gupta (IAS), GNFC's managing director, explains, "GNFC took up the Neem Project as a first-of-its-kind initiative in the whole country." Within the first two years, the company had generated a cumulative sum of Rs.25 crore as supplementary incomes to around 225,000 people, especially women and landless labourers. A third-party assessment conducted by UNDP on the socio economic impact of the Neem Project on women beneficiaries, confirmed that the project empowers the weak, especially women; creates value; and brings about a sustainable transformation of both society and business.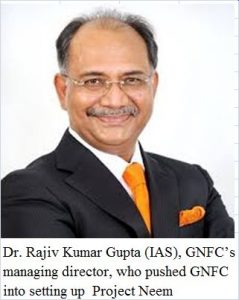 The first priority was to set up a system for collecting neem seeds. The availability of such trees in Gujarat was not much of a problem because the tree Census of 2013 showed that the state had some 45.5 million trees. The tree takes 5-7 years to grow to maturity, has a life span of 200 years, and annually sheds tiny berry-like fruit each of which contains a seed. While neem trees have a potential of producing around 50 kg of seeds annually, most state officials believe that 10 kg averages would make more sense. The normal collection would be around 50% of the total seeds produced.
Initially, GNFC, in partnership with state government officials, decided to take up this project as a CSR (corporate social responsibility) venture. They began identifying landless labourers, and women self-help groups (SHGs) and NGOs to help collect such seeds.  Moreover, as the berries fall to the ground only after end-April, and continue falling till mid June when the rains begin, it provided an opportunity. Most landless labour and marginal farmers are relatively unemployed during this period which begins when harvesting is done, and the fresh sowing period is yet to begin. Many workers migrate to cities to find ways to earn some money.
GNFC persuaded them to collect neem seed during this lean period. It paid them Rs.6 a kg during the first year.  During the second year, the prices were raised to Rs.7.5/kg, and were raised to Rs.10 this year.  During the first two years, 22,000 tonnes of seed were collected, which in turn helped them produce 3,300 tonnes of Neem Oil (3% through crushing, and another 12% through solvent extraction).  Pure neem oil sells at Rs.400 a kg and has four times the active ingredient than the solvent extracted oil. Within two years, about 225,000 seed-collectors earned around Rs.25 crore.  And it is endearing to hear of women using these funds to make down-payments for cattle, or sewing machines, or papad making machines.  The additional income has already begun spreading wealth.
That inspired GNFC to think bigger.  It decided to use the residual neem cake as fertiliser and pesticide in 12 kg packs thus promoting organic farming. Neem slows down the rate of absorption of nitrogen, leading to healthier growth of plants.  It is also known to repel almost 300 types of pests.  Not surprisingly, neem cakes were lapped up by farmers immediately.  GNFC then began working on producing neem soaps and shampoos, neem hand and face washes, and even neem pesticides.
To ensure that it got quality output, Gupta, encouraged women SHGs to join private soap making factories and learn the skill of making soap.  In many cases GNFC even paid for their training.  At the end of the women get a certificate from NSDC stating that they have learnt the art of soap-making. Ï could do this because I was on the NSDC Committee,"explains Gupta. It is these women who then began working at the soap making units of GNFC.
Gupta now wants to take this pilot project further into a full-blown commercial enterprise, but with an eye on social upliftment.  Collecting neem seeds won't be a problem.  Currently, GNFC has been collecting just 5% of the seeds available in the state.  GNFC has already announced a minimum guaranteed rate of Rs.10 per kg for the next three years, confident that this will bring in more women, and also encourage more people to plant neem trees on their farms. GNFC wants to plant at least a million more trees in Gujarat, Maharashtra, Madhya Pradesh and Rajasthan over the next three years.  It also wants to cater to the neem oil requirements of all fertiliser units.  To deter fraudsters in the neem business (who often use only neem leaves or bark and label their produce  neem products), GNFC is working with the agricultural forensic laboratories to come up with standards to certify the purity of neem products.
Gradually, GNFC is becoming an FMCG company as well  — yet without losing its social objective. The idea is to help people, industry and country make more money, and also to promote health.  If all goes well, the neem project could become the biggest agro revolution after Operation Flood of Verghese Kurien.
Comments can be posted to RNB@asiaconverge.com