http://www.dnaindia.com/mumbai/report-she-is-leading-tribals-out-of-poverty-1428816
The Jharkhand miracle – I
How a little innovation and help changed Jharkhand
"If you think you will succeed in growing tomatoes on this barren land, I will shave off my moustache, " Janno Devi was told by a brick-kiln owner to whom she had handed over her land in return for daily-wage work. Like many other tribals in Jharkhand who had "lent" their lands due to their inability to finance agriculture, Janno Devi, too, had handed over her land to the brick-kiln owner. A few months ago, she wanted just 25 decimals of her own land (about 1,000 sq metres) back.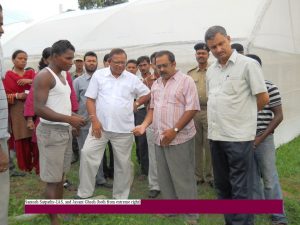 Reason: a small team led by Jayant Ghosh and Kapil Deo, two private sector entrepreneurs, with the support of Santosh Satpathy, secretary, rural development ministry, Jharkhand state government, had recently convinced her and 45 other tribal farmers that with the right technology and knowledge, their land would produce enough to sustain them. That's when the brick-kiln owner offered to shave his moustache off.
While the kiln owner had no option but to return the land to her, Janno Devi faced other opposition. Her husband told her he could not afford to lose his job as a daily wage earner elsewhere and work on the farm. Yet, she ploughed on, and tended to her 25 decimals, guided only by her determination to change her lot.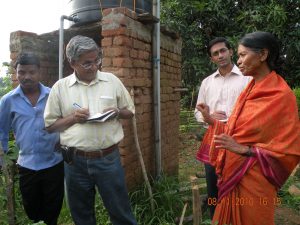 Three months later, Janno Devi and 45 farmers reaped their first crop of tomatoes, bitter gourd, cauliflower and chillies. When everybody saw that the produce was exceptionally good, all doubts vanished. The farmers made anywhere between Rs 25,000-40,000 earlier this month from the sale of their first produce.
The news of their success was electrifying. All neighbouring tribal-farmers took note, and even the UN Development Programme (UNDP) offered to finance another 25 farmers. Today, Janno Devi walks with a confident stride — almost a strut. So, did the brick kiln owner shave off his moustache? "No," says the 40-year-old with a girlish giggle. "He just ran away." This year, she knows that the brick kiln owner will face some trouble finding workers for his kiln.
Janno's experience could be the harbinger of an agricultural and social revolution with implications not only for tribal villages in Jharkhand, but all over the country where Naxalism is building a constituency.
It all began a year ago, when Satpathy exhorted the businessmen of Ranchi, Jharkhand's capital, to work out schemes that would benefit the people instead of only making money for themselves. One person who listened to that plea was Ranjan Ghosh, director, Maati Agrotech Pvt Ltd. He and his partner Kapil Deo, who runs a flourishing business in flowers, joined hands to develop a concept. They knew that they had to break the vicious cycle where poor farmers couldn't invest in technology because they weren't earning enough.
They talked this over with Satpathy, who promptly allocated funds for a pilot project that could assist 100 poor farmer families who were living below the poverty line (BPL). The funds came from the Swarnjayanti Gram Swarozgar Yojana (SGSY), a government-sponsored programme for self-employment of the poor, especially in rural areas. It aims to bring the assisted families (Swarozgaris) above the poverty line (APL) by providing them with income-generating assets through a mix of bank credit and governmental subsidy. It also allows for the creation of a model which would generate adequate cash to finance farming.
Aided by their farming knowledge and with significant inputs from companies like Netafim India (a wholly-owned subsidiary of the world's largest micro-irrigation company), they finally arrived at the magical number of 25 decimals of land being large enough to generate adequate returns for a family, but small enough to be taken care of by a husband-wife team.
Netafim developed new methods to adapt micro-irrigation for small farms at extremely competitive prices; it introduced techniques which ensured that the rate of water supplied was uniform across the entire piece of land, irrespective or whether it was depressed or raised (Jharkhand has a very uneven terrain). This had been done on big farms, but seldom on small farms below one-quarter of an acre.
The team got to work at Nagri, Ratu Block, in Ranchi district. Farmers were exhorted to adopt the new technology and practices. But the first challenge was in getting the tribals to take charge of their own lands. The state does not allow tribal land to be sold to non-tribals. Unfortunately, this causes the market price of tribal land to fall, and that in turn dissuades banks from accepting tribal land as mortgage. When tribals have no money, not even for purchasing seeds for the next crop, they 'lend' their land to businessmen, opting instead to work on their own fields as daily wage workers.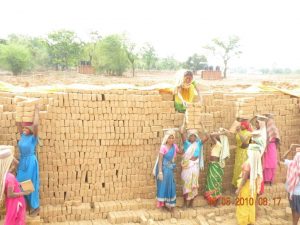 That's how Janno Devi ended up lending her land to the brick kiln owner. But she claimed it back — and today she is one of the success stories in tribal farming. When her husband failed to support her move to get back the land, she did it on her own and tended to her 25 decimals driven more by faith than anything else. The Ghosh-Deo team provided moral and technical support, while Satpathy and his fellow officers provided state encouragement and initial funding.
Buoyed by their initial success with farming, Janno Devi, Mary and Savitri Kacchap (two other tribal women) went around exhorting other tribal women.
Each woman now has her own story to tell. Janno Devi talks of how she was discouraged by both the brick kiln owner and her husband. The latter joined her in cultivating the field only when the first sprouts came up in the poly-house that the village community used as a greenhouse, sowing seeds — first in the nursery using coco-peat, a soil-less medium (recommended by Netafim's agronomists) using local coconut husk and vermiculture.
The doubts ended when the seeds began sprouting magnificently – as against most farms, where the germination rate was just 50%, over 95% of their plants had begun to blossom (this has been the case with other 'model' farms as well). Twenty days later the plants were moved to the field which had been prepared for sowing a week earlier. Irrigation was managed from a storage tank —  which took 10 minutes to fill up, but could irrigate the field for several hours — placed on a raised platform to allow water to flow using gravity instead of power.
Mary and Savitri talk about how scared they were to meet the village folk in case the seeds did not sprout as expected.  But these fears too were laid to rest. Two other tribal boys, Govardhan Munda and Munna Munda (not brothers) have become trainers for other farmers, teaching them how to prepare the seeds for germination in the nursery, and then how to prepare the fields for sowing the germinated sprouts.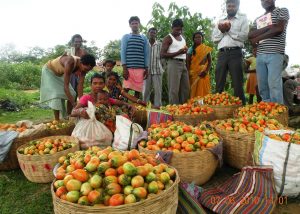 Soon other villages in Ranchi and Bokaro began joining in and today 190 farms are in existence, each earning at least Rs 25,000 every three months. The steady cash flow, even in months when the land all around is arid, has delighted the community. These are tribals who have not seen so much money and the next lesson will be to teach them not to spend all of it before the next crop. The tribals will also need to learn how to time their planting so that the produce hits the markets when the prices are favourable.
As always, success always has many fathers. Now almost everyone wants to claim this project as their brainchild.  Meanwhile, the state government, enthused by the remarkable change that these 190 tribal-farmers have experienced, wants to extend this project to cover 100,000 farmers.
To be continued at http://www.asiaconverge.com/2010/08/the-pilot-is-just-the-starting-point/
Comments can be posted to RNB@asiaconverge.com