R N Bhaskar
February 10, 2014
The government's advertisements talk of Bharat Nirman. But numbers tell a different tale.
It was evident by 2010 itself that India would have to brace itself for a slowdown of mammoth proportions.
Workforce numbers in both organised and unorganised agricultural sectors had begun registering a decline (see table). The same trend was seen in manufacturing as well, where both organised and unorganised labour numbers began slipping. The only good news came from two sectors where the government had practically no role to play – non-manufacturing and services. Non-manufacturing included mining, electric-, gas-, and water-supply and construction.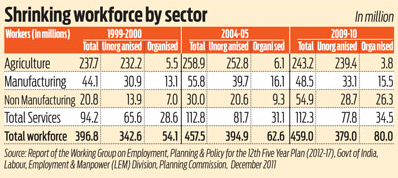 But then greed and arrogance killed mining. Though illegal mining is reprehensible anywhere, Karnataka was singled out for political reasons. Otherwise, Maharashtra was witness to more rampant illegal mining. Andhra Pradesh got added to the list of investigations only after Jaganmohan Reddy turned against the party ruling at the Centre. Ditto with Goa; when an opposition party came to power.
Then construction got hit with the new land acquisition laws. Getting land for roads, airports and other large projects became more difficult. As for non-manufacturing, there were different factors at work which killed even this growth. In electricity, the regulators themselves became captured entities. In Delhi, a Comptroller and Auditor General (CAG) inquiry is now being pursued to find out how the regulator could have missed out on some numbers.
In water, both Delhi and Mumbai were witness to huge amounts of water 'disappearing' from distribution networks. In 2007, Arvind Kejriwal, the present chief minister of Delhi, called a press conference in that city-state to show people how a World Bank loan was being sought, when none was needed, and how the government wanted to privatise water supply and hike water charges, with World Bank consent, by nine times at least. The government subsequently abandoned the scheme.
In gas, the story was murkier. Violating all norms, a sitting secretary of the Ministry of Petroleum and Natural Gas was allowed to remain chairman of a listed company – Petronet LNG Ltd – which was importing LNG (liquefied natural gas) at over $12 per million British thermal units (mmBtu) from Qatar when the same source was selling LNG to the US at $3. Petronet accounts for 80% of India's LNG imports.
Services (including trade and repair services) survived, but barely. Mercifully, there was little the government could do to queer the pitch. However, the contagion caused by UPA-II's policies began to hurt this sector as well. By January 2014, even services began to register a decline, as evidenced by falling PMI (Purchase Managers' Index) numbers.
Not surprisingly, while the NDA boasted of a job creation of 60.7 million jobs, UPA-I could create only 2.76 million jobs . Its successor, UPA-II, was rapidly sinking into an ocean of red where job formation was concerned. By 2012-13, anecdotal evidence indicates that the growth rate had turned negative, but got disguised by employment numbers from NREGA (The Mahatma Gandhi National Rural Employment Guarantee Act).
Remedial steps could have been taken. But short-sighted arrogance and alleged greed prevented the growth of mining related projects. Reluctance to usher in decent labour reforms ensured that unorganised workers were worse off than before, while the organised workforce continued to price itself beyond economic realities. Labour laws compelled many entrepreneurs to set up units that employed less than 100 people to circumvent these regulations.
Refusal to admit that it was the government's NREGA programme that was destroying agricultural jobs made the situation even worse.
Now, whoever comes to power at the Centre will have a messy time cleaning up the rot.
Click here to read the original article.
Comments can be posted to RNB@asiaconverge.com