http://www.freepressjournal.in/analysis/arbitration-awards-india-shaken-and-unprepared-r-n-bhaskar/908045
Policy Watch
Arbitration awards: India learns the high cost of  shoddy planning in business and policy
r.n.bhaskar
It is déjà vu all over again.  At least three arbitration awards threaten to change the way the country will do business. At stake is the country's ability to offer speedier and more effective justice. This will not be possible unless decision making processes become a lot more responsible and transparent.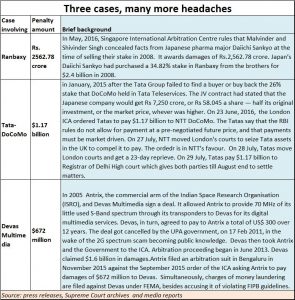 In many ways India is revisiting 2011. That was when India (the nation) was slapped by Singapore's arbitration courts with a heavy penalty.  The court verdict was not effected.  Backroom chats between India and Singapore possibly got the Supreme Court to order on 16 December, 2011, the formation of a five-member constitution bench (arbitration-2011-12-16_SC-notice) to examine the issue.  At stake was the interpretation of Section 34 of the Arbitration Act which allowed an arbitration award to be reviewed by local courts if the award materially infringed on national policy
On 6 September, 2012, the five-member bench pronounced the following (arbitration-2012-09-06_SC-5-member-bench-bharat): "In a foreign seated international commercial arbitration, no application for interim relief would be maintainable under Section 9 or any other provision, as applicability of Part I of the Arbitration Act, 1996 is limited to all arbitrations which take place in India. Similarly, no suit for interim injunction simplicitor would be maintainable in India, on the basis of an international commercial arbitration with a seat outside India. We conclude that Part I of the Arbitration Act, 1996 is applicable only to all the arbitrations which take place within the territory of India. . . . . Thus, in order to do complete justice, we hereby order, that the law now declared by this Court shall apply prospectively, to all the arbitration agreements executed hereafter."
The Supreme Court judgement was the inevitable consequence of a series of developments that neither India's legislators nor the executive had cared to address for a long time. Then, isolated incidents coalesced into an issue which had far-reaching consequences.
It started in 1989 when White Industries, an Australian firm, entered into a contract with Coal India for supply of equipment and development of a coal mine in Uttar Pradesh. The contract ran into disputes, which were referred to arbitration in London. White won the award and Coal India was asked to pay it $4.08 million.
Typical of most government-owned enterprises, Coal India challenged the award in Indian courts.  White moved the Supreme Court for rejecting Coal India's plea, and the matter festered there till 2012 (http://www.asiaconverge.com/2012/09/judicial-delays-hit-arbitration-awards/).
In 1999, White approached the Arbitration Tribunal in Singapore against the Indian government, seeking shelter under the Bilateral Investment Treaty (BIT). The award penalised the Indian government for not enforcing an award an Australian company had obtained against Coal India because delays on the part of the Indian judiciary.  The award accepted White's claim and directed the Indian government to pay damages of around Rs50 crore to White.
That sent alarm bells ringing in Delhi.  Here was a court of a foreign country, invoking provisions of treaties signed by India, to penalise India for doing precious little towards the speedy disposal of cases.
White did not have to move the court for enforcement of the second award. The Supreme Court ordered the setting up of a five-member Constitution bench to examine Section 34 (URL), and finally issued its verdict.
After that verdict, almost every major contract has a clause seeking settlement through arbitration in a seat outside of India.
That is what NTT-DoCoMo did when it agreed to invest in India.  It is what Daiichi decided to do when it purchased the Singh brothers' equity stake in Ranbaxy.  And this is precisely what Devas did when it entered into a deal with Antrix.
This is the route Vedanta-Sterlite hopes to adopt in trying to force the Indian government away from its 'capricious' ways, and has asked for damages of Rs.27,000 crore for not clearing its merger with Cairn.
And this is precisely what Vodafone too wants to do if the government does not settle its tax disputes quickly.
At the heart of all these disputes there are three lessons to be learnt.
Large investors do not trust the Indian courts or the policies of the Indian government.  They would prefer settlement of disputes in international courts under the provisions of the BIT.
The government of India is advised to take commercial decisions very carefully, and not cancel them on whim. After all, the government (along with PSUs) is the biggest litigator in India, and it is estimated that almost half the cases involve the government.
Any attempt to tinker with India's arbitration or BIT rules might cause a whiplash, and send foreign investors scurrying away, but not before filing for more damages before international courts. The days of cozy capitalism, and whimsical display of power to annul are almost over.
The three cases mentioned here are just the first moves by global investors to make Indian courts more responsible and India's promoters, legislators and bureaucrats more respectful towards the rule of law.
Comments can be posted to RNB@asiaconverge.com