http://www.firstpost.com/business/find-out-how-indias-vastly-unexplored-7500-km-coastline-can-generate-millions-of-jobs-3170668.html
India's coastline and waterways can create millions of jobs
In many ways, India looked a gift-horse in the mouth for decades. And the gift was water.
For centuries, India ignored the seas.  It has a 7,500 km long coastline which it did not bother about very much.  True, the government built 12 ports (government owned ports are called major ports).  But it forgot to promote coastal development and coastal tourism.  As a result India has a coastline that is largely uninhabited, leaving it open to incursions by smugglers and terrorists.  India forgot the old adage that the best type of security is eyes on the ground.
The typical answer was that security concerns prevented the Indian Navy from allowing boats to ply along certain areas, or for boats to land in some other areas.  Someone should have pointed naval officers to Portsmouth and Glasgow, where leisure and fishing boats bob around naval frigates.
For security, the Navy depends on excellent eaves dropping equipment, and guards who stand near the prow and watch the waters. Activity keeps them alert and awake. Had there been no boats around, they could not really be faulted for dozing off.
And Britain with its limited coastline earns over GBP 450 billion annually.  India could have earned a lot more and even created employment for millions.
India forgot that its coastline was like a 7,500 km 40-lane highway that the country would not have to finance, build or even maintain.  It was god's gift to promote coastal tourism and coastal transport.
Ditto with India's rivers.  Like elsewhere in the world, the biggest cities India had were those on the shores of rivers or seas.  But then came the railway network.  The British wanted this to become viable and hence promoted rail travel.  Riverine cities went into decline and so did India's rivers.  With a majority of population forsakes river travel, it is bound to go into disuse.  And abetted by the collusive role that politicians and executives have played all along, it was not surprising that even rivers became polluted.  They became repugnant, and traversed only by those who could not afford the rail network.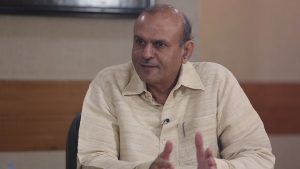 All this is about to change – and with a clear focus on both development and in creating jobs.  Many of the changes India will witness will be on the coastal front, the river front and the connectivity of roads and rails to such spots.  In an exclusive half-an-hour interview with R.N.Bhaskar of Firstpost, Rajive Kumar, Secretary, Shipping, Government of India, outlined some of the key areas where such changes can be expected (click here for the full interview).
Sagarmala
Kumar talks about the relevance of port-lead development and what the Sagarmala scheme promoted by this government really means. (timelines 00:10 to 01:20 of the video). He p0oints out how this will lead to employment generation which is so crucial for a youthful population that India has.  He expects such port-led development to generate around 40 lakh jobs, in addition to generation of indirect employment for another 60 lakh people (01:21 to 03:43). He expects these targets to be achieved within the next five years.  But port development – in itself – will continue for a longer period, and could generate many more jobs.  The investment outlays planned for this entire exercise is expected to be in the region of Rs. 4 lakh crore (4 trillion).  The first phase is expected to be completed by 2020 and the second phase by 2025.
Kumar goes on to speak about the Sagarmala project which has four components.  The first three of these (03:43 to 11:53) will involve ensuring adequate port capacity.  This is expected to double the existing port capacity of 1,550 million tonnes to around 3,000 million tonnes
The second phase will ensure fuller utilisation of existing ports. The ministry has already received 116 recommendations of which 60 have been completed.  The adoption of these recommendations alone has allowed for an increase in port capacity by 80 million tonnes at zero cost. Turnaround time has been reduced from 5 days to 3.5 and the plan is to further reduce it to 3 days.
The third aspect is hinterland connectivity. The government has identified 82 road projects and 28 railway projects that need to be implemented.  As many as 50 of the road projects will be taken by the NHAI (national Highways Authority of India) and the balance by state governments through their various bodies including the PWDs. Many of these would be taken up under the road ministry's Bharatmala programme. The road projects also include 10 expressways.
Of the 28 railway projects, the railways will pick up 21.  Kumar expects to invest Rs.1.5 lakh crore of the Rs.4 lakh crore of investments in such rail connectivity projects.
The problem will be with small projects that are crucial for the last mile connectivity.  It is for this that the government has formed a new company called the Indian Port Rail Company (IPRC).  Then there is the Sagarmala Development Company (SDC) which has been mandated to take up equity participation in partnership with private players who could take up these projects.
In order to ensure that all these projects get taken up and get implemented properly, the government has set up an institutional mechanism (13:00 to 13:50).  This will enable better cooperation between states and the ministry for implementing road, rail, and port and river projects in partnership with the states.
CEZs and community development
But the centerpiece of all these plans is to usher in what Kumar calls "port-led industrialization and the development of CEZs or coastal economic zones (13:50 to 18:58).  Each coastal economic development zone will be attached to one port — either private or public.  The government has identified 14 CEZs, and the process of working on land acquisition has already commenced.
But the most important part will be community development without which all the other plans might just crumble.  (18:59 to 21:09)  This includes (a) fishery development and (b) skill development.   The ministry has got studies done of 23 (of the total of 78) coastal districts and the rest of the studies should get completed by the end of this year.
Almost simultaneously, the government plans to promote coastal tourism along India's coastline and also along its rivers (21:09 to 22:57).  This includes promoting ocean cruises as well as river cruises.  Development of beaches is also being explored with the tourism ministry. In order to give this a big thrust, suitable sections of the existing legal framework relating to cabotage are also being modified for specialized vessels like cruise boats, ro-ro (roll on roll off boats on which vehicles can just roll on and then roll off) and ro-pax vessels that allow passengers to be transported along with vehicles (22:57 to 26:00).  In order to provide a greater thrust to commercial autonomy (28:02 to 30:16), the government wants to redefine the role of TAMP (Tariff Authority for Major Ports).
But the shipping ministry's plans go beyond the domestic arena (26:01 to 28:01).  It wants to look at the development of ports overseas as well for which Indian Ports Global (IPG) was formed a few years ago. The ministry hopes to rope in the private sector too for the development of ports overseas.  India has already helped Myanmar develop the Sitwe port, and now India will be developing ports in Iran, Sri Lanka and Bangladesh as well. This will be in addition to the development of the Chabahar port in Iran which holds out enormous commercial and strategic significance for India.
Significantly, the vision for development includes the development of waterways (see http://www.asiaconverge.com/2016/11/india-waterways-a-gamechangerrobust-water-transportation-can-help-india-drastically-cut-freight-costs/). The government has already identified 111 waterways for navigation (watch from 30:10 to the very end of the interview) and of these 30 are being taken up for development during the next 3 years.  As many as 8 of these are to be developed during this year itself.  The government is also developing a design for building a 2500 tonne barge that can operate in rivers with a draft of just 2.5 meters.  2,500 tonnes would be equivalent to an entire freight train.  Currently, there are barges that ferry as much as 2,000 tonnes per barge.
If all goes well, expect India to see a more vibrant coastline, and the emergence of many more jobs.  All this is bound to translate into better economic well-being for most Indians.  Not surprisingly, these plans are being called "harnessing the waters of life".
Comments can be posted to RNB@asiaconverge.com