http://www.firstpost.com/politics/milk-is-key-to-up-and-so-is-leather-will-cow-vigilantism-spoil-the-party-for-bjp-3197238.html
Budget proposals that could swing voter sentiment – II: Milk & leather are crucial for Uttar Pradesh
(With elections being announced for many states, including Uttar Pradesh, many believe that the budget to be announced on 1 February, will contain sops for key sectors. There are two reasons for such sops. First, to counter the unfortunate effects of demonetisation on some sectors. And the second to win over key electoral groups. In this three part series, we explain why the three biggest segments that might benefit could be agriculture, milk cooperatives and milk processing units, and weaver units)
Milk (and its associate industry leather) is likely to play a crucial role in deciding how voters select their leaders in the forthcoming elections.  Milk producers have very good reasons to be furious with existing governments. But they also have good reasons to be upset with the BJP.  Unfortunately, they see good and bad in all the people who seek votes from them.
But why?  Here's an analysis
Mythology and reality:
In many ways, Uttar Pradesh (UP) is a constant reminder of the legends surrounding the life of Krishna, one of the Hindu Gods, and an avatar of Vishnu.  Mythology talks of him as being raised among cowherds, and spending his childhood near Mathura and Brindivan.
These same legends talk of Krishna growing up and finally opting to move out of the lands surrounding Mathura and Brindavan.  He takes his friends and clansmen – the Yadavas — out of this territory and creates his own kingdom with its capital at Dwarka. Since the Yadavas are devoted to their cows, they take their cattle with them to the lands surrounding Dwarka.

Dwarka is in Gujarat; Brindavan and Mathura in UP.  It is therefore a bit more than mere coincidence that these two states are, even today, the largest milk producing areas in India (see table).  And India itself – more by design than mere accident – has become the largest producer of milk in the world at the turn of this century.
Milk is big in India
India's emergence as the world's largest milk producer has a lot to do with the strategies Verghese Kurien adopted (http://asiaconverge.com/2015/12/five-things-that-sets-amul-apart-from-others/ and http://asiaconverge.com/2015/12/two-ways-the-government-can-hurt-amul-grievously/). It is his efforts that created India's largest agricultural brand – Amul.  Today, milk accounts for almost 24% of agricultural GDP in this country. And many of the success stories are Gujarat based. But the role of UP in India's milk story just cannot just be forgotten or erased.  It is deep-rooted – in culture, commerce and even politics.
When Kurien began his milk cooperative movement, he used NDDB (National Dairy Development Board) to promote the milk movement first in Gujarat and then across India (Operation Flood).  Had it not been for Lal Bahadur Shastri, Kurien would not have been given charge of NDDB.  Without this institution, Kurien's efforts would remain a Gujarat miracle, not a national movement.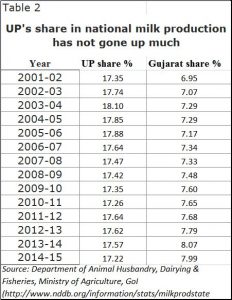 He was persuasive enough to make the government understand the strategic significance of milk in this country.  It was a great nutrient in a land where many were malnourished.  It was also an excellent revenue generator and a self employment opportunity.  And most of all — though unstated – it nurtured a leather industry too.  UP has always been a major leather producing centre.  Gujarat would have been one too. But the long standing aversion to leather units prevented the industry from growing there. Instead it blossomed in neighbouring territories – Rajasthan, Maharashtra and Madhya Pradesh.
While Kurien was in charge, he managed to push through the concept of cooperatives for milk production in UP.  But after Kurien stepped down, even the cooperatives that Kurien had helped set up began closing down.  As a result, today, very little of milk comes from milk cooperatives in UP.
For instance, during 2014-15, milk from cooperatives (from both traditional cooperatives of the type promoted by Kurien and the Producer company type currently promoted by NDDB) accounted for barely 866,000 tonnes.  Compare this with the total milk production of 25,198,000 tonnes in that state during the same year.  The absence of cooperatives – party abetted by almost every government that has ruled UP for the past two decades – has led to exploitation of farmers by middlemen.
UP milkmen exploited
Ironically, even Mother Dairy began sourcing milk through middlemen.  This was unfortunate because NDDB – its parent company – is mandated to promote cooperatives, not middlemen. Mother Dairy should have done the same as well.  In fact, Gujarat's cooperatives are allowed to purchase milk only from other milk cooperatives, and not even from private milk producers, let alone middlemen.  But this was an unfortunate development, exacerbated by Mother Dairy being spun off as a separate wholly owned subsidiary of NDDB, rather than as a division of NDDB as was the case under Kurien's leadership.
As a result, milk producers got barely Rs.18 per litre from middlemen, who in turn got upwards of Rs.24 per litre from Mother Dairy.  Exact figures cannot be given here, because Mother Dairy has refused access to its annual report, even after being criticized by the Central Information Commissioner (CIC) for not divulging details as it was formed out of government funds.
The person who got hurt was the UP milk producer. Unlike Gurajat where milk producers got Rs.28 per litre, UP farmers got precious little. At one point of time, milk prices crashed to Rs.14, leading to riots where farmers came onto the roads (literally) and poured their milk on the state's highways to highlight their plight.  Nor did UP's government put in place a minimum support price, the way Tamil Nadu and other forward looking states have done.
It was only a couple of years ago – after Narendra Modi took over as prime minister of India – that the need to promote milk cooperatives in UP became a priority for the government.
UP milk cooperatives
Since the state government was unwilling to come forward, NDDB (and the central government) permitted Gujarat's cooperatives to promote milk cooperatives on the outskirts of Delhi. Today, these cooperatives have a combined milk collection and processing capacity of around 4 lakh litres daily. NDDB instructed Mother Dairy to increase its procurement from cooperatives, and is expected to source over 90% of its milk from cooperatives in a couple of years' time.
The state government saw the writing on the wall.  Last year, Akhilesh Yadav announ ced that the state would now start promoting milk cooperatives to improve the lot of farmers.
Milk producers are expected to get at least Rs.25 per litre as against Rs.14-18 earlier.  It is believed that this transformation compelled the prime minister bold enough to declare that farmer incomes would be doubled by 2022.
The mathematics of milk production is simple.  If a farmer uses the right sperm for artificial insemination (BAIF and Chitale are among the best producers of frozen straws which carry the sperm of carefully selected bulls), provides the cattle with the right milk feed (provided at discounted prices by cooperatives and even by private players like Hatsun, Heritage and Nestle), and ensures that the right vaccines are given at the right time, each cow can generate a surplus of Rs.100 per day (purchase price less cost of materials).  Since much of cattle rearing is in the farmer's backyard and is done by the family, the concept of labour charges does not arise. And if a farmer has 4-5 cows/buffaloes, he can earn anywhere between Rs.400-500 per day for 300 days a year (the animal goes dry for around 65 days while moving into another cycle of reproduction.
MJilk has thus become the most transformative product for changing rural livelihoods.  It gives children a good source for nutrition besides improving household income.
Farmers in UP are likely to vote for the BJP because of this introduction of cooperatives. But for one problem.
Gau-rakshaks spoil the party
The milk industry works well if the farmer is allowed to sell off the old and disease prone animal, or an unwanted male calf.  The male calf is often sold by the trader to a farmer who wants a male calf with good parentage. The old cattle – incapable of lactation – is often sold to the butcher.  While cow-slaughter laws have been in existence for decades, there has been an unwritten understanding that old cattle can be disposed off.  The present government took up the ban on cow slaughter more rigorously.  Unfortunately, it also allowed extra-legal methods to prevent sale of cattle as well. Groups of "gau-rakshaks"  (translated as protectors of cows) went on a rampage to attack anyone transporting meat or cattle on the suspicion that the person had violated the provisions of the ban on cow slaughter.
The strident movement hit both dalits and muslims.  Both communities have been active in the business of tanneries. It wasn't long that both segments of the population decided to form a common front to challenge the government.  In electoral terms, this would have been a disaster.  Almost overnight, the vigilantes were booked, restrained, and the harassment of dalits and muslims stopped. Whether these groups will remember the harassment, is something that remains to be seen.
Mixed signals
So one has a peculiar situation in UP.  The state government has not been farmer friendly.  It allowed middlemen to exploit the situation by paying farmers a low price for their milk.  But it did not enforce the ban on cow slaughter.
The present government has allowed farmers to earn more.  But the temptation to enforce the ban on cow slaughter may not rest easy with sections of the community.
With all parties tainted for one reason for the other, it will be interesting to see which way people vote.
Interestingly, the shrill enforcement of the ban on cow slaughter has only encouraged many farmers to stop rearing cows and instead opt for buffaloes.  As a result, the cow population has begun declining in states where the ban is most strictly enforced (http://www.asiaconverge.com/2015/11/who-killed-the-holy-cow/). As a result the two states which have seen increasing number of cows are those which do not care to impose the ban on cow slaughter – Tamil Nadu and Andhra Pradesh.  Not surprisingly, the best tanneries are located there and are expanding their business.  The new milk producing centres will be the east (West Bengal has just promoted a milk cooperative and processing plant) and the North East (the first move has been made in Guwahati). All these areas do not care to impose the ban on cow slaughter.
The cow may not become an endangered species after all.
Comments can be posted to RNB@asiaconverge.com