http://www.freepressjournal.in/interviews/to-prevent-child-sex-abuse-paedophilia-needs-to-recognised-as-mental-disorder/1030860
Interview – Dr. Klaus Beier, MD PhD, Charite, Berlin
Child abuse: Do you like children in ways you shouldn't?
Dr. Klaus M Beier is a full professor at the Charité, the University Hospital of Berlin, which is the biggest University Clinic of Europe. As the director of the Institute of Sexology and Sexual Medicine he is in charge of the Outpatient Clinic of the Institute which offers assessment and treatment for the full range of sexual disorders and gender dysphoria. In 2005 he initiated the "Prevention Project Dunkelfeld" (at the beginning funded by the VolkswagenStiftung and since 2008 also state aided by governmental funds) which works on strategies to prevent child sexual abuse and the use of child abuse images. Meanwhile it has extended to 10 additional locations all over Germany.
Dr. Beier was in Mumbai recently, and spoke to FPJ's R.N.Bhaskar.
Given below are edited excerpts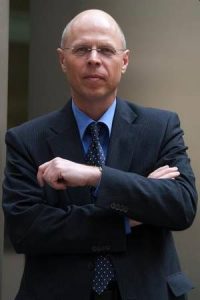 Rnb: Society has always reacted to pedophiles with disgust and violence?  You appear to have another view.  Could you explain?
Beier: Most societies have treated pedophilia as a crime.  Yes, it is offensive.  But our research shows that the most severe cases of pedophilia hae a mental makeup which they cannot do anything about. It is an ailment.  And there is no cure for it.
Rnb: You mean that these inclinations are hardwired into a person's brain, and that they cannot be modified?
Beier: True.  Concerning sexual offences against children, we can distinguish them into two groups.
The first group includes those who show no sexual preference disorder. They sexually abuse children for different reasons. They could be sexually inexperienced adolescents seeking a surrogate. Or they could be mentally retarded persons. Or they could be those with antisocial personality disorders or from traumatizing family constellations. This group accounts for approximately 60%of officially known offenders.
The second group includes those showing a sexual preference disorder namely pedophilia.  This is an erotic preference for pre-pubescent children. Or it could be hebephilia which refers to an erotic preference for early pre-pubescent children.  This group accounts for 40% of officially known cases.
Again, you must bear in mind that official statistics account for only a fraction of all child sexual abuse – often referred to as CSA – and the use of child abuse images referred to as child pornography offences or CPO. These unreported cases are, in Germany, referred to as "Dunkelfeld" or dark field.
We believe that preventive efforts must consider both primary prevention in the case of potential offenders as well as secondary prevention for self referred offenders in the Dunkelfeld.
Rnb: how relevant and successful has the Dunkelfeld project been?
Beier: The ongoing Prevention Project Dunkelfeld (PPD) was officially launched in 2005 in Berlin with an extensive media campaign which informed about the opportunity to receive help. The evaluation of PPD was done in a non-randomized waiting list-control design with multiple assessments. It revealed that the primary approach reduces risk factors for child abuse; prevents sexual offences against minors and reduces the number of contact offences; and reduces the frequency and severity of child pornography offences.
Does it mean that the German government has decriminalised paedophilia?
It has put all cases of self confessed inclinations towards paedophilia under the Dunkelfeld umbrella, where they are protected as long as they do not commit an offence. Under this project, potential offenders are taken up for treatment covered by the pledge of confidentiality..In November 2016, the German Parliament voted for a legislation to finance specialized treatment services for self-referred pedophilically inclined individuals through the health insurance system. They can use this service anonymously. The law is in force since January 1st 2017. It is a breakthrough, worldwide.
Rnb: But you just mentioned that they cannot be cured. . .
Beier: True.  What we offer is a course with medication that prevents them from actually offending children.  Overt manifestation of the inclination is suppressed, though the instinct to be aroused by children's images cannot be eradicated.
What we do is to encourage people to come in voluntarily to register with us.  One of the ways we have done this is by releasing a 30 second video [can be found at https://www.dont-offend.org/ and https://www.youtube.com/watch?v=ck3uOCyWB50].  At least 20% of the patients come to us voluntarily.  Others are referred to us by relatives and friends.
We then asses the seriousness of their infliction by flashing images before them even while they are monitored under an MRI.  The way the brain cells react to such images gives us a clear idea of the severity of their arousal and affliction. Many of them want to get out of this embarrassing desire, but need help.
Then begins a course of treatment to ensure that the potential offender does not actually become an offender. We work on behavioural control.
Rnb: How big is your programme?
Beier: The Prevention Network "Kein Täter Werden" [Meaning: Don't offend] offers a free and confidential treatment option at all of its sites for people seeking therapeutic help with their sexual preference for children and/or early adolescents. In the context of the therapy, the affected persons receive support so as to prevent sexual offending in the form of both direct contact and indirectly via the consumption or production of child sexual abuse images – the so-called child pornography — on the internet.
The project began in Berlin in 2005 and now encompasses several sites all over Germany, with common quality standards guaranteed by the Prevention Network. The goal is the establishment of a comprehensive, nationwide therapeutic offer. In 2014, we began working on juveniles as well.
In India we have begun working with KEM Hospital in Pune, and want to bring this knowledge and awareness to India as well.  This is because in India an estimated 97% of pedophilia goes undetected – not even recognized by the police.  And estimates again show that almost 20% of all children in India are affected.
Comments can be posted to RNB@asiaconverge.com