http://www.freepressjournal.in/interviews/we-as-government-want-to-make-a-history-mahadev-jankar/1072647
Mahadev Jankar wants to create history
— By Pankaj Joshi and R N Bhaskar | May 23, 2017 08:25 am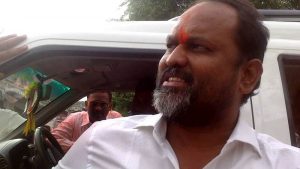 Mahadev Jankar is a cabinet minister who is in charge of animal husbandry, dairy and fishery development for Maharashtra (from the representing shepherds and an ally of the ruling BJP). He is a man with a vision and a burning desire to implement them. He believes that his ministry's activities should form a vital de-risking mechanism for the fluctuating agricultural incomes and fortunes of farmers in the state. He believes that the way to empower farmers and increase their incomes is not through loan waivers but by giving them multiple sources of revenue. His methods of breaking down this ambitious goal into segments and different steps are reflective of his Electrical Engineering (gold medallist) background. In a chat with Pankaj Joshi and R N Bhaskar, the minister provides us a glimpse into his vision, and how it can transform the overall agricultural sector scenario of the state.
Q: What are your plans for improvement in the dairy sector of Maharashtra?
The primary requirement in improving milk supply was to improve the compensation given to farmers, but in this case, the state of Maharashtra has been a laggard. We have tried to raise the milk procurement price by Rs 2 each (for cow's milk), which has given relief to existing milk producers and attracted more farmers to become suppliers. Today, we pay Rs 24 per litre for cow's milk and Rs 33 per litre for buffalo's milk. This is against Rs 18 per litre that farmers were being paid earlier by existing milk cooperatives and middlemen.
Our pragmatic policy is paying off. When I took charge, the milk procurement by the state stood at 90,000 litres a day. Today, I am happy to state that with improved rates and better collection systems in place, our milk collection stands at 11 lakh litres a day. My personal aim is to have 2 crore litres on daily basis at Aarey and for Maharashtra as a whole the figure should be 3 crore litres. I am very clear that I want to see Maharashtra (which is today seventh in the milk production list among the Indian states) become the top milk producer state. I want to achieve this in the coming 6-7 months because we have put the right mechanisms in place, starting from the partnership with NDDB which we signed on October 17, 2016.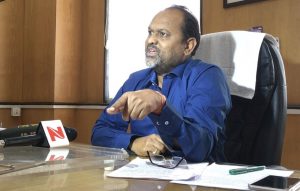 Another priority for us is the enhancement of the Aarey brand. All milk procured by the state will be sold under the Aarey brand. We want to upgrade its image from being a low-value product to that of being a high-value product. For that, we have launched two brands under the umbrella – Aarey Bhushan and Aarey Shakti. For the former, we have tied-up with the Tata group and the MoU is in place.
Q: Recently, a circular was issued to all co-operatives regarding their reluctance to supply milk to Aarey …
We have issued a circular to all co-operatives which operate in Maharashtra that they have to supply their collection to the Government brand (Aarey). If they fail to do so, their registration and all allied benefits they enjoy are liable to be cancelled. After all, the cooperatives have benefited from government grants and other benefits. If they do not want to support a state brand and instead sell their milk to Gujarat or Karnataka, they should not be eligible to state grants.
We are aware that earlier political leaders associated with cooperatives would promote their own brand. Today, Maharashtra has over 80 brands and this fragments the industry. It pushes up marketing costs and it feeds personal interest. We want a unified state brand.
We are the trustees of the people. Under the operational control of NDDB, we have invested Rs 750 crore across 11 districts of Vidarbha and Marathwada. Our approach to galvanise the desired level of supply is the NDSC method. NDSC stands for a concept which when translated means – when Need meets Desire meets Strength, all leading to Change. The desire comes out of our ability to convince people that a good livelihood can happen out of milk supply— either the next generation can get good jobs or else take the family milk supply business to another level and live a good life of entrepreneurs, not just labourers. So strengthening our Aarey brand is a top priority.
Q: What steps have you taken to increase the scope of the poultry business?
While researching ways to increase the poultry business in the state, we came across some very astonishing facts. One was that the tribal belt fund (sanctioned already) was not being utilised. With that in hand, we went and covered 16 districts in the tribal belt. With poultry businesses coming up there, boys and girls in those regions can now have an egg-driven diet (as part of midday meals) which will help in reducing malnutrition.
The Government is also planning a special fund aimed at Scheduled Caste members who want to get into this business. Likewise, we are also looking at a 50 per cent subsidy for other farmers who do not fit into any of these categories but want to start a poultry business.
If you talk of the possibility of some objection from religious communities to the promotion of the poultry business, yes we had to deal with all that too. We had to tackle with it on the ground as well. I went to meet leading spiritual leaders of the Jain religion, wherein I explained our other initiatives – building a cow shelter in all the 34 districts which would entail an annual outgo of Rs 1 crore per district.
We have also plans to start one of the country's finest animal care centre at Kalamboli, the first in India, where the Tata Trusts have pledged Rs 20 crore. We also aim to reach out to celebrities in different walks of life to support this project financially or through participation in public campaigns. We have had a positive response from people like Nitish Bharadwaj and Priyanka Chopra.
With all these programmes added to our dairy initiatives, I do not think any community will hold back its support and blessings to that we do to raise the standard of living of people in this state – be it through milk, poultry, piggeries, fisheries etc. We as a government want to make history. Ministers you will find in thousands, but history-makers are only a handful.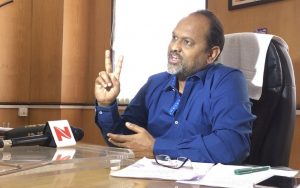 Q: What is the relevance of fishery in the overall agricultural scenario?
Extremely relevant. As of today, there are 21 schemes on paper devised by the Central government and five others by the state government. Using these as tools, we can create a blue revolution. Here, we need to improve the support infrastructure – deepen the existing ponds, give fish seed, feed and other requirements to the farmer. Once that is done, then comes the question of marketing and there again we will support him. We have liaised with other ministries – Women and Child Welfare, Education, Tribal Welfare – for offtake of eggs (for school children's midday meals programme). The Defence Ministry is also ready to take milk from us for the Army Jawans.
When the farmer is diversified – he has farm income plus income from poultry, piggery, goat breeding and a fish pond – then he is financially secure. Our agricultural sector needs such financial security badly. We believe that our department (animal husbandry, dairy development and fisheries) is an ATM for the farmer.
Farming in Maharashtra has much scope which is unexplored. Today, Maharashtra takes milk from Gujarat, buys eggs from Andhra Pradesh and Tamil Nadu, and procures fish seeds from Bengal. We have a daily outgo of Rs 12 crore on these items. This represents a market opportunity for the local population. When each of these activities scale up, it can generate work for many people.
Other policies we are encouraging include plans for 58 hatcheries for fish breeding and 358 poultry projects. A technical study is conducted for this. We ideally aim to build Khopoli as a fishery hub (where Tata Power has India's largest hatchery for the Mahaseer variety of fish which was an endangered species at one point in time). After that Maharashtra would supply rest of India with fish seeds. Most of this can be done within the agricultural ministry. Our department's budget is a fraction of what goes to agriculture. But the role of livestock and fishery is enormous. Agriculture accounts for 7 per cent of the state's GDP (GSDP). But of this 7 per cent, the share of livestock itself is 4.9 per cent. That is why, we believe that with a little more of financial support, these activities can become the financial backbone for farmers. Now, we have asked for a separate budget and in the long run, we have asked for a separate ministry.
Comments can be posted to RNB@asiaconverge.com