http://www.firstpost.com/business/maharashtras-rural-revolution-2-dairy-livestock-and-fisheries-help-de-risk-the-farmer-3472244.html
Unlike UP, Maharashtra has begun promoting livestock, poultry and fisheries as well to de-risk-farmers
May, 23 2017 15:50:27 IST
This is the second and concluding part of the two part series on Maharashtra's rural revolution. The first part can be found here.
Mahadev Jankar, Maharashtra's Minister of Animal Husbandry, Dairy Development and Fisheries has several other plans besides boosting the production of milk. He is looking to de-risk the farmer by pushing livestock as well – poultry, pig and goat rearing and fishery as well.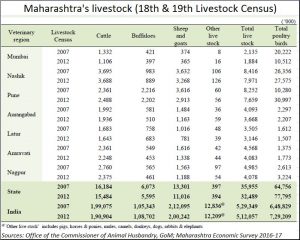 In some ways, he could have learnt a lesson from the moves that Prime Minister Modi had made at least two years before the (http://www.asiaconverge.com/2017/01/uttar-pradesh-elections-budget-2017-and-milk-leather/)took place. Modi knew farmers in UP were being paid anywhere between Rs.14-18 per litre for milk. Since cooperatives are a state subject, he allowed NDDB to get Gujarat's cooperatives to set up collection centres just outside Delhi. When these cooperatives began offering UP farmers a price of over Rs.18, the switch over from older distribution channels – run by middle men – to the cooperatives was almost immediate. Mother Dairy which had been collecting milk from UP through middlemen was asked to procure milk only from cooperatives. UP began embracing milk cooperatives. Alarmed at this, even Mulayam Singh Yadav and his chief minister son Akhilesh decided to promote cooperatives. But Modi had won over the hearts of farmers. A little more of persuasion and UP elections won his party a huge mandate.
But Jankar wants to go a bit further. He knows that if farms do not provide enough crop, the farmer must have a fallback option. He could still earn from milk. If that did not work, why not look to poultry, pig and goat rearing and fishery.
But he was only too aware of the enormous pressure religious groups like the Jains would exert to dissuade him from promoting eggs, chicken, goat and pig meat, and fish. He had to find a way. That could explain why he first went to almost every spiritual leader of the Jains and informed them that he had mouth-watering news for them. He told them that he had got the government's sanction to invest Rs.1 crore towards building cow shelters in each district in Maharashtra. The state has 34 districts. A budgetary provision of Rs.34 crore was available. Cows are revered by the Jains (never mind the fact that some of the meat slaughter houses are also owned by members of this community). The spiritual leaders were thrilled. They too began asking members of their community to participate in the cow shelter programme. The plans were formally announced by a circular from the ministry dated 26 April, 2017. He has now roped in people to work out ways in which revenues could be generated from the dung and urine from old cows, and from the residual parts of cows once they die a natural death.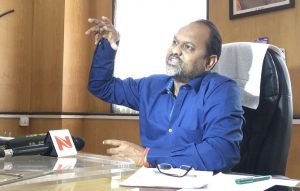 At the same time, he managed to persuade the Tata Trusts to contribute some money to an Animal Care Centre (ACC) for the treatment of animals, particularly for cows. "The Tatas liked the idea, and agreed to contribute up to Rs.20 crore," says Jankar. He now wants to build one of the finest animal day care centres at Kalamboli near Navi Mumbai. Jankar has big plans for promoting the ACC and the cow shelters. He has begun roping in film celebrities. Aamir Khan, Salman Khan, Priyanka Chopra and others are said to have warmed up to this idea and may be part of the promotional campaign.
Immediately, thereafter, Jankar announced his poultry scheme vide a circular dated 29 April, 2017, under a scheme called Swayam (which means self-reliant). He announced that the state would target boosting the production of eggs from the current level of 80-90 lakh to 3 crore daily. Currently most of the eggs are brought from neighbouring Andhra Pradesh. He plans to rope in several ministries to promote this scheme — the Women and Child Welfare, Social Justice, Tribe Welfare are some of them. These ministries will take charge of the eggs that are produced and sell them in the marketplace. The government will allow a capital subsidy of up to 75 percent, subject to a maximum of Rs.10.5 lakh. The total outlay for the poultry project will be Rs.200 crore.
"All these poultry farms are to be built on a PPP (public private partnership) basis," declares Jankar. The only difference is that the partnership will lie in helping share the capital costs– but 100 percent of the earnings will belong to the entrepreneur." At what price will the state purchase the eggs? Well, that is still being worked out, but should get finalized in a couple of months.
"The farmer will make money from eggs, from chicken meat, and from new chicks that are born to create more eggs," he adds, with a big (triumphant) smile.
The minister wants to promote fisheries as well. "The government has already listed out 21 centres for fishery development in India. Maharashtra has added another five to this list. These 26 centres will be in charge of a Blue Revolution. The state's programme of water harvesting by promoting the creation of ponds and deepening existing lakes will be dovetailed with a fishing programme. Khopoli will become the hub for the fishery project in the state. It may be recalled, that the biggest 'mahaseer' hatchery is located at the Tata Power facility at Khopoli, where the mahaseer has been saved from becoming extinct. "We plan doing this with other fish as well. We will supply fish seed to all states in the country. Our idea is to ensure that we do not have to depend on Tamil Nadu or Andhra Pradesh for eggs, or on Gujarat for milk, or on West Bengal for fish." adds Jankar.
"I see ADH (animal husbandry, dairy and fishery) as an ATM. They are all activities that will promote wealth opportunities for the farmer and his family," adds Jankar. He talks of how, even today, of the 7 percent of the state GDP (actually GSDP) that agriculture accounts for in Maharashtra, 4.9 percent comes from ADH. "That is why I want ADH to become a separate ministry, with its own dedicated funds. I expect ADH to contribute enormously to the state's development," he explains. He believes that his party could actually make history. "I have an advantage. I am an engineer (gold medallist) by education. I prefer planning meticulously. And since I am also a bachelor, I can devote more time to my projects that most other people," he adds, with great seriousness and sense of purpose.
The chief minister, Devendra Fadnavis, is now in the process of calling a meeting of all the stakeholders for such projectrs – that includes ministries related to tribal welfare, women and child welfare, rural development, power generation, irrigation and ADH of course.
Expect the farming sector to become a game changer in Maharashtra.
(This is the concluding part of a two-part series. Read part one here)
Comments can be posted to RNB@asiaconverge.com