http://www.firstpost.com/business/maharashtra-farmers-strike-a-handy-tool-for-congress-and-ncp-to-hide-65-years-of-self-enrichment-3519481.html
Could Maharashtra's farmer strike be a strategy to conceal 60 years of self-enrichment?
RN BhaskarJun, 05 2017 17:01:57 IST
The Congress and the Nationalist Congress Party (NCP) have together supported a strike by agitating farmers demanding complete waiver of all agricultural loans. As of yesterday, it appeared that further escalation of the strike had been averted.  But signs of regrouping and reorganization suggest that the opposition parties want a full and complete waiver of agricultural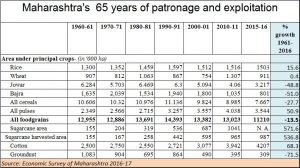 Sadly, this has come even when the Fadnavis government has been trying to de-risk the farmer (http://www.asiaconverge.com/2017/05/maharashtra-derisks-farmers/).  It comes on the heels of the state starting a model milk cooperative in Nagpur which offers farmers up to Rs.33 per litre of milk compared to just Rs.18 that the NCP and Congress cooperatives offered milk producers till last year (http://www.firstpost.com/business/maharashtras-rural-revolution-i-make-way-up-and-gujarat-state-aims-to-be-the-countrys-no-1-milk-producer-3467222.html).  With the past few months, milk collections by the Nagpur cooperative managed by NDDB has seen milk collection rise from 90,000 litres a day to around 11 lakh litres a day.
But then, it would appear that the opposition parties want to use this strike as a way to fortify their depleting reserves (this time even the BJP's political alliance partner, Shiv Sena appears to have joined hands with both the NCP and the Congress).  To understand the discomfiture and desperation, one must look at developments over the past 65 years, and then compare them to developments that have taken place during the past five years.
First, there is no doubt that the biggest beneficiary of the agricultural scene in Maharashtra has been the cooperatives (mostly run by the Congress and the NCP).  True, BJP also has a few cooperatives in its fold (Nitin Gadkari's cooperative farms near Nagpur are testimony to this fact). But the BJP's share of the cooperative market in this state is meagre, and its role has not been as exploitative as that of the mainstream cooperatives.
Look at the table alongside, which has been extracted from the Economic Survey of Maharashtra for 2016-17.  Even a cursory glance will confirm that the biggest beneficiary of the agricultural movement in this state has been sugarcane.  The acreage under sugarcane grew 536%.  Compare this with a reduction in acreage for all crops (-13.5%).  No other crop has benefitted as much in acreage as has sugarcane.  It can be argued, therefore, that the principal culprits behind farmer distress have been those who have promoted sugarcane over all other crops.
Sadly, this political patronage to this crop continued even in the face of depleting water reserves – even during times of drought. When water did not reach the Marathawada region, the4 suicides of Vidarbha were forgotten.  Only farmer suicides in Marathawada began being highlighted.
Tragically, irrigation which could have helped the farmers also got sabotaged.  Recent investigations into how funds meant for irrigation had got siphoned away for decades, show how callous former governments have been to the plight of farmers.  Instead of helping them earn money, they have been teaching them to demand loan waivers instead.
But this story of exploitation is visible again and again.  Look at loan write-offs for instance.  Till the time the former chief minister of Maharashtra, Prithviraj Chavan permitted to supersede the board of directors of Maharashtra Cooperative Bank, losses kept mounting up at this bank.  They had to be written off periodically, thus hurting the state which had to bear the loss of write-offs. It was only when losses climbed to Rs.1,500 crore, that under advice from the RBI, the government permitted the central bank to remove all the directors of this cooperative bank.  The state appointed three senior bureaucrats to supervise the affairs of this financial entity.  Not surprisingly, it bounced back to health and sported a profit of Rs.650 crore.  The former administrators and managers of the bank have yet to be prosecuted.
The NCP/Congress cooperatives thus lost another lucrative source of funding.  Sadly, the RBI does not come up with annual statements of all cooperative banks in the country.  Many of the banks are run by people very closely connected with powerful politicians.  It is not yet clear why Kapol Bank was closed down permanently, when such a treatment was not meted out to Maharashtra Cooperative Bank.
The present government has taken the war on cooperatives further.  It first abolished the APMCs (Agricultural Produce Market Committees) which are an association of persons, and thus outside the purview of state audits (http://www.asiaconverge.com/2016/03/drought-looming-maha-govt-dresses-budget-please-farmer-key-flaws-remain/).  They paid a pittance to farmers and controlled the entire marketing chain from farm to fork.  The former chief minister tried to abolish the APMCs, but since NCP was an alliance partner, any action against the APMCs could have caused the government to fall.  Finally, it was left to the Fadnavis government to deliver the coup de gras.
Just last week, the government also moved to appoint administrators for milk cooperatives to prevent them from exploiting farmers (http://indianexpress.com/article/cities/mumbai/maharashtra-govt-to-appoint-administrator-for-dairy-cooperative-societies-4686526/).
Take all the moves together – the tightening of controls over cooperative banks, the offer of higher prices to milk producers which helped weaned farmers away from NCP/Congress cooperatives (which offered significantly lower prices), and the whittling down of powers of APMCs — and the picture becomes clearer.  The Congress and NCP cooperatives which have been used to unfair cashflows are now beginning to feel the pinch.  With less money at their disposal, their ability to grease the political machinery becomes that much more difficult.  It needs to get its political base vibrant again, hence the clamour for loan write-offs.  The present government's unwillingness to write off all loans, and only write off loans of small farmers, will once again hurt big farmers.
The battle for rural loyalties has begun in full earnest.  It is quite possible that the next issue which could unite the opposition could be the recent notification from the government banning the sale/purchase of all cattle (including buffaloes) from cattle markets.  This move has already brought together farmers, cobblers, leather industry workers and even exporters of beef. This issue could become far more potent than many realise.  It affects jobs on a huge scale.  But that's another story.
Part II: Exploitation takes several forms – sugarcane, water and power
Comments can be posted to RNB@asiaconverge.com