http://www.freepressjournal.in/business/going-beyond-budget-2018-with-dea-secretary-subhash-chandra-garg/1216158
Budget 2018 is more comprehensive than people have imagined  — says Subhash Chandra Garg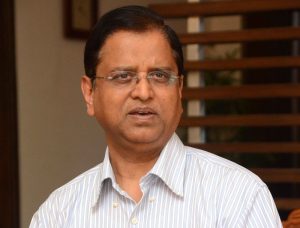 This year's Union Budget is the last budget before the 2019 general election. This could be a make or break exercise for the future of the Narendra Modi government. Even as Finance Minister Arun Jaitley gave one of the longest speeches ever, he failed to communicate the exciting times that lie ahead for most Indians as almost every segment of business undergoes a transformation. Subhash Chandra Garg, Economic Affairs Secretary, Ministry of Finance (MoF), Government of India, tries to demystify the Budget in a conversation with the Free Press Journal. A 1984-batch IAS officer, Garg tells Jescilia K and  R N Bhaskar about the less highlighted aspects of the Budget that could change the way the world will look at India.
Why is this Budget special?
This year the Budget touches upon all of India- rural and urban alike. It touches all classes. I think this is the Budget that has reached a maximum number of people. There is something in the budget that is there for almost everyone.
Where does the Budget stand in terms of policies and allocation for solar and methane?
There are specific provisions for everyone. Solar also saw a mention. Farmers can generate excess electricity using solar power, as there are months when they will not need as much electricity as on other days. The state governments have to make sure that these farmers are able to sell their surplus electricity to the grid.
For biomass, agricultural waste, animal excreta and other farm waste, there is a very specific proposal. It is under a scheme called Gobar Dhan. This scheme envisages that the vast amount of excreta, dung etc, will be converted into compost, bio-gas, CNG and allied products. This would not be done by farmers but entrepreneurs. There are buyers for this. IOC is also interested in buying as much biogas as can be generated. There is a very wide strategy for an ambitious plan for solar and wind, hich will generate thousands of MWs of electricity.
Now, this has been far or less successful in the country. I recall way back in 1999 when I was in Rajasthan, I put up the first wind energy plant of 200 KW and that time we were talking of a solar plant of some KWs. Now, we are talking of MWs and GWs. Now, this is also becoming cheaper; power generation is decentralised; and the use of local grids to encourage entrepreneurs in the space. Solar is a huge priority of the government.
In the Budget, what incentives will solar panels get or what will be introduced gradually?
Being competitive is the biggest incentive. And that is the scale we have reached now. Solar has become cheaper over years and it is cheaper compared to coal. People are worried about coal and that it will become extinct for power generation. Solar does not need incentives in the long run and it has become very competitive.
I don't see the need to have special incentives. We had a long incentive regime. Increasingly, there is no need for larger incentive.
How would the government convince the state grids to stay away from providing power to rural areas and not make life difficult for micro-grids?
Large grids or high-tension grids there is no losses or there is no theft possible. The losses are at the local level and that is where the distribution takes place. That is where these losses can be eliminated by having power generated locally and used gainfully at a local level.
The fascination for exclusive grid supply in rural India should stop. We should not have any preference that we should have a grid-based supply in every home. We should allow the alternative of decentralised power generation via solar and other forms and supply. Let them compete without any preference.
Solar pump users can sell surplus electricity. But encouraging solar pumps is a dangerous move. It makes the state lose control over how much of underground water is pumped out.  Your take.
The solar pump is a standalone pump but that can be monitored. How much water is drawn can be understood. The worry that the pumps cannot be monitored is untrue.
When micro-grids come into existence, the discoms don't have to subside rural power consumption. That will mean cheaper power for industry. By when do you think this will be possible?
Getting the industry, to receive power at competitive rates will work in the favour of the industry. The industry should have the lowest level of power tariffs and must also have the freedom to put its own solar plants. As we go along, this will have to be addressed.
In the Budget, the government has been talking about using gold as an asset class. But loans against bullion and coins are not permitted and that goes against treating gold as an asset class. Your take.
The Budget makes very specific announcements and makes a mention of gold as an asset class. This means it will allow for the introduction of a gold policy, gold deposit accounts and establishing exchanges for buying and selling of gold, regulated by someone. The underlying objective here is to develop gold as an asset class. This does not mean jewellery. The whole objective of this policy as and when it comes out, will be to make sure that gold remains an investment, a financial asset and a tradeable asset. This can be done only after gold standardisation, which has now been defined by the government. The government is trying to conceptualise and bring about a major reform to develop gold as an asset class. If we get it right, we will see the right development of the gold market.
Anything above a five per cent duty can lead to smuggling. The present import duty on gold, at 10%, encourages smuggling.
Gold's 10 per cent duty is high and the idea is to discourage the import of gold. While it discourages import, it acts as an incentive for smugglers to try their luck. Certainly, there is a side effect of the policy that must be looked at. If and when we are able to develop gold as an asset class, it should be possible to realign the import duties. It is fundamentally the economic logic that must apply.
What is the government thinking about in gold?
There was a report that was prepared by the Niti Aayog and my department has invested a lot of time in this. The Budget announcement makes it clear that it would be regulated system. We will come out with a comprehensive gold policy.
How will you enforce MSP for marginal farmers?
Now, price is a key component to levelling farmers' income and that is where the announcement of 50 per cent over your cost of cultivation is coming to play. We will use the A2 and FL basis of cost and it will include all the costs a farmer incurs. It will include the imputed labour cost. Including all this, a profit of 50 per cent is assured.
Wheat and rice, are more or less 50 per cent. All other crops are also proposed to have 50 per cent. While wheat and rice are more organised, other crops are grown by marginal farmers. We need to allow farmers to grow whatever suits them best. It promotes efficiency and better cultivation, better choice.
This introduction of MSP will not just improve a farmer's income but will improve crop diversification and efficiency. This is the larger intent of this announcement.
It is true that declaring MSP at 50 per cent is not enough, but if you are not in the position to ensure this then you cannot encourage agriculture. That is what has happened in the past. Some states had a procurement system in place while other states did not.
Now, Niti Aayog will have to come out with a model that will ensure the farmer's crop has been procured at the MSP. Or, he/she is paid the difference between the market price and the MSP price. We are working on these details. It is moving to a fixed price payment. Crops that need to move above 50 per cent are Kharif crops. We have six months' time to get everything in place and it will be done in time.
The procurement of rice and wheat is high. But there is a need for warehousing?
There is another major announcement of the Budget. The specialised storages and air-conditioned warehouses, all of those special storages have been announced. Our distribution system for milk is good, we are trying to do the same thing for tomato, potatoes and onions. As and when it succeeds, we will experiment with other crops.
It will be the first time that there will be a major organised effort for agriculture products. If we succeed, we will completely transform agriculture. For Operation Greens, we will treat agriculture as an enterprise. We tried working with public enterprises and our efforts failed. Here the private sector has the right kind of advantage. They have to be at the centre of this.
The Budget introduced a health care system. Where are doctors?
The government will allow to create more doctors. There is some proposal to meet the need for doctors. I think our Health Ministry can answer the question clearly.
Comments can be posted to RNB@asiaconverge.com