http://www.freepressjournal.in/analysis/psus-when-a-promise-is-not-a-promise-r-n-bhaskar/1242051
PSUs: Promises forgotten, rules ignored
— By RN Bhaskar | Mar 22, 2018 08:17 am
On March 13, 2018, the Parliament's Lower House, the Lok Sabha, passed without debate two finance bills and 218 amendments. These included funding demands from 99 government ministries and departments.
Using the pandemonium in the Parliament as the justification, the government passed these bills (as money bills) without any discussion whatsoever (through a process known as the 'guillotine'). The total time taken to pass these bills and amendments was just 30 minutes.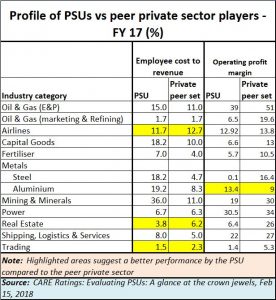 The government had possibly waiting for this opportunity.  Included among the bills was one relating to controversial foreign funding to political parties. The amendment with retrospective effect for 42 years enables all political parties to escape scrutiny of the source of funds, from overseas as required under the FCRA (Foreign Contributions Regulations Act). Many people saw this move as another attempt by legislators to frustrate an earlier Delhi High Court ruling (28-3-2014 judgement) requiring political parties to come out with details of contributions from overseas donors (http://www.asiaconverge.com/2018/02/aadhaar-npci-uidai-pnb-and-corruption/). It was effectively telling the country that laws apply only to common people.  They do not apply to political parties or legislators.
The Lok Sabha also passed salary hikes for members of parliament, the president, and state governors, and an Appropriation Bill passed (by voice vote on March 14, 2018), which allows the government to draw an additional Rs 80,000 crore from the Consolidated Fund of India.
Much of this will include subsidies to ailing public sector units (PSUs). The government had thus decided to forget its election promise of reducing the role of public sector units. It had promised that it would instead focus on promoting private sector investments, and also improve the ease of doing business in India.
Just a couple of weeks ago, this column had spoken of the manner in which the government had already decided to promote and expand the role public sector units in the fertiliser sector (http://www.freepressjournal.in/editorspick/there-is-something-amiss-with-fertilizers/1233568).  The column noted that the government would be reviving five closed fertilizer plants. Four of them would be units – located at Talcher, Ramagundam, Gorakhpur and Sindri – that belong to the government-owned Fertilizer Corporation of India Limited (FCIL). One of them would be Hindustan Fertilizer Corporation Ltd. (HFCL) in Barauni. The 'revival' is being done by setting up new ammonia-urea plants with a capacity of 12.7 LMT (Lakh Metric Tonne) per annum. The government expects that with the commissioning/start of the above plants, the indigenous urea production can increase significantly leading to substantial reduction in imports.
It was obvious that the government was trying to protect its own political interests – and PSUs play a significant part in this area.  In fact, an analysis by CARE Ratings shows that PSUs continued to lag behind their peer private sector counterparts on most parameters (see chart). The sectors in which the PSUs did better than the private sector in terms of labour costs as a percentage of revenues belonged to the aviation sector (Air India). But that could be because public sector salaries are often lower than those that the private sector pays, especially at higher levels.  At lower levels, where the numbers are usually large, PSUs pay better than thwe private sector.  Possibly, this is one more way of appeasing a large number of voters. However, Air India has been whittling down its numbers at both the higher and lower levels in view of the losses it has been making. Real estate and trading PSUs have also done well on this parameter.  But that could be because companies like MMTC and STCs are often monopolies which are therefore not required to pay huge salaries to target driven marketing professionals.
More interesting is the other parameter given in the chart alongside — operating profit margin. That is where PSUs show up rather poorly. Except for aluminium, PSUs cut a sorry picture of their performance when compared with their private sector counterparts.  And this is the ratio that should matter the most.  Clearly, the government is willing to cope with lower returns, rather than focussing on profitability and excellence.
Add to this a list of other symptoms that PSU performance exhibit, as highlighted by the CARE report:
Revenue growth especially across sectors like trading, aviation, shipping and capital goods has been slower compared with their private peers.
For companies like SAIL, BHEL and RCF, which operate in capital intensive sectors, lower revenue growth has led to reduced operating margins over the years in comparison with their private peers.
The biggest differentiator between PSUs and the private companies has been their employee cost. The cost difference was sizeable in labour intensive sectors like mining, mineral & metals, capital goods and shipping.
Finance sector PSUs (REC, PFC) have near monopolistic business and the definitive backing provided by Union government gives them an edge over other companies in similar sectors.
Interest cost has not been significant and at comfortable levels across companies barring the case of Air India and Steel Authority of India Limited. All other PSUs covered under this report have an interest coverage ratio greater than 1.
It is obvious that many of the promises that the present government made before the 2014 elections have not been kept.  It will now have to be seen whether the government actually manages to reduce the role of public sector units by divesting them.
It would therefore appear that the average tax payer will continue to pay for decisions that governments do not take in respect of not-so-profitable, or even loss-making PSUs.
Comments can be posted to RNB@asiaconverge.com