Education in India has a long way to go
 RN Bhaskar
Politicians love to claim that India can become the teacher for the entire world.  They use the term Vishwaguru (https://timesofindia.indiatimes.com/india/next-5-yrs-will-make-india-vishwa-guru-modi-in-gujarat/articleshow/69510732.cms) . Even states like Uttar Pradesh that have done miserably on the education and per capita income fronts echo similar sentiments  (https://www.dailypioneer.com/2022/state-editions/cm–india-set-to-become—-vishwa–guru—-under-leadership-of-modi.html).
The truth is that for a country – not an individual – to become a Vishwa guru, the entire country must achieve high standards in literacy, in school enrolment and be connected to the world through digital platforms.  As the data below will show, India can boast of none of the three.
Its commitment to education is questionable.
The claims, therefore, sound hallow.
Poor GER
Even a cursory look at the data presented by the government before Parliament (both before the Lok Sabha and the Rajya Sabha) makes one wonder how such pronouncements could ever have been made.
Consider how, for the last two decades, India touts its literacy rate to be over 60%.  The census of India says the "Literacy rate of India [in]  2021 is 74.04%" (https://censusofindia2021.com/literacy-rate-of-india-2021/). Yet the country has a gross enrolment ratio (GER) of just 27.3% (the full Rajya Sabha Reply can be got here — 2023-02-08_Lok Sabha_education_Allocation of Funds to States as per GER).  Something does not quite add up.
Maybe, it is the definition of what literacy could be.  The Census defines literacy as anyone who could read and write.  In earlier Census documents, it was anyone who could read and write one's name.  So, if your name was Ram, and you knew just those three alphabets, you were considered literate.
The GER numbers show India's record on the education front is miserable. They even bring into question India's literacy rate.
A sinking Hindi belt
As the other charts show, the country has a long way to go before its schools even begin to make its young population savvy about science, the internet and even about education in general.
Sadly, despite all this, most political leaders have been spending time, resources, and the lives of children on debating whether the Mughals should have any role in India's history, or whether cities and roads should be renamed, or whether South India should adopt the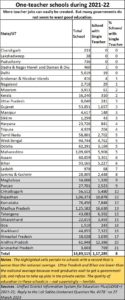 Hindi language.
The track record of the Hindi belt – except in the appointment of teachers in Uttar Pradesh and Bihar – is dismal.
One-teacher schools
Just look at the numbers of one-teacher schools (the full reply to the Lok Sabha can be downloaded by clicking on this link2023-03-27_Lok Sabha-education_one teacher schools).  The single teacher instructs all students, in all classes, and all subjects. Is this a school, or a household?  Even in households, the father teaches a subject he is reasonably good at, and the mother focusses on another subject.
When you have one-teacher schools, it just means that either the state has not provided school managements the funds to appoint more teachers, or the money has been taken and used elsewhere.  Such schools usually use the goodwill of the community to get free service from the parents of their students to teach other students. Not the best way to go about education.
In October 2021, it was UNESCO which alerted India to this problem (https://en.unesco.org/news/no-teacher-no-class-state-education-report-india-2021), It stated  that there were a total of 19% or 11.16 lakh teaching positions in schools lie vacant in the country, 69% of them in rural areas.  Later the government admitted that at least a lakh schools existed with just one teacher per school (https://asiaconverge.com/2022/02/budget-22-sightless-and-derelict/).
A happy discovery is that Uttar Pradesh and Bihar, which have been laggards on most other parameters, had just 3-6% of their  schools as single-teacher schools.  This was better than the national average of 8%.  But there could be an explanation here. In these states, many youth prefer to stay unemployed.  They try — and try again and again — to get a government job.  That hunger for government jobs could have pushed the governments in creating more teaching posts.
Little connect with the world
Then consider the number of schools that are internet enabled and functioning as "smart schools".  You will find schools that have taken an internet connection, but it goes to the headmaster's house. You will find computer classrooms where the room is kept locked because it is a showpiece, to be opened only when the headmaster wishes to impress visitors.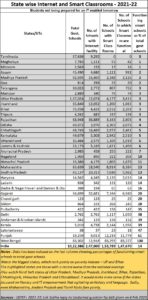 When you look at functioning smart schools, you discover than only 14% of government schools have this facility (the full Lok Sabha reply can be downloaded from here.  It has the last chart as well — 2023-02-06_Lok Sabha-education-Infrastructure of Government Schools in India).  And yet you hear politicians claim that India's big leaps into the world of internet and data will make it the global leader.  With just 14% of schools offering this facility, it is obvious that any student who wishes to access the internet will have to do so on his or his family's mobile phone at personal expense.  Once again, this is not what education is meant to be.
Less science, more ideology
The last chart for this article – more charts will be discussed in subsequent articles) is about government schools which have functional science laboratories.
That was meant to be a given.  You cannot teach science in schools without a science laboratory – especially when it comes to subjects like chemistry, biology, and physics.
Yet the government's own data shows that only 48% of the schools across the country are equipped with science laboratories.
It is possibly this major lapse that explains why politicians are willing to spend more time and resources discussing how to rewrite history, or change the names of streets and cities, than focus on key issues like science and mathematics which are independent of ideology (though some may bring in ideology when teaching concepts like Darwin's discoveries).
Once again, watch the Hindi belt.  Many of them are states with the BJP in power, which the government calls double engine economic development.  Yet, when it comes to the most crucial subjects which determine the career paths of students, the laboratories are missing.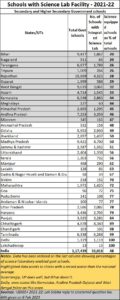 The four charts that are presented in this study tell people how deep the malaise is.  It also points to the hollowness of the claims of becoming the Vishwaguru.  And it fills one with dread as political leaders spend energy and resources on subjects that will not help children excel in a competitive world of tomorrow.
Since India continues to recruit engineers and produce doctors, what this means is that private training institutes have sprung up to occupy the huge gaps left behind by the government.  So, the government spends money on education, and employs vast numbers in its education departments, but does not deliver.  But most common folk must bear the burden not just of healthcare, but also of education (even though it may be sub-standard).
The government's absence from these areas is extremely worrisome.  It points to a worsening inequality on the one hand, and a growing number of people who are willing to lend themselves to politician funded rent-a-crowd mobs.  That is where vigilantism also becomes more widespread.
This time, we are not looking at PISA scores or the global ranking by foreign universities.  India's leaders are quick to debunk any international comparison – whether it is about internet closures, or democracy rankings, or even the judiciary.  Here, we have looked at data presented by the government itself.
One good development though.  This time, data presented before the Lok Sabha and the Rajya Sabha was easier to find than in the last 4-7 years.  If such openness continues, India can look at ways to improve itself.  Hitherto, one had claims of progress, without supporting data.
Comments can be posted to RNB@asiaconverge.com