http://www.freepressjournal.in/analysis/now-private-banks-too-are-getting-tarnished/1260481
AIBEA should focus more on private bank malpractices
RN Bhaskar — Apr 19, 2018
Stories about wheeling dealing that managements of private sector banks have indulged in have suddenly put the spotlight on such banks. Hitherto, the focus was on mismanagement of public sector banks (PSBs). Private bank managers could look down smugly at PSBs and sneer.  Most analysts had even begun to demand privatization of PSBs.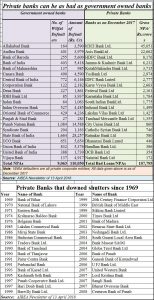 But all that changed once the dealings between India's largest private bank, ICICI, and a defaulter like Videocon, came to light.  More distasteful were disclosures that many of the deals had been done by relatives of the bank's ceo, Chanda Kochar.
All of a sudden, PSB Unions — under the umbrella of All India Bank Employees Association or AIBEA — had something to hit back with.  They came out with their own version of how government owned banks had not fared as badly as many thought (see chart).  They pointed out, through their newsletter of 13 April 2018 (http://www.asiaconverge.com/wp-content/uploads/2018/04/2018   and   http://www.asiaconverge.com/wp-content/uploads/2018/04/2018), that between 1947 and 1969 (when some of the largest banks were nationalised) as many as "736 private banks had collapsed and closed down due to mismanagement". Even after 1969, 36 private banks had collapsed or had gone out of existence by merging with other banks. The AIBEA has now begun demanding nationalisation of ICICI and Axis Bank.
Of course the AIBEA newsletter remains silent on how many PSBs too had to be merged because they were rendered unviable. It does not speak of the bailouts PSBs had received from the government time and again.
It must also be mentioned that the AIBEA newsletter does not include the money that Standard Chartered Bank lent out to Essar, because of which government-owned oil fields managed by Essar Oil had to be sold to Rosneft of Russia. That is how the Ruias of Essar were bailed out.  The AIBEA newsletter also does not refer to the government's silence on the charges of massive money-laundering and siphoning that the Directorate of Revenue Intelligence had levelled against the Ruias (of Essar) vide their 384 page dossier (No.DRI/MZU/CI-11/2013-14 of 11 March 2015).  Adding those figures could have swelled the figures for private sector defaults even further.
Similarly, the AIBEA newsletter is silent about the innumerable real estate and other deals private sector managers of banks and mutual funds (MFs) struck to profit themselves and their families. For instance, most senior manager of private sector banks and MFs are known to have entertained cozy deals with real estate developers. The banks and MFs lent out money to developers and in turn got properties at discounts ranging between 40-50%.  Many managers sold off their newly acquired flats immediately after they were purchased.
This is in sharp contrast to the investigations and accusations that fly thick when PSB managers enter into such deals. So w'hy has the RBI/finance ministry not brought out guidelines on the way wealth garnered by a bank/MF manager's family could be subject to audit scrutiny to ensure that such conflict of interest deals are not encouraged?  After all, private sector banks and MFs pay their managers more than what PSBs pay.  To try make more money is not just greed.  It is a violation of banking norms.
Currently, it is premature to pin the blame on anyone, as investigations are underway.  But the few details that have emerged do paint a sordid picture of a weak regulator and collusive bureaucrats who choose to look the other way instead of slapping criminal charges against those who had misappropriated bank funds and had failed to repay them.  It also points to the weak moral fibre of some of the seniormost managers of private banks whose greed compelled them to try grab even more money through collusive arrangements.
India has a big cleanup job at hand. The cleanup must begin with ministers, bureaucrats, regulators and bank/MF managers. After all, no bank manager would have dared to lend to Vijay Mallya against the value of a brand name, unless someone in the ministry had given the manager the go-ahead. The AIBEA has to make this demand.
Nevertheless, the figures in the AIBEA newsletter are a good starting point.  But if the unions want to preserve banking, they should also begin asking for stronger regulations to be in place. That unfortunately is something that AIBEA has been silent about.
Comments can be posted to RNB@asiaconverge.com