https://www.moneycontrol.com/news/business/economy/comment-what-makes-madhya-pradesh-tick-2583155.html
Madhya Pradesh economy snapshot
During the past 12 years, ever since Shivraj Singh Chauhan became the MP chief minister in 2005, the state has witnessed a blistering pace of growth in agriculture
 RN Bhaskar — Jun 05, 2018
Some 15 years ago, Madhya Pradesh was part of a group derisively called the Bimaru states.  The acronym meant 'sick' in Hindi, and was aptly used to describe some of the most backward states in India – Bihar, Madhya Pradesh, Rajasthan and Uttar Pradesh.  At that time, most people believed, and rightly so, that India's GDP had been pulled down considerably because of the poor economic progress of these Bimarus.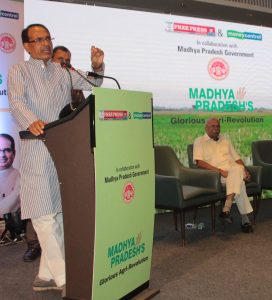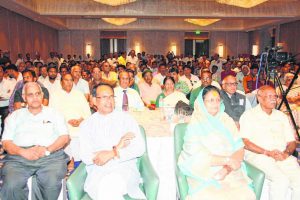 Things are changing today.  Except for Uttar Pradesh, which continues to languish on many fronts, the others have clawed themselves out of Bimaru status.  And one of the most impressive performances has been put up by Madhya Pradesh (MP).  This was amply brought out at a recent conference jointly hosted by Moneycontrol.com and Free Press Journal along with the state government of MP in Indore.
The more one looks at this state, the more is one convinced that this is one region that investors need to be watching very carefully.  During the past 12 years, ever since Shivraj Singh Chauhan became the MP chief minister in 2005, the state has witnessed a blistering pace of growth in agriculture. Growth rates have hovered at over 10% year-on-year.  Moreover, according to the state government in its media releases, "During the last five years, the state has recorded [an] 18% growth in agriculture – the highest in the country."  Such growth rates are astounding indeed.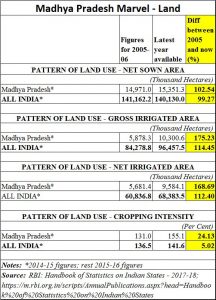 So, what made this state do better than other states?
Some clear indications are available from the Reserve Bank of India's Handbook of Statistics on Indian States for 2018-19 – please refer to the tables alongside).
Irrigation: the key factor
The primary cause for the spurt in economic growth was the manner in which the government focused on irrigation. That in turn caused gross irrigated area to almost double.  Compare the 75% growth in the gross irrigated ever since 2005 with the national average figure of just 14% and the focus of the state government becomes obvious. Unlike neighbouring Maharashtra, where the sugarcane-politician nexus deprived the entire state of water, thus allowing barely 20% of its land to get irrigated, MP has over two-third of its land under irrigation.  That in turn allowed the state's farmers to increase the cropped area.
But the other factor which helped MP was the agricultural savvy of its farmers who ensured that they could grow more than one crop on the same piece of land each year.  In many cases, farmers were educated on how they could have three crops a year.  That could explain the cropping intensity in MP increasing by over 24% since 2005 compared to the national average of just 5%. This awareness needs to spread even further.

What also helped MP was the existence of over seven agro climatic zones within the state allowing it to grow a vast variety of crops.  Rice and wheat, however, remain the principal crops for a variety of reasons.  One factor is that these are crops where the government has a procurement policy, thus protecting the farmer against pricing and purchase risks.  But more on this later.
Increase in acreage helped boost wheat production by three times during the period under review. Rice production more than doubled. Even non-foodgrain crops like cotton and oilseeds grew.  It was more remarkable for cotton because even as the acreage under cultivation declined, production went up.
Oilseeds skid
The story of agricultural prowess is visible even in yields (see table). Yields for almost all crops climbed, except for oilseeds, where the yields remained below national averages and actually declined.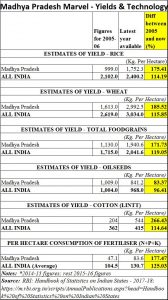 There could be three reasons why this happened.  First, the policy of the central government which has allowed liberal import of edible oil and oilseeds, thus putting a pressure on the prices oilseeds could enjoy in the domestic market.  "Globally, oil and oilseeds are grown using genetically modified seeds.  In India this is now allowed.  Thus the farmers are hit by a double whammy of abundant production and lower prices from imported oil and seeds.  There is something absurd about the government allowing imported oil made from GM seeds for ingestion, but using the dangers of ingesting GM seeds output from crops grown within India (http://www.asiaconverge.com/2017/09/will-fdi-finally-roll-into-india/).
The second reason is obviously the huge soya glut in global markets which caused prices to remain depressed even further.  The third is the inability of India's agricultural universities to come up with a breakthrough in soya and other oilseeds which could augment production.  Collectively, they have caused this segment of agriculture to remain weaker than other areas.
The higher yields were also a result of an increase in the use of fertilisers – growth rates were double that of the national average.
Thus, better irrigation, good agro climate zones and farmer savvy (higher yields, crop intensity and fertiliser consumption) and the right government policies to ease farm distress combined to make the agriculture sector grow at the amazing pace that India has seldom witnessed – except may be in Gujarat.  Compare these growth rates with the national growth rate of around 2.1% for agriculture, and one can understand why MP's success story is worth talking about.
New challenges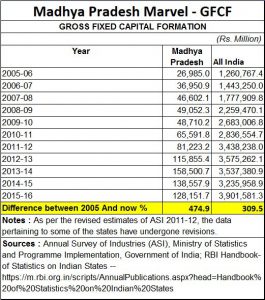 But the government knows that the agricultural growth has brought with it its own set of problems and challenges.
What many people do not know is that in order to encourage farmers to grow more, the state kept on increasing procurement prices of rice and wheat and even of other grain and crops like onions. Today, take any crop where there is an MSP (minimum support price), and MP will be found offering the highest prices in the country.  It even offers bonuses on the MSP for many crops.  While this has kept the farmers quite pleased, it has also made the state depend on the government as purchaser, which means that market price discovery is not the prime motivator for crop growth.
There is another problem when the state steps in as the procurement agency for crops. As the chief minister himself put it, "I am aware that many farmers sell their sickly produce to government agencies and keep the healthier crop for the private markets where prices are often higher than the MSPs the state offers. This cannot go on forever." And while corruption within the ranks of MP's procurement agencies is not as pronounced as in states like Haryana and Punjab, one often comes across stories of demands for graft – where the procurement agency is willing to pay a higher price for a lower grade offering against the greasing of palms. .
The state is clearly caught between a rock and a hard place. If it abolishes MSPs, it loses the support of farmers, a crucial vote block in any election.  If it continues with the MSPs, the state haemorrhages.
That is why Chauhan openly stated to the farmers that he is toying with the concept of having a fixed contribution that the state would like to make to farmers based on the land size and its crop potential.  That way, the state could reduce its role as a procurement agency.
The second way is to firm up prices by preventing price crashes on account of a glut in crop production – this was evident with soyabeans, onions and potatoes at different times. But that would require the focus to shift to food processing and to contract farming.  Chauhan said that the state has already crafted a new set of laws to encourage contract farming.  Hitherto, companies like ITC, Pepsico and Balaji – which like to book crop production well in advance of the sowing season — are apprehensive of the state suddenly announcing support prices that are higher than the prices at which the contracts were drawn up.
The government says that this will not happen again, and has promised to usher in a new set of laws.
In order to encourage food processing, the state has just announced a unique skill development and entrepreneurship scheme, aimed exclusively for children of farmers, to help them understand how to use such techniques for the crops they grow. Loans, subsidies and interest subventions are on the anvil and policies relating to such schemes should be out schemes.  Broadly, the state will offer loans ranging from Rs.1 lakh to Rs.1 crore, said the chief minister.  But other details are yet to be announced. That could trigger growth in capital formation which needs to grow at a faster rate.
True, GFCF rates for the state are higher than national averages.  But, normally, when agriculture grows at a good rate, so does GFCF.  The potential for the state to push up this number is immense.  The food processing strategy might help.
Futures and options
But the long term solution appears to lie in the state working with the Centre to ensure that commodity markets along with futures and options for durations of six months at the very least are introduced as early as possible.  It is not certain at this state, but there could be a case for the state government announcing a commodity exchange of its own for crops grown and picked up by warehouses within the state.  "Unless the customer learns to come to the farmer's doorstep, the farmer will always remain shortchanged by the middleman," says Rajnikant Rai, CEO, ITC-Agri.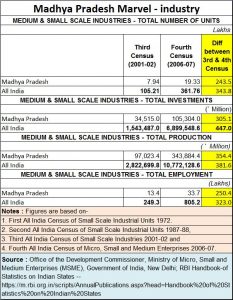 But that requires political will.  As these columns have pointed out, the central government has done precious little to give teeth to the Warehouse Development Regulations Act (WDRA) that was enacted more than five years ago (http://www.asiaconverge.com/2017/08/is-wdra-a-functioning-organisation/). It has meddled with commodity exchanges, closed trades, and even closed exchanges. Those are not ways in which commodity markets are encouraged to grow.
MSMEs wanted
The state will also have to craft out new policies to push up the number of medium and small scale and micro enterprises (MSMEs). The state's growth in MSME numbers lags the national growth rate. So do its investments, production and employment.
Normally, affluence in the agricultural sector invariably results in farmers and allied sectors investing in small enterprises in rural and semi urban areas.  That does not appear to have happened as yet in MP.
Clearly, the state has done wonderfully well till now.  But if it wants to maintain the tempo of its growth, it will have to look at incentivizing MSMEs as well, possibly related to its agricultural successes.
That will be something that the investment community will be waiting to see happen.  It is always on the lookout for areas where money should flow.  MP looks like a ripe destination.  But new policies to enable that flow to happen are required urgently.
Comments can be posted to RNB@asiaconverge.com