https://www.moneycontrol.com/news/news/business/economy/opinion-why-discom-losses-are-continuing-to-hurt-despite-modi-govts-uday-scheme-2974191.html
Discom losses finally make power generators squeal
India will have to find out ways to cope with an Rs 4.8 lakh crore debt burden in the power sector. This, however, is most likely to be taken up by the new government formed after the 2019 general elections
RN Bhaskar — Sep 24, 2018
By last week, more people had begun to realise that the emperor actually had no clothes on.
Maharashtra energy minister, Chandrashekhar Bavankule, informed the state legislative assembly that at least three (state owned) power companies had to repay loans worth Rs.66,00 crore (https://economictimes.indiatimes.com/industry/energy/power/3-maharashtra-power-utilities-yet-to-repay-rs-66-k-crore-loan-minister/articleshow/62169006.cms).  These included the Maharashtra State Electricity Generation Company Ltd (Mahagenco) which has an unpaid loan amount of Rs 35,310 crore with an average interest rate of Rs 10.16 per cent, The next in the pecking order was Maharashtra State Electricity Distribution Company Ltd (MSEDCL or Mahadiscom) which had unpaid loans of Rs 23,173 crore and Maharashtra State Electricity Transmission Company Ltd (MSETCL or Mahatransco) with outstandings of Rs 6,733 crore loan. The interest on these loans was 10.54 % and 10.60 % respectively.
Spokespersons for both the central and the state governments had claimed all along – for the past few years – that the situation was under control.  Then UDAY (or Ujwal DISCOM Assurance Yojana) was launched in November 2015. Even Crisil – India's premier credit rating company — touted its virtues (https://www.crisil.com/Ratings/Brochureware/News/Discom-losses-to-nearly-halve-by-fiscal-2019-on-reforms.pdf). It was a program aimed at financial turnaround and revival of electricity distribution.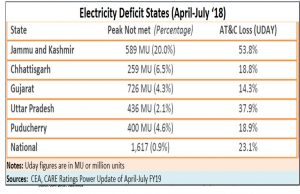 But it was evident by the middle of last year that UDAY wasn't working (http://www.asiaconverge.com/2017/04/uday-and-politics-of-appeasement-and-largesse/).  Somehow, everyone forgot to look at the two key numbers – the average cost of supply or ACS and the average revenue received or ARR.  If the gap between the two increased, then the scheme was not working.  If the gap narrowed, the scheme could be said to be working.
This is what these columns tried to show earlier as well (http://www.moneycontrol.com/news/business/economy/the-radical-power-for-all-solution-that-the-government-should-adopt-2396605.html)
They talked about the increasing losses of the power distribution companies (mostly state owned). This was reaffirmed by a CARE Ratings Power Update Paper of September 10, 2018 that ATC losses nationally were over 20%
Curiously, UDAY documents released by the power ministryin May 2018 (https://www.uday.gov.in/images/may_2018_newsletter.pdf) tried to sell another story.  It continues to claim that the difference between ACS and ARR has come down by 19 paise per kWh — from Rs.0.59/kWh to Rs.0.40/kWh (FY16 vs FY17The document states that the AT&C losses too have come down from 21% to 20%.  But it does not mention that many of the losses were disguised as supplies to agriculture.  Hence losses were converted into subsidies. And the misdeclarations probably allowed UDAY to claim that ATC losses were under 20%.
But talk to power sector professionals and a different picture emerged.  By transferring losses to UDAY, state discoms showed lower losses because interest on the transferred amount was calculated separately.  In fact, at least one power professional Subhash Sethi, chairman, SPML Infra Ltd in his newsletter of August 2018 (http://www.spml.co.in/downloads/2018/Electrical-Mirror-August-2018.pdf)  has gone on record stating that the discoms in India have "piled up debt to the tune of INR 4.8 trillion."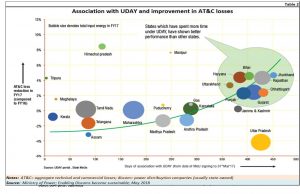 So how does one explain away the discrepancy between the ministry's claims and the red ink spilling all over the table?
One clue that is given out by the ministry itself is that many of the larger states did not work closely with UDAY (see table 2)   It could be that large power generating states like Maharashtra, Tamil Nadu, Madhya Pradesh and Andhra Pradesh did not agree with the UDAY provisions.  Or it could be that their need to continue the policy of appeasement of population segments with cheap power was very compelling. Whatever the reasons, the country will now have to find out ways to cope with the Rs.4.8 lakh crore debt burden.
With elections round the corner, no state government would like to cut back on subsidies and even power theft. Expect the quantum of power losses to continue surging.
This could mean that a total overhaul of the power sector will be inevitable once general elections are over, irrespective of which party rules at the centre.
Sometimes, India's way to reform is discovered only when a default stares it in the face.  That is what happened in 1990 when Narasimha Rao was confronted with the possibility of default. That is what happened in at the turn of the century when the NDA government under Vajpayee found the country's coffers empty and unemployment soaring.
The same symptoms could be much in evidence when the new government takes charge. So tighten your seatbelts.  A lot of turbulence is likely to take place very soon.
Comments can be posted to RNB@asiaconverge.com