https://www.freepressjournal.in/analysis/mumbais-penchant-for-costly-and-inconvenient-projects/1396746
Mumbai roots for expensive underground parking
Last week media reports talked about the new plans proposed by the Municipal Corporation of Greater Mumbai (MCGM) to build an underground parking lot at Raosaheb Patwardhan Garden, Linking Road, Bandra.  The project is expected to cost Rs.88 crore.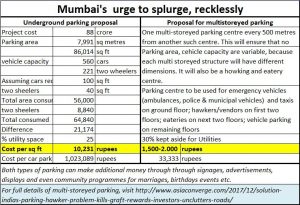 It may be recalled that similar proposals have been made earlier for underground parks at the Oval, Churchgate, and Azad Maidan, near CST station.
The proposal is absurd (see chart), costs huge sums of money and will involve more inconvenience to nearby residences than that faced by the current metro rail construction work.  The latter has been planned very carefully.  But going by the track record of the municipal corporation relating to any project it has undertaken, work will be haphazard in nature.  Time and cost overruns will take place.  Construction will be shoddy. And the project could become a white elephant.  They will be used as infrequently as many of the skywalks and subways near stations and highways. And they will seek to address the parking problem in just one area.
Mumbai needs a solution for the entire city, not just for one area.  And it needs a solution which can be replicated, is reasonable in terms of tariffs and does not require any further bailouts from the municipal or state coffers.
This author had made such a proposal in December 2014 (http://www.asiaconverge.com/2014/12/decongesting-cities-coping-with-illegal-parking-vending/).  The latest revised proposal was in December 2017 (http://www.asiaconverge.com/2017/12/solution-indias-parking-hawker-problem-kills-graft-rewards-investors-unclutters-roads/).
Both proposals talked about the need for the MCGM to introduce a policy
allowing multi-storeyed parking complexes to come up around the city provided it was not within a 400 metre radius of a similar centre.  By observing this rule, the maximum any person would have to walk to his office or his home or anywhere would be 250 metres from the nearest parking centre.
Where the municipal corporation would not charge for the FSI. This would allow the cost of bare construction to remain under Rs.1500 per square foot.
Which would allow at least 30% of the built up area to be reserved for utilities (ramps, elevators, staircases, toilets etc).
That would allow the remaining 70% to be used not only for parking vehicles, but also for hawkers, vendors and eatery establishments.  If required, a separate floor could be reserved for events and social functions.
Where tariffs would not be more than Rs.300 per 100 square foot area (that would be enough for a car to move in or out) car for a 24 hour period.  Similar (or maybe higher) charges could be made applicable for eateries and other vendors. That would ensure at least a 38% annual return on investments at a 50% capacity utilisation.
Where the ground floor would be reserved for for utility and emergency vehicles like taxis, ambulances, police and municipal vehicles.  Currently, the biggest violators of parking rules are emergency and utility vehicles. One has to look outside CST station in Mumbai and see how much of the road has been usurped by such vehicles. Such a policy would take all parked vehicles off the roads.
Where the authorities would enforce a zero tolerance policy for hawkers and vendors – licensed or otherwise.  Any violation could result in the multi-storeyed centre's promoter claiming damages from the MCGM for potential loss of business. All vendors and roadside stalls would have to operate from such multi-storeyed complexes.
That would allow motorists to do their shopping and entertaining (vegetables, restaurants etc) and then move down to their vehicles or to the taxi stands.
It would decongest the roads of stalls, hawkers and parked vehicles.
It would rid the city of self-styled parking attendants collecting unaccountable money from motorists, and depriving the government of taxable revenues.
But the MCGM does not like such ideas.  Probably, it prefers ideas which allow the system of non-transparency, big cuts on project costs, graft to flourish. Is this why MCGM has come up with a project where construction costs will be at least 30 times more per sq ft.  It will not decongest Mumbai, and might need annual bailouts from either the MCGM or the state government.
This new proposal promotes misgovernance. It does not take an Einstein to realise that any project that goes underground is bound to cost more than a project that is built on the ground.  And excuses like Mumbai has no space for development are absurd.  If the right FSI benefits are given, and speedy clearances are obtained, a lot more of construction activity can take place.
Such a policy would give a shot in the arm to the ailing construction sector which not only provides money to the exchequer, but also provides employment to countless millions.
Comments can be posted to RNB@asiaconverge.com