https://www.moneycontrol.com/news/business/the-smoke-signals-about-the-economy-could-be-misleading-3147771.html
Controlled debt, but poor investment climate, is bad news for the economy
RN Bhaskar – Nov 12, 2018
At first blush, the economy appears to be turning the corner.
Government debt is under control.  Yields are coming down signaling more confidence in government debt instruments.  They seem to suggest that the risk in government debt is reducing.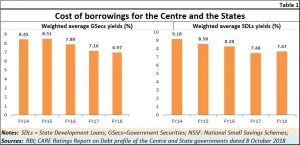 As a CARE report states, the Central government has managed to keep its borrowings broadly stable within the range of Rs. 3.3 lakh crore to Rs. 3.6 lakh crore during the last 5 years. For the period, 1 April- 28 Septtember 2018, the gross market borrowing for the central government was Rs. 2.8 lakh crore, 22.7% lower than the comparable period previous year.
But look again.  The debt figure does not include several major provisions.
Bank NPAs are one of them.  The yawping gap in funding for the Ayushman Bharat scheme is another. The loan writeoffs that the farm sector is likely to demand in the months before elections could be a third. The unwillingness on the part of state governments to treat power sector losses as bad debts could be a fourth. And the planned loans to the MSME (micro, small and medium enterprises) sector could be the  fifth.
Already the election manifestoes of some political parties clearly promise loan writeoffs for farmers (https://www.business-standard.com/article/elections/mp-polls-2018-congress-unveils-manifesto-promises-to-write-off-farm-loans-118111000489_1.html). And the declaration of farming districts as acutely drought prone areas could mean additional drought subsidies for the electorally important farm sector (https://www.moneycontrol.com/news/india/maharashtras-criminally-reckless-water-management-and-its-industry-unfriendly-moves-3138561.html).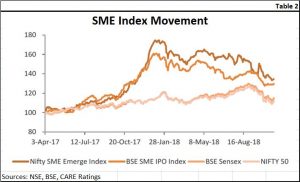 People are beginning to dark clouds that the debt figures or the GDP growth figures appear to conceal.  There is also the view expressed by Raghuram Rajan, former governor of the RBI, at a lecture overseas, that a 7% GDP growth rate is just not adequate for India.
All this is giving rise to fears that the banking sector could go through another spell of pain and bleeding. The recent announcement of the prime minister of granting MSME loans within 59 minutes appears to be a good idea.  But compelling banks to increase their allocation to this sector from 20% to 25% may not be a wise move, since MSME NPAs are worsening.
As a Moneycontrol report (https://www.moneycontrol.com/news/business/banks-continue-to-lend-to-msmes-despite-high-npas-report-3135381.html) pointed out recently, "Bad loans in the MSMEs rose to 13.08 per cent for public sector banks (PSBs) at the end of March 2018, compared with 12.56 per cent in March 2017, according to data from the Reserve Bank of India (RBI). The outstanding loans to medium industries rose 3.3 per cent year-on-year to Rs 1.05 lakh crore."
To offer low interest loans to a sector that is becoming riskier is not the way banking works.  But that is what the government plans to do. Prime Minister Modi said that approved  MSMEs would now be eligible for loans at a a cost which will be less than the normal rate by 2 percent (https://www.moneycontrol.com/news/india/pm-narendra-modi-launches-quick-loan-access-scheme-for-msmes-for-loans-up-to-rs-1-crore-3124651.html). He said that exporters would also be eligible for a subsidised interest rate for pre/post shipment requirements. "The loans would cost 5 percent less than the usual rate," he said.  This is an additional discount of 2 percent.
But, just a minute.  Didn't the diamond scams take place misusing pre and post shipment benefits?  Now with a stipulation that in-principle approvals be given in 59 minutes, and loans sanctioned within a week, more misuse may take place.  Is there a robust machinery in place to prevent misuse? More so when other indicators relating to the MSME sector point to a worsening sentiment (see chart).
While the government tries announcing sops for one sector after another, there is an urgent need to address the issue that most investors are worried about – the worsening climate for enforcing contracts.  To create jobs, and kickstart GDP growth, investments are sorely required,  But gross capital formation rates have not improved.
Thus while India's ranking on the ease of doing business may have jumped 23 places to rank #77 in the World Bank's Doing Business 2019 report, the fact remains that when it comes to enforcement of contracts India still ranks #163.  It ranks #137 on starting a business and #108 in resolving insolvency.
Worse are the recent amendments to the Prevention of Corruption Act in July 2018 only encourage the taking of bribes, because it deters anyone from complaining, and protects bureaucrats, legislators and even bankers from investigation till permission is obtained from higher authorities (https://www.moneycontrol.com/news/india/opinion-why-corrupt-politicians-and-bureaucrats-can-now-breathe-easy-2822671.html).
With worsening financial indicators, a deteriorating climate for prosecuting corrupt bureaucrats, bankers and politicians, and a government determined to push banks towards easier loans, is the concept of prudential banking coming to an end?
Comments can be posted to RNB@asiaconverge.com