https://www.freepressjournal.in/analysis/it-is-time-india-reshaped-its-exim-strategies/1491174
India's EXIM needs restructuring
Within the next few months, India's policymakers will have to decide how to restructure India's Exim policies. This will be necessitated by three factors.
First, the global economic slowdown is likely to hurt almost every country in the world.  But the most vulnerable will be developing economies like India, which will need the foreign exchange to finance its infrastructure, agricultural value-addition and its industrialisation in the coming decades.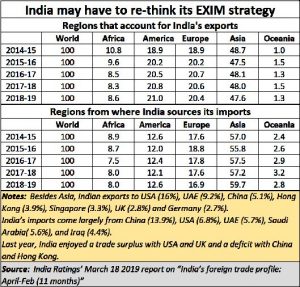 Second, India's imports are growing faster than exports.  This means that unless India is careful, it could end up digging a big hole into which it could trip and fall.
Third, many of the traditional export markets which India looked to for foreign exchange earnings may not be as accommodating in the coming years (see chart alongside).  They too have begun raising their import barriers, thus worsening  India's balance of payments (BoP).
One strategy which India will possibly embark on is to start talks with China where the trade gap is becoming uncomfortably large.  Hitherto trade between the two countries has flourished without much government support or encouragement.  China expects the Indian market for mobile phones and consumer goods to continue growing at a frenetic pace. And China's investments in India have been surging quite rapidly.
This will be interesting because of one more reason. According to some analysts, India and China have the same potential as the US Canada trade volumes.  Currently, US exports to Canada stand at $320.1 billion, while imports are around  $307.6 billion, making two-way trade a whopping $627 billion market – the largest cross border volumes in the world. Trade volumes between India and China have already touched $100 billion without much government support.  With political goodwill on both sides, trade between the two countries could soar phenomenal, even to levels higher than US Canada trade.
Marketmen are looking at 5G to catalyse such moves.  China is acknowledged to be the global leader in 5G (https://www.ccsinsight.com/press/company-news/3240-ccs-insight-predicts-1-billion-users-of-5g-by-2023-with-more-than-half-in-china/).  By 2022, China is expected to account for more than half of all 5G subscribers worldwide.
This is something neither Europe and the US is comfortable with.  Some say that the howls of protest emanating from the West about security issues with Chinese technologies are just a gambit to deter future markets from cozying up to China.  The war cries against Huawei should thus be viewed from this perspective. China also knows that if India joins it in promoting its 5G, it could easily establish this technology to become the de facto the global standard.
That could explain why Huawei has offered to even deposit with the Indian government the very source codes relating to this technology (https://www.deccanchronicle.com/technology/in-other-news/140219/huawei-ready-to-tackle-extra-security-to-stay-in-5g-kit-race.html).  It wants to allay fears that some Indians have been echoing taking up the concerns that are being broadcast by the West. At the same time, in order to blunt criticism in Europe, Huawei has already set up 5G labs in Germany (https://www.firstpost.com/tech/news-analysis/huawei-opens-information-security-lab-in-germany-ahead-of-5g-spectrum-auctions-5433091.html).  Obviously, India will be in a position to work out a relationship that could benefit both countries on the trade and business front in the coming decades.
At the same time, another strategy India will have to adopt is to quickly ramp up its rooftop solar plans (http://www.asiaconverge.com/2019/03/no-clear-focus-on-rooftop-solar/).  By now it is quite evident that many bureaucrats themselves have been misleading the government on how rooftop solar should be rolled out (http://www.asiaconverge.com/2017/12/sabotaging-rooftop-solar-and-employment-generation/),  But were rooftop solar really given the push it deserves, India would be in a position to create some 80 million jobs within a couple of years.  That in turn would enable India to develop its own smart micre-grid technologies and strategies which could easily find export markets to much of |Africa and even South East Asia.
If that is coupled with waste to energy strategies, India could not only almost entirely eliminate its fuel and oil import bills, but could actually wipe out the entire trade deficit by becoming an exporter of (compressed and bottled) methane (http://www.asiaconverge.com/2018/04/shit-can-mean-big-money/).
The good thing is that both sun and waste (both human and animal waste as well as agro waste) can be found in great abundance in India. Both offer India strategic strengths which can easily be tapped to generate wealth.
There is no denying that the coming global slowdown and the worsening balance of payments situation will have been be addressed quickly. At the same time, there is the desperate need to create additional jobs. That is where both strategic strengths (sun and waste) can actually help India  catapult itself into a higher orbit of wealth generation and exports.
The big question, like always, is whether India's policymakers will show the required vision and tenacity to realise this potential. One can only hope they will.
Comments can be posted to RNB@asiaconverge.com