Seeking to Live
By Conrad A Saldanha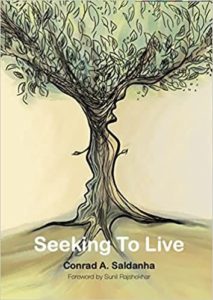 Kindle edition
We live in a highly uncertain world baffled by the events which we encounter daily in our lives. We feel the need to make sense of it all. We search for insights. We desire clarity. There is too much confusion in our minds. The big questions about life and all it entails doggedly nag us. We seek happiness but never experience it. We seek peace but all we get is conflict. It is in this context that "Seeking to Live" tries to remove the cobwebs and see life anew.
"Seeking to Live" is an anthology of articles and poems highlighting the importance of how we 'see' life.  It spells out the way we have been 'seeing' life with all its disastrous consequences. And challenges us to 'see' life in a new way. Create a new story. A new civilisation. The articles are organised into 4 themes which have been posed as questions – How are we responsible for creating our lives? How have we come to live inauthentic lives? How do we regain our lost lives? What do we need to see differently?
The book is inspired by what the palaeontologist, Teilhard de Chardin said in his book tilted The Phenomenon of Man, "To see or to perish is the very condition laid upon everything that makes up the universe…." We have created the world the way we have seen it. We are responsible for the way the world is today and the way in which each one of us is today. But we have the option to change the way  we have been seeing the world and our lives and begin to move on the path towards experiencing fulfilment; creating a world based on love and compassion instead of hate and greed.
The articles are short, crisp and focussed. One may read the articles in sequence according to the themes. Or, one may read the articles randomly as one deems fit at that particular point of time. It is fine to adopt any of the ways to go through the book. But one needs to reflect at the end of each article. One would need to relish the reflection needed and own the insights as applied to oneself. In this way one may experience what one is seeking.
"Seeking to Live" has been written by Conrad A. Saldanha who describes himself as a mindful meanderer searching for the True North of life. He is a multifaceted person. He trained briefly in a religious order soon after finishing his schooling. He left while doing his college studies. He completed his graduation in Economics & Statistics from St. Xavier's College, Mumbai University and his post graduation in Management with Marketing as his major from Jamnalal Bajaj Institute of Management Studies (JBIMS), Mumbai University. Subsequently he worked in industry for thirty – two years handling consumer and media products and services in various organisations like Johnson & Johnson, Colgate – Palmolive, and India Today.
He found his true passion when he consciously shifted from Marketing to Training & Development and set up the Training and Market Research function in The Times of India (Response). He has conducted numerous workshops in the areas of Knowledge, Attitudes and Skills within The Times of India Group. He has also conducted workshops on Vision, Mission and Values for several educational and religious institutions across the country and abroad. After retiring in 2009 from the Times of India as Vice President (Training & Research) he worked for another 10 years in the education space and has been on the board of various Management and Communication Institutions as well as involved in  the launching of management institutions. Thereafter he decided to become a blogger to share his philosophy of life in a meaningful and impactful way. His articles appear on https://conrad-saldanha.medium.com These articles have now been organised into the book "Seeking to Live".
Comments can be posted to RNB@asiaconverge.com