https://www.freepressjournal.in/cmcm/uk-continues-to-make-money-from-india
The UK Visa office and its money-making ways
RN Bhaskar — July 25, 2019
Commerce and the UK were never strangers.  Napoleon called this country a nation of shopkeepers.  Even during colonisation, the British first came in as a trading company, which later became the governing arm of Her Majesty.
When it set up the railway network in India, it was to achieve three objectives.  First, to allow British troops to move quickly from one part of the country to another. Second, to move raw material out of the hinterland, and then send back exorbitantly priced finished goods. Third to sell British steel for the Indian railways network at prices that were almost nine times higher than those prevailing elsewhere in the world (https://www.youtube.com/watch?v=k6P_xznIv4g).
The philosophy always is – extract as much as you can.  Fair play is a good idea, but it must not interfere with the noble task of making money.  Indians still rankle at what the Westland helicopter deal was all about.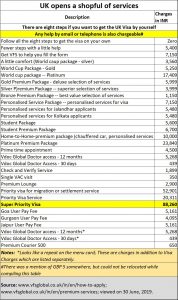 This approach doesn't appear to have changed even today.  Now the British have stooped to charge common Indians too through their Visa services (see table).  Caveat.  The charges are levied by the privately held VFS, not by the government. But there are reasons to believe that the British government was involved in the decision making.
The UK-VFS is the only Visa service which declares that any email or telephone support is chargeable.  It is the only one which has almost 32 items of services for sale.  And it is possibly the only service that charges a salacious figure of Rs.82,260 for granting a visa on an emergency basis.  Bad luck if you need a urgent medical condition.  The British sympathise, undoubtedly.  But charges are charges.  Do pay up please!
When asked why the UK-VFS has the largest number of paid-for service offerings on its menu than any other country, Sir Dominic Asquith, KCMG, High Commissioner to Her Majesty's government in India remains silent. It is inconceivable that the VFS would have invented this elaborate menu without the concurrence of Her Majesty's government. That is why, Sir Dominic's assertion rings hollow — that "These additional value services (AVS) are paid-for services; the fees are set by VFS. All of these service provisions are designed to provide tailored support for individual customers."
Since Consular offices are not allowed to enter into commercial activities, allowing the VFS agency to charge such service fees could be quite convenient
This author happens to be disabled, and hence wanted to know if there were special fast-track processes to ensure that the disabled do not have to approach the visa office too often.  Sir Dominic says, "…on the VFS websites it states, All Visa application centres have access ramps for wheelchairs. Customers who have a disability or need accessibility requirements are encouraged to bring someone to assist them.  Lifts are also accessible when necessary. Please note that VFS Global staff will be available to assist any customers with special needs."
Translated, it means, yes, we will help you.  But if you want the eight steps to visa procurement reduced, you had better pay up more.  Hehe!!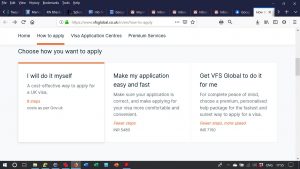 Two more interesting things to note about the website – First, the menu of services begins with a reminder that there are eight steps to getting the UK Visa (http://www.asiaconverge.com/wp-content/uploads/2019/07/2019-06-30_UK-visa01.jpg).  It could be interpreted as a gentle reminder that getting a Visa could be inconvenient, unless you agree to pay up a bit more.  The line between gentle extortion and service begin to get blurred.
Second, when this author tried to take a printout of the menu of services, all he got was a blank page. So we took screenshots of each page.  If you want to download the 12 screenshots stitched together as a pdf document, you may do so from here (http://www.asiaconverge.com/wp-content/uploads/2019/07/2019-06-30_UK-Visa-website-12-images.pdf).
How do other countries fare on the services front?  Well, the US may appear unfriendly but is not. If you are disabled, if you are a senior citizen, have a medical emergency, or if you are a journalist, judge, elected representative etc, you are fast-tracked and you get your Visa quickly. You do not pay for such services.
The UK should emulate this.  Instead it echoes the US on almost all controversial geo-political matters– right from the war on Iraq in search for weapons of mass destruction (never found, eventually), against Syria for poison gas leaks (never proven conclusively), even Libya (https://en.wikipedia.org/wiki/Abdelbaset_al-Megrahi) and now against Iran (it conveniently forgets that it the UK which created the Iran conflict by working with the CIA to depose Mohammad Mosaddegh, Iran's prime minister, in 1953 —https://en.wikipedia.org/wiki/Mohammad_Mosaddegh).
The UK should instead learn to emulate the US in caring for the disabled and senior citizens and not charge for additional services.
Comments can be posted to RNB@asiaconverge.com