Lab grown diamonds are the way to making India even more formidable in diamonds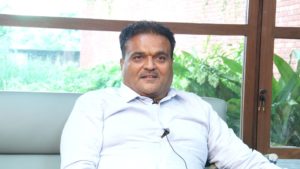 Surat-based Greenlab Diamonds aspires to create sustainable luxury on the back of lab-grown diamonds. Chairman Mukesh Patel discussed the potential of lab-grown diamonds and some of his company plans in a chat.  He spoke with Pankaj Joshi and RN Bhaskar in Hindi and Gujarat9.  Given below are edited excerpts:
How the start happened: (https://youtu.be/idgR_dSujE8)

I have inherited a legacy from my father.
He came up to Surat in 1970, the year I was born, to set up a diamond business.
The original business was his, and I joined as a small part. In 1987 I went to Mumbai and stayed there. I learnt a lot there. It was the 2008 recession which helped consolidate my decision to return to Surat. So diamonds for me is a heritage. Other than the traditional space, one more space has opened up to me, namely lab-grown diamonds.
Surat as a growth centre of diamonds: (https://youtu.be/ur1Psr6gGX8)
Surat is the heart of Gujarat. We have a saying "Surat sona ni moorat", which means Surat is an idol of gold. The more you learn about Surat, you can say that it is actually a heart of India. It is a mini India because people from all parts have come here and settled and prospered.
People from Saurashtra, Rajasthan, Bihar, Uttar Pradesh, Bengal – all have come and got amalgamated here.
The water here is such that you can succeed in anything you put your mind to. Be it diamonds, textiles, chemicals in the nearby Vapi cluster, even gold – all industries are prosperous and progressing.
In this, many people say that the Prime Minister is taking an interest in this industry. Let us understand that his interest is in taking interest in all industries, to enable growth and job creation.
In diamonds specifically, people who are uneducated also can develop skills. Those people also can raise their income level to more than one lakh monthly. Naturally this industry is on the radar of the Prime Minister.
Lab-grown diamonds, China and the context: (https://youtu.be/jCINyHEq_yg)
Lab-grown diamonds are a total replication of earth-mined diamonds in terms of process and output. That is the same science and the same reaction – heat, pressure, gases, chemicals – for the output. Even industry experts will find it hard to tell the difference. It is like a normal baby and a test tube baby, there will be no difference.
On one context, lab-grown diamonds do not disrupt the environment like earth-mined diamonds do.  That is a significant consideration. Youngsters especially are environmentally conscious. So this diamond category is actually creating a new industry.
In Surat, as of now, there would be 3,000 reactors. My facility alone has 1,000 reactors. Worldwide there would be around 4,500 totally.
Another aspect of lab-grown diamonds is that since process is controlled, defects can be reduced. More markets will be created over time.
On the China matter, it is definitely a key manufacturing player. Still, Surat has developed a cutting and polishing skill advantage over time. It will be difficult for China to go ahead on this parameter.
The full impact of lab-grown diamonds: (https://youtu.be/QIdEuD1csJI)
I do not subscribe to the theory that because of lab-grown diamonds, import of earth-mined diamonds would reduce.
However lab-grown diamonds are set to grow rapidly. I believe that this growth with result in a "Diamond for everyone."
The selling point for long has been that "Diamonds are forever." I believe that we can change it to "Diamond for everyone."
This is because all will be able to afford a diamond. The market now will go from cities to maybe each village. That is the opportunity.
Earth-mined diamonds do have their market, but with time the mining cost will only go up. They will get more expensive. Against this, lab-grown diamonds will only get more attractive and will create more jobs.
If we talk of growth, in 2018 we had Rs. 300 crore exports. The latest figure is Rs. 9,000 exports. You do the calculation.
The market potential: (https://youtu.be/9mweVowrpf4)
The parallel of people who own luxury cars and tools who own touch phones is 1000% applicable here.
Beyond the consumer side, we look at employment. In earth-mined diamonds, little assume that ten lakh people have got employment. That will sustain. Now in lab-grown diamonds, new jobs will emerge. I believe that at least 15 lakh new jobs will be created. If you look at the consumer sale. In the USA alone, in 2018 the figure was $0.5 billion. Last year in Christmas the revenue was $4 billion.
Now on the industry side. Wherever earth-mined diamonds were used, now lab-grown diamonds offer a better option. In future, we could see the usage in semiconductor industry, the chip and so on.
DTC and lab-grown diamonds:
Lab-grown diamonds concept has been around since say 1970. Today, we see that lab-grown diamonds have actually gone into the mix of earth-mined diamonds. It is after all difficult to differentiate.
From the viewpoint of DTC, it is totally true that earth-mined diamonds have a valuation much higher and the entire business is different. If we see pearls for instance, there is a natural pearl market and a cultured pearl market.
Comments can be posted to RNB@asiaconverge.com