Making Surat Diamnd Bouse India's diamond hub — Mahesh Gadhavi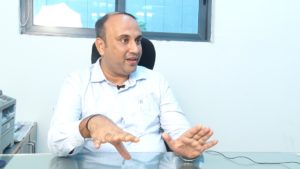 The Surat Diamond Bourse, estimated to start operations this year, would be India's second diamond trading hub. Spread across 35 acres, it aims to provide state-of-the-art infrastructure to organizations engaged in manufacturing and trading of diamonds, and to enable trade and commerce with potential buyers worldwide under a single roof. Mahesh Gadhavi, CEO, shares his thoughts on the Bourse creation and potential as a trade facilitator.  The interview was held by Pankaj Joshi and RN Bhaskar within the bourse.
The value proposition of Surat Diamond Bourse: (https://youtu.be/KfMYfmw_NP0)
We are all aware that 9 out of 10 gems worldwide go through Surat. Indeed it is said that the gem which does not go through Surat might or might not be a diamond.
With the Surat Diamond Bourse, the city will now graduate to a trading hub. The Bourse has 4,200 offices of the members of the industry. The creation of this Bourse was the fullfilment of a dream.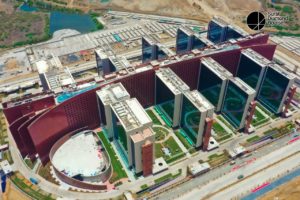 The Bourse is a section 8 company, one which is not-for-profit. There is no investor here, nor a real estate developer. We had a committee which created a proposal.
From thereon, land procurement, design and construction happened. The entire cost was divided by the square feet and then each member paid their share. Outlays were also asked from members as per the cash flow requirement of the project.
Facilities in the Bourse: (https://youtu.be/DSqBfN6kojA)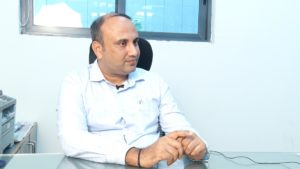 The building is state of the art. Beyond beauty, functionality was also the requirement. Diamond in itself is a complex business. The committee, formed to oversee the project, hence focused on a business-oriented structure.
We have a 35.54 acre plot where 67 lakh square feet construction has taken place. This is now the world's largest office building, bigger than the Pentagon.
The uniqueness is that the nine towers which are created, are all linked by a central spine part. From any floor of any tower one can access any floor of any other tower. Hence it technically becomes a single building.
Security wise we are looking at state of the art technology, be it cameras or access control. The Covid factor was taken into account, when deciding cardless and touchless access. Data security is also paramount. Access control cannot be bypassed.
Operational details: (https://youtu.be/ft7_OX18Zh4)
The inauguration of the Bourse should happen before Diwali 2022.
If we talk of core staff at the Bourse, right now we are looking at transition and office handover process. For that we have appointed CBRE, who are worldwide the biggest in facility management services.
Beyond that for operations, there would be 400 to 500 staff dedicated to manage the facility. That will of course exclude the individual office personnel.
This size may look small compared to the size of the facility (67 lakh square feet). But then our emphasis has always been on minimum human intervention. Human intelligence cannot be replaced, but where security is the prime concern, technology will play a big part.
The support infra: (https://youtu.be/MzbXWF6sr0s)
The Diamond Bourse is located within the upcoming Surat Dream City – the Surat Diamond Research and Mercantile City.
This is being developed by a government body and the Bourse is the anchor tenant. The surrounding infra will come up in five phases to create a whole city. Be it the width of roads fiber connectivity, drainage, electricity, traffic congestion – all will be handled. Zoning has been done for commercial, educational and residential properties.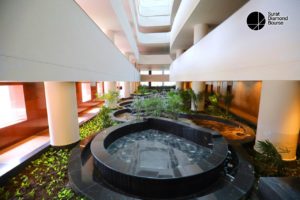 If you look at external connectivity, there is a Metro coming up where the Bourse will be the first station. The route itself is named the Diamond Route.
Flight wise, Surat today has commenced international flights, and frequency can only increase as business activity goes up. 
Scale up potential: (https://youtu.be/vVAz-4cAQi8)
Scaling up depends on the industry. We are but a facilitator. We provide a platform, secure and convenient.
If you were to look at Antwerp or Dubai, those are locations where mining does not happen. Even cutting and polishing activity is nothing compared to Surat. Still they are major trading hubs.
That is because they have the required infrastructure, state of the art facilities, security with services and utilities. That is what we aim for. 
Bourse responsibility: (https://youtu.be/kt7JFjpvghY)
Let me clarify that activities inside the Bourse will be totally trading centric, including support. The ground floor will have financial bodies, restaurants, travel, medical and so on. Beyond that we have planned a custom facility including a bonded warehouse. We aim to create India's most efficient customs processing facility.
Outside the Bourse plot, there is no authority or liability for us. Within the location of the Dream City the authorities would have jurisdiction. We would get an additional layer of security.
Regarding working hours, we do not have limitations. We will in evolve with time and demand. If operational requirements need extended hours, they will be provided. These matters depend on the members.
The bourse and the jewellery mall: (https://youtu.be/_6vJ9iiWN_8)
Another aspect of comfort and growth for the diamond industry is a creation of a trading hub. Normally throughout the bourse, only authorised people can be allowed to traverse. But here we have planned one floor where 27 showrooms will be created especially for jewellery.
Here, not just the trading fraternity, but walk-ins will also be permitted from outside. We are essentially creating a jewellery mall.
To our knowledge, there is no other location having 27 jewellery showrooms. Worldwide there are 178 nations that have association with the diamond industry. So a potential buyer from any of those countries, or even tourists who want a Diamond Bourse experience will welcome this step.
So overall, in this facility, we will have customs, multipurpose halls and venues, and also the jewellery mall.
The ground floor will of course serve multi cuisine food. There would also be desks for financial institutions. We can look at medical facilities, travel desks, meeting lounges, a gym and stationery outlets – whatever is the need.
For conveyance, we have 131 elevators, without attendants, and totally friendly for all users. The idea is that within 4-6 minutes from the building entrance persons can touch their target office.
Staircases are only for an emergency. They are pressurized and equipped with smoke detectors.
Sustainability and aesthetics:
If we talk of sustainability, this is a platinum rated building. There is no surface which has plaster and paint. That is either granite, glass or dry cladding. The purpose is to achieve optimum light and minimum heat to keep the building from getting warm, and thereby saving on energy. Our 13 plus acres area is landscaped as per micro-climate management. The theme in landscaping is of the five elements – earth, air, fire, sky and water.
Comments can be posted to RNB@asiaconverge.com