India will become the largest producer of lab-grown diamonds says Jayesh Mistry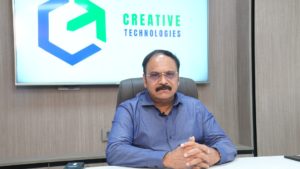 The Surat-based Creative group (https://www.creativetech.asia/), active in textiles since 1998, also has a presence in polyfilms and real estate. It has likewise taken strong steps to establish itself as a serious player in lab-grown diamonds. Jayesh Mistry, one of the founders and chief technologist expert, gives some idea of the lab-grown diamonds industry. He gave Pankaj Joshi and RN Bhaskar this exclusive interview in his Surat office
Background: (https://youtu.be/QOG8oyExFmQ)
The Creative group has a background in textiles and in 2014 there was a decision to enter the diamonds space through the lab-grown diamonds route. We started our research and development process and by 2015 we were able to initiate the basic commercial production. Today we have 350 reactions in operation.
Industry perspective: (https://youtu.be/KLNjqHKAt-g)
Overall there are say 4,000-4,500 reactors worldwide in which India has 2,500. Other main centres are China, USA, Israel and Singapore. There are a few in European nations. In the next two years, many companies are making investments and India will have 5,000 more reactors coming up. A large number of this upcoming number will be based in Surat. Over the next five years, India will be a world leader in the lab-grown diamonds space. The constraint as we see right now is supply chain issues regarding delivery of the reactor equipment.
The process differential: (https://youtu.be/Fz10_sKk3UU)
Now that machine capacity is stated, it must also be appreciated that this capacity is related to batch quality, batch size and batch hours.
If we were to look at different batches:
1 carat quality – 25 stones in a batch – time taken would be 400 hours
2 carat quality – 16-18 in a batch – 500 hours
3 carat quality – 12 in a batch – 600 hours
5 carat quality – 9 in a batch – 800 hours
The ramp-up process is not just mathematics. Technical complexities increase with increasing carat value. A lot of research and batch modifications are needed to achieve higher carat batches.
After every cycle there is a downtime of 12 hours. Machine electricity load is 10-12 units per hour.
The business case for lab-grown diamonds: (https://youtu.be/eOB33aAQXLQ)
Diamonds traditionally have been marketed on gem quality (primary) in consumer market, and now on consistency in industrial market.
Let us understand the industrial side. The most obvious market is abrasives/ cutting tools, a commodity market which is easily captured on price. Cost has been a constraint always.
Others are large-value markets and based on high-end products. Traditionally, consistency has been the biggest limitation of earth-mined diamonds. Repeatability is a big requirement in critical industrial applications. So when we look at user industries like semiconductor, aerospace and medical science, potential is massive because we provide repeatability. Lab-grown diamonds support quantum computing very powerfully.
The fact is that entry in these industries as a supplier is a long process. They have a range of specific performance products, and their parameters are quite stringent. Our parallel development is on, and we should be ready to start in say two years from now.
Consumer side business case: (https://youtu.be/uGOuNdnyzSw)
Given that gem quality is identical, the biggest advantage in consumer market will be cost. We are providing pricing between one fourth and one third of the mined diamonds. This in effect creates more new markets. One new market is those people who want to own diamonds, but could not afford earth-mined diamonds. There is of course, some minor part of the existing market for earth-mined diamonds which would look at lab-grown diamonds, because such a shift gives the buyers more number of diamonds, larger sizes or both. The other new market is those people who will view lab-grown diamonds as fashion accessories, wear them in watches, belts, purses and so on.
Surat as a centre: (https://youtu.be/9L-CRy8Ks08)
Surat is already established as a premier cutting and polishing centre for earth-mined diamonds since many years. Today Surat has in place infrastructure as well as trained manpower for this activity. 98 percent of polished diamonds globally are supplied from Surat. This is because no one can beat Surat on cost and performance basis for this cutting and polishing activity. The same process is required for lab-grown diamonds as well, so Surat has a definite headstart. We have a ready marketing infrastructure, be in trading bourses or offices in multiple countries. The same would be accessed by lab-grown diamonds.
The position of lab-grown diamonds: (https://youtu.be/JPFMLlkBMo4)
If you look at the lab-grown diamonds industry, the infrastructure investment and technology, and indeed the approach to the making of the product, is very similar to that seen in semi-conductor industry. Apart from the infrastructure and process, another similarity in future will be in the criticality of applications. Keeping this in mind, we believe the Government should treat this industry on par with the semi-conductor industry. Government should have expert consultations and take a proper decision.
In this context, it should be said that there has been ample support from the side of the Government. Prime Minister Modi particularly has taken personal interest. His team has taken efforts to understand the lab-grown diamonds industry in depth, and we have hopes that the Government will support the industry.
Comments can be posted to RNB@asiaconverge.com