How UIDAI has made Aadhaar meaningless and exasperatingly senseless
The following is about an incident that was narrated to me by an exasperated parent.  It is about the disdain and the thoughtless processes at Aadhaar.
First, there were (and continue to be) problems with the issue of Aadhaar cards.  Today, nine states have more Aashaar cards than their respective populations (free subscription — https://bhaskarr.substack.com/p/indias-election-peril-aadhaar-and?sd=pf( .
Then you have the devious method by which the government used Aadhaar cards to get people bank accounts – without verification.
Then these accounts were given PAN cards – also without verification.  Now the government wants to introduce measures that inconvenience genuine Aadhaar card holders.
The incident this time
The parent wanted to change the photographs and biometrics of his sons on the Aadhaar cards they had already got.
The reason:  The photographs were taken when they were 14.  Now at 18 and 19, the sons look entirely different. As he puts it,
"I checked for Aadhaar service centres in Chembur and got a list of centres. However, none of them even existed. I physically went to the centre supposed to be located at Shram Safalaya building, Chembur East only to be told that it had shut down a long time ago.
I next tried the eseva kendras which are supposed to update the Aadhaar data but was told that all of them had been asked to shut down. Even the banks and the MCGM office which were listed as permanent centres were non operational.
I was told I would have to go to the post office for the updation. At Chembur Head Post office, I was told they gave out only 40 forms a day and that I would have to line up for the form at 7 am to get the form when the counter opened at 9 am.
I even went there to see people lined up at 7 am and saying that they would have to wait two hours in the line as they had no other choice.
I wonder how UIDAI plans to get people to update their biometrics every ten years if there are no centres where this can be done. I have given up the idea for the present.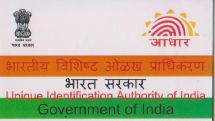 So much for little government and more governance.  A mockery of intents and processes.
I hope someone at UIDAI is concerned enough to be reading this, and take remedial measures.
Comments can be posted to RNB@asiaconverge.com