Has India eliminated poverty?
RN Bhaskar
Last week, the government proudly declared that it had reduced Multidimensional poverty during the past five years (https://pib.gov.in/PressReleaseIframePage.aspx?PRID=1940125). It claimed that.
13.5 crore Indians escape Multidimensional Poverty in 5 years.
Steep decline in number of multidimensionally poor from 24.85% to 14.96% between 2015-16 and 2019-21.
Rural areas saw the fastest decline in poverty from 32.59% to 19.28%.
India on track to achieve SDG Target 1.2 much ahead of 2030 deadline.
Uttar Pradesh registered the highest decline in the number of poor with 3.43 crore, followed by Bihar and Madhya Pradesh.
Improvements in nutrition, years of schooling, sanitation, and cooking fuel played a significant role in bringing down poverty.
Such news should be music to the ears. But the data available makes one wonder if the government's claims should be taken at face value. What sets the alarm bells ringing is the government's claim that "Uttar Pradesh registered the highest decline in the number of poor with 3.43 crore, followed by Bihar and Madhya Pradesh." Ouch! That hurts!!
First, there is no denying that the work that has gone into tackling poverty is immense. As Suman Bery. Vice Chairperson, National Institution for Transforming India, puts it. "India has wholeheartedly embraced the SDGs, leaving no stone unturned in its successful realization. At the core of India's priorities, lies SDG target 1.2, with its powerful mission to reduce poverty in all its forms by at least half by 2030."
Bery goes on to add: "Similar to its baseline edition launched in 2021, the second national MPI (Multidimensional Poverty Index) uses the latest household microdata of the all-India National Family Health Survey (NFHS), sourced by the International Institute for Population Sciences in coordination with the Ministry of Health and Family Welfare."
The statements do make people believe that the government has done a commendable job in getting this survey done.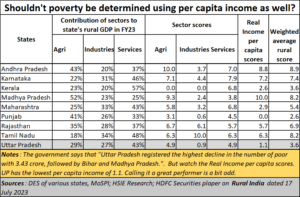 Gaping loopholes
It is worth examining the government claim that it had used "the latest household microdata of the all-India National Family Health Survey." So, why were such capabilities not used to undertake the Census. The Census is, after all, more crucial for the Indian economy than the Niti Aayog study is.  As EAS Sarma, former Secretary to the Union Government points out in his letter to the home ministry and with copies to the Election Commission and the CAG (https://asiaconverge.com/2023/05/eas-sarma-asks-home-ministry-not-to-delay-the-census/), "The first Census in India was conducted as early as in 1881 and it was repeated at the beginning of every succeeding decade without a single instance of interruption, till the present government chose to defer the 2021."  The Census is critically important for all aspects of economic planning, introducing appropriate social alleviation measures, and even for determining which Aadhar and election cards are bogus, and how many cards still remain in existence even though such persons are dead and gone (free subscription — https://bhaskarr.substack.com/p/indias-election-peril-aadhaar-and?sd=pf).
Second, this is not the first time that the government has tried to paint Uttar Pradesh (also Bihar and Madhya Pradesh) in glowing colours.  They are electorally important states, and the voters there need to be convinced that the government has done wonderful things for them.
Uttar Pradesh is not the best
Take a look at the way the government claimed that Uttar Pradesh shows 'incremental growth'  in December 2021(https://www.firstpost.com/india/gujarat-tops-centres-good-governance-index-2021-uttar-pradesh-shows-incremental-growth-10235891.html). The state was singled out as one which showed an incremental growth of 8.9 per cent in the indicators launched by Union Home Minister Amit Shah on the occasion of the Good Governance Day.'
Even earlier, in August 2021, the Prime Minister showered praises on this state (https://pib.gov.in/PressReleasePage.aspx?PRID=1742781).  After all, the state is crucial for the electoral fortunes of any government that comes to power in India.  In November 2021 the state was praised for becoming "the most improved state" (https://timesofindia.indiatimes.com/india/leads-2021-rankings-uttar-pradesh-most-improved-state/articleshow/87592094.cms).
Then consider the manner in which, in October 2022, Uttar Pradesh was given the top award for the Prime minister's Awas Yojana (https://timesofindia.indiatimes.com/city/lucknow/up-gets-top-award-for-pm-awas-yojana/articleshow/94977110.cms).
This was in the face of data showing that the state had performed miserably on several fronts (https://asiaconverge.com/2021/08/the-fanciful-figures-of-uttar-pradesh/):
It had failed to register deaths.
Its gender ratio was terrible.
Its GSDP growth rate was pathetic compared to national averages.
Its urban unemployment rates were extremely high.
Its primary school dropout rates in 2016-17 were almost double the national rate.
Even reports as recent as July 2023 a report on Rural India by HDFC Securities shows that Uttar Pradesh had one of the lowest per capita incomes.
If this were not bad enough, the state's record on crimes against women and children is one of the worst.   It is the only state in the country that has still not submitted to the Supreme Court details of the 34 children homes that were identified for inspection, and which the state government refused to permit (https://asiaconverge.com/2021/04/curse-of-being-an-abandoned-child-in-india/).
As these columns wrote in April 2021 Uttar Pradesh is "the one state which refused to part with information for the report . . . It was in keeping with other acts of mismanagement that the state had indulged in.
This was brought to the notice of the Ministry of Women and Child Development (MWCD) in 2021.  But nobody wanted to haul up Uttar Pradesh for its infractions.
When it comes to crimes against children and humanity, few states can be as depressing as Uttar Pradesh (https://asiaconverge.com/2021/07/hindi-belt-ii-crimes-against-children-and-against-humanity/).
It had mismanaged finances (http://www.asiaconverge.com/2020/08/government-plunder-productive-states-in-india/), made a mockery of law and order, and brazenly exploits  farmers (https://www.moneylife.in/article/the-fight-is-no-longer-between-the-good-and-the-bad-but-between-the-corrupt-and-the-rapacious/62370.html). It opted not to disclose information on around 34 childcare institutions (CCI) in that state. [It also]  refuses to disclose the number of Covid infected cases, and related deaths by not allowing extensive testing of potential cases (https://twitter.com/andymukherjee70/status/1383233764235517954?s=20)."
Uttar Pradesh Bihar and Madhya Pradesh
There is no denying that the three states easily figure among the poorest states in India (https://asiaconverge.com/2021/10/india-explained-through-asset-ownership/)
Yet, suddenly, Niti Aayog and the government decide that these three states are among the best performers. One of the sectors which the three states have done well is education. But available data from government sources debunks such claims. data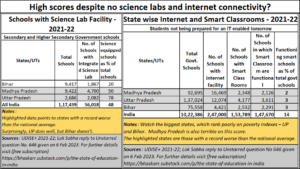 Just look at the weightages assigned to the various parameters in the MPI report.  Education accounts a third. This is the same as the total weightage given to nutrition and standard of living.
Now just study the performance of these three states on the education front.
Do note that the data given in these charts has been culled from the government's own replies before the Rajya Sabha or the Lok Sabha as recently as on 6 February 2023.
It would be interesting to know what Niti Aayog has to say about these states getting high scores despite most of their schools not having either science laboratories or internet connectivity.
One explanation that Niti Aayog could give is that it has taken only data relating to years of schooling which is interpreted as "Not even one member of the household aged 10 years or older has completed six years of schooling." So even if one child in a family of six has studied up to Std VI, it is taken as an educated family.  Charming.  Change the very definition of education, right?  If you tweak parameters, you can even say that all Indians are highly educated.
Take one more parameter.  Uttar Pradesh has the unique distinction of getting high marks on the MPI score sheet despite having a very poor GER (gross enrolment ratio).  As said before, it may have something to do with the way the parameters have been tweaked and redefined.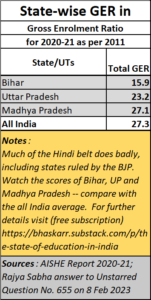 Nutrition and deaths
Then, do look up deaths.  Uttar Pradesh has the worst record of not even registering deaths.  So even information on infant mortality and life expectancy would he highly suspect (https://asiaconverge.com/2021/08/the-fanciful-figures-of-uttar-pradesh/).
Further, even this parameter has been tweaked to mean that "no child/adolescent under 18 years of age has died in the family in the five-year period preceding the survey."  It conveniently ignores the fact that many Covid deaths were not even registered.  And the way the government hounded publications that sought to print details of how many people had died, also ensured that people did not talk about such matters.
The general rule seems to be: Silence the information providers, and you will be able to get the numbers you want.
Finally, look at nutrition. Do note, how in December 2021, Uttar Pradesh had the lowest health indicators in the country (https://scroll.in/latest/1013759/uttar-pradesh-ranks-lowest-kerala-emerges-on-top-in-niti-aayogs-health-index). But today, it – along with Bihar and Madhya Pradesh – is claimed to have ranked impressively.
To understand this, one should read up the article of Arvind Subramanian. former chief economic advisor (CEA) to the government of India. In an article dated April 28, 2023 (https://www.project-syndicate.org/commentary/welfare-policy-explains-why-india-prime-minister-modi-still-popular-by-arvind-subramanian-and-josh-felman-2023-04), he explains how India has managed to suppress the protests against unemployment and rural poverty by giving people free meals and free grain from its public distribution.  As he puts it, "Stuff, not fluff, is being given; cash is delivered efficiently using India's seamless digital infrastructure. Unlike education reform, the goods benefit people today, rather than at some point in the future. Given that many of them fulfill basic needs, Modi's strategy has arguably improved Indians' quality of life significantly. The surge in cash transfers has been critical."
Subramanian goes on to add that "New Welfarism's role starts becoming evident. Initially, delivery of attributable tangibles and improvement in people's standard of living contributed. to the increase in Modi's popularity, especially as the government's unrelenting marketing made the benefactor unmistakably clear to the beneficiaries. Now, New Welfarism is playing an equally important role in dampening disaffection. Anxieties about the limited employment opportunities and high food prices are lessened by the cash flowing into bank accounts, providing an assured minimal level of purchasing power. An exaggerated Marxist formulation of New Welfarism might position it as the new opium of the masses."
This strategy has definitely helped in improving scores of most Indians in the poorest of states (that includes Uttar Pradesh, Bihar, and Madhya Pradesh).  But it also teaches them to live on dole.  They offer people the same relief that drug peddlers provide by making them dependent on doles for ever.
India is being turned into a nation of dependents.  It is not being taught how its people should learn to fend for themselves.
Niti Aayog has not dealt with these issues.  It was either trying to tell the world that India has done wonderfully well by tweaking parameter definitions, and how it will meet the SDG targets. It also appears to be keen on promoting the government's chances at the forthcoming elections by telling people how their lives have improved – even if they haven't.  Opium of the masses, indeed.
Surely, India deserves better.
Comments can be posted to RNB@asiaconverge.com