2007-10_DVV-Gautam-Adani_The-man-who-could-change-India-The-Mundra-story
Gautam Adani and Mundra – both could transform India
Mundra is India's deepest port. It is also an all-weather port which promises to become its biggest and best investment destination
RN Bhaskar – October 2007, DVV – Log.in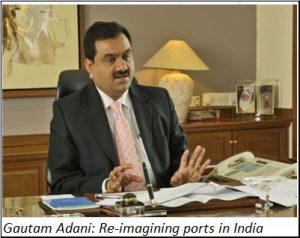 There are moments in each country's history when a person influences the destiny of the entire nation. One such person could well be Gautam Adani – as he moves swiftly but surely to
change the face of logistics in this country.
In fact, if his plans take shape as they have been envisaged, he could virtually rewrite the map of transportation in India. Gautam
Adani, chairman of the Gujarat based Adani Group, currently accounts for a consolidated group turnover of around US$44bn. And his claim to fame may well be Mundra ports and special economic
zone Ltd. (MPSEZ) and all the other activities that are meant to make this port the very pivot of his group's activities.
Adanis' port expansion plans could possibly undermine the commercial prospects for existing ports like Mumbai. There are many good reasons why a large chunk of the import and export traffic
from north India could well get routed through Mundra rather than through Mumbai's ports (including the JNPT at Nhava Sheva).
Fopr the rest, please download pdf file (1.1 MB) http://www.asiaconverge.com/wp-content/uploads/2018/04/2007-10_DVV-Gautam-Adani_The-man-who-could-change-India-The-Mundra-story.pdf
Comments can be posted to RNB@asiaconverge.com