http://www.dnaindia.com/money/report-fdi-inflows-from-japan-slowing-amid-government-s-inaction-1982757
FDI inflows from Japan slowing amid government's inaction
Monday, 28 April 2014 – 5:24am IST | Place: Mumbai | Agency: dna
Japan is widely acknowledged to be, currently, India's major business partner. Three decades ago, it used to be Germany. That was when Germans were making huge investments in India. All its major companies – like Siemens, Bayer, Mico-Bosch, BASF and DaimlerBenz – had impressive expansion plans in India. Then two things happened. Germany got united, and the EU got created, and Germans began looking at the markets there. Second, India ceased to be as attractive as was promised.
But the '80s saw the emergence of Japan as a major investor in India. Maruti Udyog (later Maruti-Suzuki) was the trigger – thanks to the patronage it received from Indira Gandhi, the late prime minister of India. Her son's disastrous investment in an automobile plant in 1971 had to be bailed out. Suzuki took over the driver's seat in 1981. But Japan quickly moved beyond political patronage. With excellent manufacturing capabilities and models, Maruti-Suzuki became a super-hit. Soon, Japan forged collaborations with Indian entrepreneurs for making almost all automobile components – right from steering-wheels to shock-absorbers. Other auto giants followed – like Honda, Mazda, Mitsubishi and Toyota.
Ten years ago, management gurus like Kenichi Ohmae were predicting more companies from Japan setting up base in India. He provided three reasons: First, Japan's population was ageing rapidly. It needed bases in countries where it could benefit from a younger population to man its manufacturing units.
Second, India was a large market, where Japanese investments had already begun generating good returns. Growth in the West had begun to plateau. Third, anti-Japan xenophobia in China had made it cautious about making large investments there. India was a better option.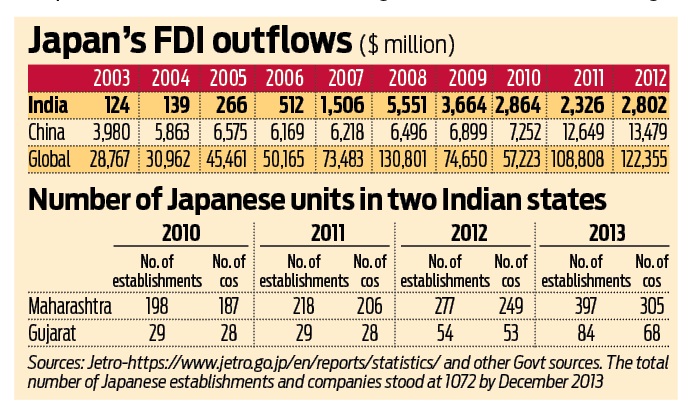 Ohmae's predictions proved right. The Dedicated Freight Corridor (DFC) promises to be one of the biggest investments by Japan in India, though through a soft ODA loan. Bigger than that will be the Delhi-Mumbai-Industrial-Corridor (DMIC), with investments of over $120 billion. It may see the sprouting of 24 world-class cities as well.
Today there are 1,072 Japanese establishments and companies in India. Figures from Maharashtra and Gujarat show that Japanese companies interested in India keeps climbing, year-on-year. But FDI inflows have sagged. From a peak of $2 billion in 2011-12, Japan's FDI into India, says the Reserve Bank of India (RBI) slipped to $1.3 billion in 2012-13. Singapore and the Netherlands raced ahead of Japan.
Even data from Japan's Jetro show that while Japan's investments into China did not slow down, FDI into India skidded from a peak of over $5 billion in 2008 to just $2.8 billion in 2012. Something was amiss.
One major reason could be the current government's inability to deliver. For instance, even a full year after Indian Railways (IR)invited bids for the Rs2,000-crore Vadodara-Sachin segment of the DFC, deadlines for placing bids were extended five times. Now, contrary to the original agreement signed, IR wants the finance ministry to renegotiate the terms of the tied loan for the DFC from JICA (Japan International Cooperation Agency) so that non-Japanese bidders can participate.
The new land regulations will make the development of the DMIC that much more complex, if not impossible. Except for Gujarat, where the government moved quickly to allocate land for the proposed Dholera city, most of the other cities will take a long time in coming up, because the process of acquiring land has been made that much more complex and terribly expensive. More than benefitting farmers, the new laws could favour powerful interests who have already grabbed huge land-banks, close to where the proposed development is to take place.
On its part, JICA has promised to finalise its financing commitment of $3 billion after the new government takes over. It has also offered to consider higher outlays if the "absorbing capacity of the Indian side is much stronger". That "absorbing capacity" will means speedier decision-making, a focus on implementation, meeting deadlines, and a commitment to growth. These are attributes that have not been much in evidence during the past five years.
Comments can be posted to RNB@asiaconverge.com