http://www.freepressjournal.in/r-n-bhaskar-policy-watch-liberate-temples-from-government-control/756036
Policy Watch
Temple trusts hold the key to social harmony
Rabid Hindutva groups have been espousing the "protection" of Hindu values in all sorts of clumsy ways – from beef bans to ghar wapsi.  In fact, if these groups really want to "protect" Hinduism, they should actually be protesting against government takeover of Hindu Temple Trusts.
This is where they even have the law on their side.  In a landmark judgement on January 6, 2014, the Supreme Court ruled that no government had the absolute right to take over the management of temple trusts
More legal information can be got from: Constitutional validity of the Hindu religious and charitable endowment act.
Unfortunately, in spite of the Supreme Court judgement, few temple managements have even tried filing for a similar liberation from the government. It is possible that they were not allowed to do so by the current administrators of temple trusts, which include politicians and bureaucrats. That is why, the cry for liberation will have to come from outside.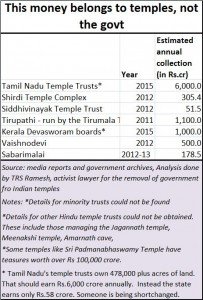 The harm that government takeover of temple trusts has caused is immense. The Supreme Court understood this. After all, any religion, in the broadest sense, is primarily an assertion of community identity. Each community is concerned with the welfare and progress of its members. While the government can raise funds through taxes, communities get funds through offerings.  These funds are meant for their 'gods', who in turn are meant for the respective communities. The funds, therefore, belong to the community, and not to the government.
It is this that makes a community quite different from a politician or even a bureaucrat. After all, politicians have a five-year vision, punctuated by elections.  Bureaucrats have a 30-year vision co-terminus with their retirement. Government-appointed temple-trust administrators are no solution either. Their vision is to last out 10-15 years granted to them as a sinecure.  Incidentally, most government-appointed administrators too reek of corruption.
In the vacuum that is created, you have smaller spiritual leaders emerging – be they an Asaram or a Radhe Ma. They have powerful backers. Gradually, they themselves wield both financial and political clout. Some build empires of their own.  And many face a string of financial and criminal allegations.
Shorn of financial powers, community leaders stand weakened.  Values corrode. The community begins to disintegrate and degenerate. When that happens, they tend to move towards lumpen-ism, even become destructive. In many ways, that is what is happening to the majority community in India today.
Consider three instances. 
There was a time when the Banaras Hindu University and the Tirumala Trust colleges, among others, were reckoned to be among the best educational institutions in India. Today, they have slipped in rankings.  Instead, we have St Xaviers, CMC, Vellore, J.B.Petit School and the like.  It is not that the administrators of Hindu institutions were less capable.  It was only that they were marginalized by the government.  Their funding came from the government, with little access to community funds.
Why? Because, systematically, most temple trusts in India have been taken over by the government.  It began with South India, which boasts of having the largest number of temples in the country. It was here that The Hindu Religious and Charitable Endowment (HR&CE) Act of 1951 was allowed to take over one temple trust after another. The sheer wealth of the Tirumala Trusts, which run the Tirupati cluster of temples and educational institutions, caught the attention of the late N.T.Rama Rao, when he was chief minister of Andhra Pradesh. Even these trusts were 'taken over'.
Thereafter, each state government introduced laws to take over the wealthiest of temple trusts – Vaishno Devi, Siddhi Vinayak and Shirdi among others. Not surprisingly, most governments do not give details of the amounts thus garnered.
The government could not do this with Sikh temples, or with Parsi or Christian trusts.  They were protected by the Constitution of India which guarantees protection to minority community-run trusts. Thus, St. Stephens could preserve its academic and catholic credentials, and so could J.B.Petit.  But Banaras Hindu University could not. The solution lies in giving Hindu temple and educational trusts similar protection.
Take a second example.  You will seldom find a Sikh beggar on the streets in India.  Ditto for the Parsis.  Why?  Because, their community leaders have managed to look after their members.  The Sikhs bring the destitute to their gurudwaras and give them food and shelter in exchange for work.  The Parsi community looks after its members in other ways.
Communities can do this when they enjoy both good leadership and financial muscle.
Third, consider the findings of TRS  Ramesh, a lawyer, who has been campaigning for temples to be liberated from government control. He points out how, Tamil Nadu's temple trusts own 478,000 plus acres of land, 2.44 crore square feet of property. Instead of earning at least Rs 6,000 crore a year, the state government's HR & CE department gets only Rs 58 crore. The four devaswom boards in Kerala have revenues in excess of Rs 1,000 crore/year.  Ditto for other Southern states. Someone has actually shortchanged the communities concerned.
Many analysts believe that almost 85% of temple trust funds get transferred to the state exchequer.  Money that could have been used by the temple trust for upkeep of older temples, for good schools and colleges or even community welfare, has been grabbed for government schemes.  Consequently, the entire social fabric has been weakened,
Similarly, notwithstanding tax regulations which stipulate that 85% of the collections be spent on charity, the government of Maharashtra has informed the Siddhivinayak trust not to spend over 15%.  The Shirdi Trust has been asked to finance the building of an airport, a move that is being challenged in the courts.
The Supreme Court judgement is a good starting point. It shows how, if the majority community has to be rejuvenated, it must begin with the liberation of its temples. How should this be done? Watch this space.
Comments can be posted to RNB@asiaconverge.com