http://www.freepressjournal.in/analysis/indian-railways-a-painful-chugging-aheadr-n-bhaskar/1016016
The crisis confronting Indian Railways
By R N Bhaskar | Feb 09, 2017 10:00 am
The recent Budget 2017 has made some key provisions for Indian Railways – as well as for other infrastructure projects.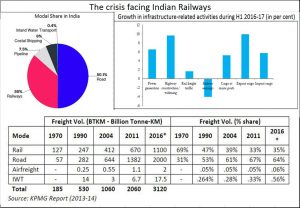 The Finance Minister hopes to spend as much as Rs 1.31 lakh crore on the Railways this year, as against Rs 1.21 lakh crore last year. He has proposed creation of 'Rashtriya Rail Sanraksha Kosh' (National Rail Safety Fund) with a corpus of Rs 1 lakh crore. Emphasising safety, the Budget proposes elimination of all unmanned level crossings on the broad gauge network by 2020.
So far so good.  But there is a crisis confronting the Railways that nobody is willing to talk about – at least not publicly.
Take a look at the chart alongside. The one negative in terms of growth is that of the railways.
Despite the Railways being a monopoly, its share in the total transport pie has shrunk to 35%.  It was 47% in 1990.    This is despite the fact that road transport is far more expensive than road transport (http://www.asiaconverge.com/2016/11/india-waterways-a-gamechangerrobust-water-transportation-can-help-india-drastically-cut-freight-costs/).
But there are other disturbing signs as well.
The railways could be losing a lot of business in the coming years. It has already lost the oil business quite some time ago when the government (and private players) began laying oil pipes to transport this product.  It used to haul coal from the mines in East India to the biggest power plants in West, North and South India.  But now, the industry has begun setting up coast based power plants. With the benefit of coastal shipping, these plants can opt for both domestic and imported coal. The railways could thus lose much of the coal business too.
Moreover coastal economic zones will opt for compact transport solutions (http://www.asiaconverge.com/2016/12/coastline-and-waterways-mean-jobs/).  After all, coastal transport costs half that of rail transport, on a per tonne per km basis. In fact, in order to encourage rail movement of freight, JNPT authorities are even willing to offer 25% discounts in rail freight costs (http://www.asiaconverge.com/2016/10/jnpt-turnaround/).  That has helped, for now.  But it may not in a few years.
Add to this the emphasis on waterways, and the development of large new cargo boats that can run on LNG (http://www.asiaconverge.com/2016/11/india-waterways-a-gamechangerrobust-water-transportation-can-help-india-drastically-cut-freight-costs/).  That will make waterways even more cost effective than the railways. Clearly, the role of the railways in the freight business will get even more marginalised in the coming years.
This does not bode well for passengers.  Till now, it was freight that used to subsidise passenger fares.  But now, with the share of freight diminishing, the railways will find it difficult to maintain passenger fares at current levels.  The railways will therefore find the subsidy on passenger fares crippling.
So what should the railway planners do?
First, it will have to start plugging revenue leakages immediately.  This begins with the re-design of railway stations, and putting up gates which do not allow passengers to go through till they have produced valid tickets.  The metro rail systems have shown how even denser passenger traffic can be handled well, if the systems are right.  This exercise must begin right away.  Ticketing processes, ticket checking, and station redesign should become a top priority.
Second, begin accounting for all the subsidies doled out – whether to MPs or to patriots or weaker classes.  Let them (or their benefactors) first purchase tickets.  They can be reimbursed later through the proper channels.  This way, the railways can pinpoint the total value of subsidies, categorywise.
Unfortunately, India's legislators have treated every national revenue source as a favour-dispensing opportunity.  This has happened with toll stations on highways (http://www.asiaconverge.com/2016/12/unaccounted-e-payment-exceptions-and-corruption/). It has become a malaise with the railways, and could engulf the airlines as well.  Reduce exceptions.  And if you must dispense favours, make people realise the cost of the favour granted by making them pay first, and get reimbursed later.
Third, improve services.  Remember, the more unpleasant railway travel becomes, the more appealing air-traffic will become. Already, despite the high loading of taxes on air travel, the overall air passenger volumes have been consistently increasing and are likely to reach 310 million by FYE18.
Fourth, and this is something the government has already started doing, is to build more dedicated freight rail lines.  That will reduce both the time and the cost of moving freight.  They should allow the railways to earn decent freight revenues, without compromising passenger traffic or safety.
Lastly, and this too is something the government has woken up to, focus on passenger safety. As mentioned above, the government has already created a national rail safety fund.  Now the trick will be to operationalise it and remove all the impediments which make railway travel hazardous.
At the same time, the railways will have to begin increasing fares little by little in order to create the funds it requires for upgrading its services.
None of these will be easy.  But this time, Indian Railways has few other options.
Comments can be posted to RNB@asiaconverge.com