http://www.freepressjournal.in/analysis/rn-bhaskar-a-petition-to-the-rbi-surging-bank-charges/1039464
Policywatch
Is the RBI indifferent to surging bank charges?
Rn bhaskar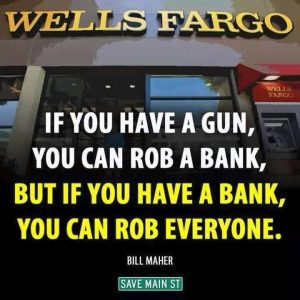 Officials at the Reserve Bank of India (RBI) may be familiar with an image that is being WhatsApp-ed around lately. It says "If you have a gun, you can rob a bank; but if you have a bank, you can rob everyone."
The story of banks robbing people is quite old.  Banks have been known to raise deposits from trusting, unsuspecting people, then giving out loans to a close coterie of friends, and then going bankrupt.
This has happened in India as well.  The Justices Tendolkar/ Vivian Bose report on the Dalmia-Jain group of companies (http://reports.mca.gov.in/Reports/18-Tendolkar%20committee%20report%20of%20the%20commission%20of%20inquiry%20on%20the%20administration%20of%20Dalmia-%20Jain%20companies.pdf) actually documents how this was done.
Then you have cooperative banks, promoted by people connected with powerful politicians.  They too raise money from unsuspecting people, then give out loans to their friends and associates. Finally, they expect the government to bail them out!  A good example was the way the Maharashtra State Cooperative Bank notched up losses of Rs.1,500 crore.  Then the RBI stepped in, dismissed its directors.  The government handed over the bank to a few capable administrators. Overnight, the bank bounced back to profit.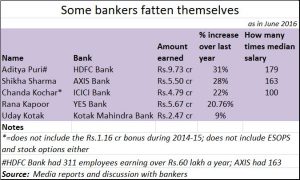 There is a third way. Of robbing customers through higher charges, so that the top management can reward itself (see chart). That is why, it is important to ensure that banks are run well, and that they are not allowed to become greedy
That is also the reason why, Moneylife Foundation took the initiative to take this up as a public cause and send a petition to the RBI governor (https://www.change.org/p/governor-rbi-finance-ministry-stop-banks-fleecing-depositors?recruiter=9991754&utm_source=share_petition&utm_medium=facebook&utm_campaign=share_facebook_responsive&utm_term=des-lg-45039-no_msg)  Disclosure: This author is one of the signatories to this petition.
The petition urges the RBI to step in because people are "are disturbed at the unfair treatment that bank customers suffer in the form of frequent, arbitrary and one-sided increase in banking charges, or the refusal of banks to automatically pass on contractual benefits such as lower interest to those with floating-rate home loans, or the rampant mis-sellling of third-party products such as insurance."
The petition points out that "Over the years, the RBI has remained silent on several anti-depositor actions of banks." One such area is epayments. "While the Union Government is pushing consumers into digital transactions, we are not adopting global best practices to protect consumers. On 11 August 2016 (https://www.rbi.org.in/scripts/bs_viewcontent.aspx?Id=3235) the RBI issued a draft circular on limiting customer liability and shifting the onus of proving customer fault on banks.  RBI had sought feedback from public before 31 August 2016. However, it has not yet been converted into a Master Circular."
This column has already registered a strong protest against omissions and commissions of the RBI and the government on the epayments front (http://www.asiaconverge.com/2017/02/epayments-the-rbi-the-cabinet-secretary-and-the-govt/).
Then this is the issue of banks increasing the charges on deposits, withdrawal from ATMs (http://www.asiaconverge.com/2017/03/indian-banks-fatten-themselves/).
The petition urges the RBI to allow seamless and hassle-free portability of accounts and loans from one bank to another.  It believes that in an age of digitisation, this should not be very difficult.  This has already been done for a telecom sector, and it is high time that this is done for the banking sector too.
This way, a customer — dissatisfied with the rules, one-sided agreements, unfair charges or service standards of one bank —  can immediately seek a transfer of all his accounts, and with all standing instructions to another bank.  The fear of losing business will prevent banks from exploiting the helplessness of depositors who find it very cumbersome to move from one bank to another.  As the petition points out, "Portability of loan exists on paper, but has to be made easier and seamless to execute without imposing fiscal and non-fiscal burdens on the consumer.
The petition also points out the unfair treatment some banks give to the Prime Minister's Awas Yojana. "This scheme provides interest subsidy to loan taken by eligible households. Allowing lenders to overcharge for such loans is allowing them to appropriate this subsidy provided from taxpayers' funds. It is the duty of the government and regulators to ensure that the lenders do not appropriate this taxpayers' money by overcharging the borrowers and create barriers when the borrower wants to shift this loan."
The petition expresses distress at the way the Consumer Charter has been shelved. "The RBI issued the Charter of Customer Rights on 3 December 2014 recognising five basic rights of bank customers" and asks banks to adopt and implement them after their Board's approval. These are: (i) Right to Fair Treatment; (ii) Right to Transparency; Fair and Honest Dealing; (iii) Right to Suitability; (iv) Right to Privacy; and (v) Right to Grievance Redress and Compensation.
The Charter covers almost every problem that consumers are likely to face. However, "three years later, the RBI has not fixed time-frames for grievance redressal nor announced penalties for failure to treat consumers fairly, despite repeated appeals by consumer groups. Consequently, the Charter remains a toothless statement." A master circular giving effect to this charter is sorely needed.
The manner in which some banks have increased their charges for customers, even while awarding themselves huge salary increases (not to mention  ESOPS and stock options that would make the likes of Infosys and TCS blanch) is therefore a wake-up call.  It highlights how banks can rob hapless customers.
It is time the RBI and the government work together to ensure that this exploitation is stopped.
Comments can be posted to RNB@asiaconverge.com