http://www.freepressjournal.in/india/rn-bhaskar-india-russia-friends-for-70-years/1051178
India-Russia: Friends for 70 Years
— By  | Apr 13, 2017 12:05 pm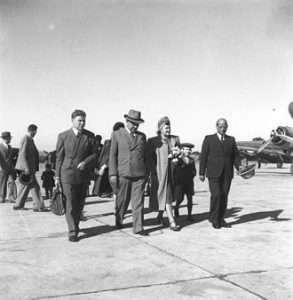 Soviet Ambassador Kirill Novikov arriving in New Delhi 1947 to establish formal diplomatic relations with India
It was in Goa, India, that Russia's President Vladimir Putin and India's Prime Minister Narendra Modi adopted a joint statement 'partnership for global peace and stability' and the 'roadmap of events' to celebrate the 70th anniversary of the establishment of the diplomatic relations between India and Russia on April 13, 2017. And any celebration of 70 years of partnership does call for a review of ties between both countries. The relationship began in 1947 and it has come a very long way since then…
Broadly, there are three ways one can examine Russia-India ties.
• The first is simple – take the historical perspective. It is easy because both countries have enjoyed very warm and cordial ties for the past seventy years – if not more.
• The second is looking at these ties from the strategic point of view. The clubbing of India and Russia together as part of BRICS could be relevant here. It deals with security and economic interests.
• The third viewpoint combines the bit of both above. It is one which sees the emergence of ties between India and Russia as a geo-political necessity. It is this perspective that has begun occupying the minds of strategic thinkers in both countries.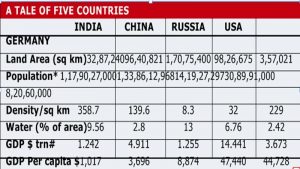 Geo-political imperatives
The country with the largest land mass in the world is Russia. This country has lots of water too – it is reckoned to be the largest reservoir of freshwater deposits globally. But it has very few people. Its density of people per square km is one of the lowest in the world.
So, you have a Russia which is blessed with lots of fresh water, huge tracts of land, the largest reserves of gold underground, the largest reserves of oil and gas and many other mines. But much of this wealth remains untapped because (a) Russia does not have the required capital all thanks to sanctions imposed by the West and falling oil prices that have savagely dented its plans; (b) it does not have people.
Like most countries, Russia too does not view very kindly on the idea of borrowing people from China to work on its land. Next door workers can easily become squatters over a period of time. And countries with small populations and large land masses are usually wary about outsiders – fearful of demographic changes. For more details, do visit http://bit.ly/2om3yhY
This is where India comes in. Will Russia and India be able to work out a pack whereby it is assured of no claims on citizenship by Indian workers once they are allowed to work on Russian fields? Will Russia be willing to use India's large workforce to exploit its mines? That is what both countries will have to work towards.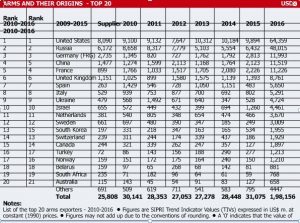 he potential is huge. And the first step in this direction has already been made in tie-ups between the two countries to exploit oil and gas reserves in Russia, and also to mine coal within that country (Tata Power has been identified to begin major coal mining operations in Eastern Russia).
Geo-politically, Russia and India are ideal partners – for business, security and other exchanges. The first moves towards the further strengthening of such relationships have just been made.
The sheer force of history
Then there is the historical factor. All through the Cold war that dominated the global stage immediately after the Second World War, India and the Soviet Union (or USSR as it was referred to then) enjoyed a strong strategic, military, economic and diplomatic relationship. After the collapse of the USSR, Russia inherited the close relationship with India. True, once liberalisation took roots in India, it began flirting with the West as well. But in terms of deep roots, Russia has always enjoyed an edge.

Take the first investments in chemicals, steel, or pharmaceuticals or even space. Much of the original technology came to India from Russia. And this was at a time when India was the most vulnerable. Most western powers scornfully brushed off India's appeals for help and technology.
It was Russia that provided technology to companies like IDPL, to Rourkela and to the country's chemical laboratories. It is these units that created the first batch of talented professionals who would then move to other units and spread their knowledge. Had there been no support from Russia, it is doubtful if India would have been where it is today.
Of course, much of Russian presence in India today is marked by defence tie-ups. But there are many more areas where the two countries have begun to work together.
Traditionally, the Indo-Russian strategic partnership has been built on five major components:
Politics
The highpoint of political relations will be much in evidence when Modi will visit Russia to meet Putin in June this year. It was certainly quite evident in October last year when the Russian President visited Goa to meet its Indian counterpart. These annual summits are the highest institutionalised dialogue mechanism under the strategic partnership between India and the Russian Federation
So far, seventeen Annual Summit meetings have taken place alternatively in India and Russia. Putin visited Goa from 15-16 October 2016 for the 17th Annual Summit. During the summit 19 documents were signed by both countries covering cooperation in defence, space, information security, foreign policy, trade and investment, hydrocarbons, shipbuilding, railways, and science and technology. This meeting took place shortly after another meeting that Modi had with Putin in Tashkent, on June 24, 2016, on the sidelines of the SCO Summit (Uzbekistan), where they had a separate bilateral meeting. In addition to these summits and meetings between the two leaders, there are regular high-level interactions between the two countries. There are two Inter- Governmental Commissions – one on Trade, Economic, Scientific, Technological and Cultural Cooperation (IRIGC-TEC), co-chaired by the External Affairs Minister (EAM) and the Russian Deputy Prime Minister (DPM), and another on Military Technical Cooperation (IRIGC- MTC) co-chaired by Russian and Indian Defence Ministers. These commissions meet at least once a year. These are in addition to several other meetings between officials of both countries.
2. Defence
India's defence deals and tie-ups with Russia take many forms. One is in sale of equipment. The second would be partnering with India in civil nuclear energy. The third would be in developing missile technology. The fourth relates to cooperation in issues relating to anti-terrorism and the fifth area of intense cooperation is in space exploration.
India has longstanding and wide-ranging cooperation with Russia in the field of defence. India-Russia military technical cooperation has evolved from a simple buyer-seller framework to one involving joint research, development and production of advanced defence technologies and systems.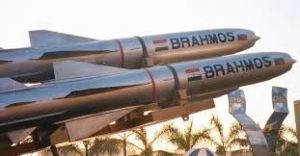 The BrahMos Missile System and the licensed production in India of SU-30 aircraft and T-90 tanks are examples of such flagship cooperation. During the 17th Annual Summit, both countries concluded agreements on supply of S-400 air defence systems, construction of frigates of the Project 1135.6 and the shareholders agreement on the formation of a joint venture to manufacture Ka-226T helicopters in India. The two countries also hold exchanges and training exercises between their armed forces annually. The joint military exercise 'Indra 2016' was held in the Ussiriysk District in Vladivostok from September 22- October 02, 2016.
The IRIGC-MTC co-chaired by the two defence ministers and its working groups and sub-groups review defence cooperation between the two countries. The Russian Defence Minister visited New Delhi for the 16th session of the IRIGC-MTC on October 26, 2016.
India has managed to spread its defence basket quite carefully by picking up some weaponry and defence systems from the west, and some from Russia. But when it comes to technology transfer, no relationship (except
for Israel) has offered more to India than Russia.
3. Economic Relations
Most ties fray at the edges unless they are reinforced by trade and commerce. Not surprisingly, this has remained a key priority for the two governments. To promote smoother and greater movement of businessmen, the two countries signed a protocol on December 24, 2015 to simplify visa procedures for people who could enhance business relationships.
In December 2014, the leaders of the two countries set a target of US$30 billion bilateral trade by 2025. Bilateral trade during 2015 amounted to US$ 7.83 billion (decline of 17.74 per cent over 2015), with Indian export amounting to US$ 2.26 billion and imports from Russia amounting to US$ 5.57 billion. Major items of export from India include pharmaceuticals, tea, coffee and tobacco, nuclear reactors and boilers, machinery and mechanical appliances, organic chemicals, and electrical machinery and equipment. Major items of import from Russia include pearls, precious and semi-precious stones and metals, nuclear power equipment, electrical machinery and equipment, mineral oil and products, iron and steels, and optical, precision and surgical equipment.
Indian investment in Russia are estimated to be about US$ 13 billion which include Vankorneft and TAAS-Yuryakh Tass fields; Imperial Energy Tomsk; Sakhalin I; Volzhsky Abrasive Works Volgograd; and Commercial Indo bank. Russian investments in India is worth about US$ 10.5 billion, including Kamaz Vectra in Hosur; Shyam Sistema Telecom Ltd, Sberbank and VTB.
Hydrocarbons is an active area for exploring cooperation between the two countries. In the second and third quarter of 2016, Indian companies have invested close to US$ 5.5 billion in Russia's oil and gas sector. These include an acquisition of 23.9 per cent stake in Vankorneft (at a cost of US $ 2020.35 million) and this is a grouping of oil companies, notably Indian Oil Corporation Limited (IOCL), Oil India Limited (OIL) and Bharat Petro Resources Limited (BPRL). Then there is the acquisition of a 15 per cent stake (at a cost of US$ 1.284 billion) and 11 per cent stake (at a cost of US$ 930 million) by ONGC Videsh Limited (OVL) in oil fields belonging to Rosneft Oil Company of Russia (Rosneft).There is also an agreement in the area of education and training between OVL and Rosneft. Similarly there is a programme of cooperation (PoC) in the field of oil and gas for the period 2017-18. There are also the ongoing discussions (not yet concluded on account of diligence processes which have not been completed) between Rosneft and Essar for acquisition of 49 per cent stake in Essar Oil Limited.
Both countries are also working towards realisation of an 'Energy Bridge' between the two countries, based on robust civil nuclear cooperation, LNG sourcing, partnership in the oil and gas sector, and engagement in the renewable energy sources.
In December 2015, Tata Power signed an agreement with the Russian Ministry of Far East Development for investment projects in energy sector in the region. In December 2015, Heavy Engineering Corporation (HEC), Ranchi concluded agreements with Russian company CNIITSMASH on establishing a Centre of Excellence in India and modernisation of HEC's facilities; and Solar Energy Corporation of India signed an MoU with its Russian counterpart for constructing solar plants in India. In October 2016, Indian and Russian railways signed an agreement on high speed rails in India.
4. Nuclear Energy
Russia is an important partner in peaceful uses of nuclear energy and it recognises India as a country with advanced nuclear technology with an impeccable non-proliferation record. In December 2014, Department of Atomic Energy (DAE) and Russia's Rosatom signed the strategic vision for strengthening cooperation in peaceful uses of atomic energy between India and Russia. Kudankulam Nuclear Power Plant (KKNPP) is being built in India with Russian cooperation. KKNPP Unit 1 became operational in July 2013, and attained full generation capacity on June 7, 2014, while its Unit 2 attained criticality on July 10, 2016.
5. Space Cooperation
India-Russia cooperation in the field of peaceful uses of outer space dates back to about four decades. Last year marked the 40th anniversary of the launch of India's first satellite 'Aryabhata' on a Russian (then USSR) launch vehicle 'Soyuz'. In 2007, India and Russia signed a framework agreement on cooperation in the peaceful uses of outer space, including satellite launches, GLONASS navigation, remote sensing and other societal applications of outer space. In June 2015, the space agencies have signed an MoU on expansion of cooperation in the field of the exploration and use of outer space for peaceful purposes.
In addition to all this, India and Russia enjoy cultural and educational ties. It was one of the first to invest in India's Institutes of Technology, and has helped India develop many areas relating to science and technology. Many Indian students study in Russia, particularly in areas relating to medicine and engineering.
In fact, given the geo-political imperatives for both countries, it is highly probable that these ties  will grow stronger and mutually rewarding.
Let the 70th year celebrations begin!
Comments can be posted to RNB@asiaconverge.com