http://www.freepressjournal.in/analysis/rn-bhaskar-how-to-plan-for-paid-parking-and-paid-hawking/1051060
A suggestion for solving Mumbai's problems of parking and hawking

— By RN Bhaskar | Apr 13, 2017 09:40 am
There's a great deal of heat and dust in Mumbai.  And it is not only on account of the weather.  One of the issues being debated hotly is the imposition of paid parking.
Last week, the municipal corporation unveiled plans to open 330 parking lots across the city (in addition to the 92 pay-and-park sites that already exist). These are lots where parking was meant to be free.  But local touts collect charges from car owners, who pay up if they have to ensure that their cars are not damaged.
The state wants to charge Rs.60 an hour.  This author's studies show that parking centres could be made viable at Rs.200 for eight hours or Rs.30 an hour (see table alongside). Moreover, the 330 additional lots will have space for just 9,000 two-wheelers and 8,000 four-wheelers. But Mumbai needs at least 10 times more parking space. People have to park their vehicles at night as well. The present policy will just not work.  It does not even take into account space for hawkers who have spilled on to the streets, after choking pavements, in many parts of Mumbai.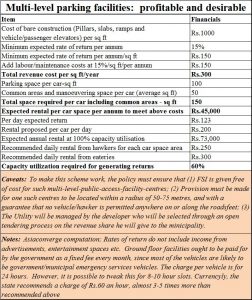 This is what can be done.
Convert these lots into multi storeyed parking, hawking and eating centres. To attract more such centres to come up, the state should allow one multi-storeyed facility to come up within a radius of 100 metres of each other. This way, no person will have to walk more than 50 metres from any parking lot reach his destination.
Design these multi-storeyed centres in such a way that the ground floor is reserved for taxis, government vehicles (fire and police vehicles). All taxi stands on the roads will have to be done away with.
The multi-storeyed facility will also have space for hawkers, vegetable vendors, eateries. You could have the first two floors for hawkers, the next two floors for eateries, and rest for parking. Since there will be one centre within a 100 metre radius, there will be no shortage of space. All hawkers, eateries and vendors can be accommodated.  Since all hawkers and vendors conventionally pay a daily bribe (hafta) of 200-500 to the police/municipal workers/extra-legal custodians of 'law', asking them to pay a fee of Rs.200 per day – officially – will be most welcome by the hawkers, but not by touts.
Such a multi-storeyed centre can come up only if the government agrees to give away FSI and development rights free. Then appropriate centres can be selected by the municipal corporation on the basis of an open tender with preference going to one which can come up within the required 100 metre radius, and one who gives the maximum revenue share to the state. The developer gets a concession for 25 years, since he puts in money to erect such a centre.
But such a concept can work only if the state first decides on a zero-tolerance policy for any kind of hawker or parking on the roads and pavements – even taxi stands would have to go. A clause, compelling the municipal corporate to pay a fine to the developer for allowing illegal hawking/parking should ideally be part of the agreement.
Each centre can create public spaces for entertainment – for marriages, parties etc for which an open pricing policy may be allowed.
All payments must be done electronically, ensuring a transaction trail, and to aid easy accounting. CCTV cameras will allow for security and audit as well.
Even government vehicles should not be allowed parking by the roadside – they will have to use these parking centres. That will reduce the ugly congestion of vehicles as is evident from the cluster just outside CST Railway Station (earlier VT station) in Mumbai.
As the chart alongside shows, the entire exercise is quite profitable even with a capacity utilization of just 60%.
Such a scheme will address several issues at the same time.  It allows for clearance of all pavements – even of milk booths and convenience stores. Since no centre is likely to involve a walk of more than 50 metres, and since alternative hawking spaces are now made available, the city will make hawking a lot more disciplines, organized and monitorable.
Ditto with eateries – especially in a city like Mumbai where roadside vends spring up to cater to the needs to wandering people.
The co-location of vegetable vendors, hawkers and eateries will permit car owners to make their purchases, and cart them into their parked cars.
It will allow Mumbai's roads to be used for moving traffic and not for those who have usurped its lanes and pavements for private profit at public expense.
Most importantly, it deals a body blow to corrupt practices of middlemen who protect violators and share the booty with those in authority.  That promotes More illegal parking and hawking.
The state's willingness to adopt this will depend on its sincerity in cleansing Mumbai and making it more liveable.
Comments can be posted to RNB@asiaconverge.com