http://www.firstpost.com/business/rera-consumer-is-the-king-in-uts-not-really-so-in-states-heres-why-3430006.html
Gearing up for RERA
RN BhaskarMay, 08 2017 10:25:35 IST
On March 16, 2016 – almost a year ago – both the Rajya Sabha and the Lok Sabha passed the Real Estate (Regulation and Development) Act, popularly referred to as RERA. It sought to ensure transparency in real estate transactions and to protect the interests of both buyers and builders.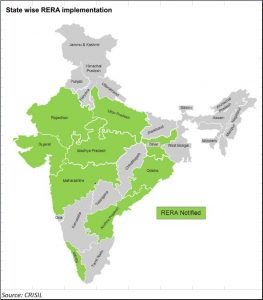 It was a model law, which the centre could recommend and urge states to comply with.  This is because housing and land remains state subjects.  All the states were asked to draft and pass their own laws and notify the Act in their respective territories by 30 April 2017.  According to the law, all real estate developers and agents are to register with their respective state regulatory authorities by 30 July.
As of now, only 13 states and Union territories have notified the new rules. Of them, only three states – all three ruled by the BJP, viz.,  Maharashtra, Madhya Pradesh and Rajasthan –have appointed their own housing regulators.  Significantly, no other state excepting Maharashtra, has set up a website where developers and brokers can register or apply for new projects under the new Act.
But as one looked more closely at what each of the states which have notified RERA has done, some curious patterns began emerging.  But more on that a bit later.
The government at the centre was understandably ecstatic.  It had fulfilled one more electoral promise made to the citizens of India. As Venkaiah Naidu, Union minister of Housing and Urban Poverty Alleviation, put it, RERA  comes "into force after a nine-year wait and marks the beginning of a new era,"  He said that this new law will make "buyer the king", while developers will also benefit from the increased buyers' confidence in the regulated environment (http://www.livemint.com/Companies/5P2gvJ8eUojc1vz0fgR2hJ/RERA-comes-into-effect-tomorrow-only-13-states-notify-rules.html).  He added that "The Act ushers in the much-desired accountability, transparency and efficiency in the sector, defining the rights and obligations of both the buyers and developers," Naidu said. The developers will now have to get the ongoing projects that have not received completion certificate and the new projects registered with regulatory authorities within 3 months from Monday.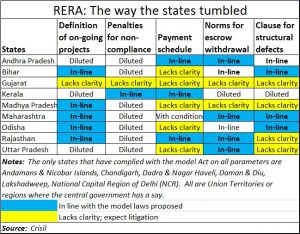 So far so good.  But almost every state has tried to tinker with the model laws.  The only exceptions were Union territories and the National Capital Region, where the writ of the Centre runs large. CRISIL Ratings has done an excellent analysis of what states had done (see chart).
Watch how Gujarat has made laws in respect to all the parameters a bit fuzzy.  With laws that are not clearly articulated, and drafting left vague, expect litigation to hurt buyers.  The biggest beneficiaries of hazy laws will be lawyers and developers, and maybe a few corrupt officials, says an analyst.
Watch the parameter which talks about penalties.  Almost every state – except for Kerala — has tinkered with this parameter.  The original laws required errant builders to go to jail.  In most states, the builders have managed to persuade their respective state governments to allow compounding of the offence and pay fines.  Effectively, no builder is likely to go to jail.
Except for Andhra Pradesh Kerala and Rajasthan, all other states have tinkered with payment schedules as well.  The model required 70 % of the money collected for a home project to be held in a separate bank account. Further, the money can be used only for the project and can be withdrawn according to what proportion of the project has been completed.  One does not know how this law has been tinkered with in different states, but the CRISIL warning should make customers a bit more vigilant.
Obviously, with these two parameters being weakened, will the customer still be king?
But RERA has given consultancy firms the opportunity of holding workshops for builders across the country to help them understand the laws better.  But as Gautam Chatterjee, who was once Secretary in the all powerful Ministry of Urban Development in Maharashtra, and who has been asked by the state government to help it as an interim officer to implement RERA, believes that the expectations from RERA are huge.  He thinks it will change the way the real estate sector works.  But, he admits, there will be challenges initially. Obviously, for a sector that was largely unregulated, the new laws will still offer some restraint on unfair practices that builders often adopted.
A curious omission in RERA is that it seeks to regulate builders and developers, and also lays down rules for consumers.  But it avoids laying down penalties for government officials who are often the principal cause for escalation of costs and for delays (http://www.asiaconverge.com/2016/12/gst-and-govt-corruption/). It will be seen how the developers manage to exert pressure on making the bureaucracy accountable as well. Or will public interest litigations compel the courts to step in where legislators were too scared to tread? Time will tell.
The hope is that this Act will finally kickstart projects in the real estate sector. Stalled or pending real estate projects are estimated to have blocked up funds estimated at Rs13.70 lakh crore in 27 cities, including 15 state capitals.
But overall, the mood is a bit upbeat – at least among developers.  Says Kishor Pate, CMD – Amit Enterprises Housing Ltd., eventually only three things will matter: the quality of the location; the brand value of the builder; and the availability and quality of facilities and amenities in the project and in individual units.
Adds Ashwinder Raj Singh, CEO – Residential Services, JLL India, "It is now generally felt that trends will turn positive once RERA gets implemented, interest rates come further down and the government cracks a whip on benami property holders. "
"The Indian realty industry needed RERA, more than any other policy measure or legislation. There was a very dire requirement of an apex regulatory body to protect consumers – be they end-users or investors – efficiently and transparently. With RERA now a firm reality in India, there will be a radical transformation of the entire residential sector," says Anil Pharande, Chairman – Pharande Spaces.
However, a more somber outlook is presented by India Ratings (IndRa). It believes that "Falling sales have dimmed hopes of cash-strapped real estate developers for refinancing their debt obligations in FY18. The real estate sector has mainly relied on refinancing to meet its debt servicing obligations, given the negative cash flows. Such refinancing has provided a cushion for developers to hold prices despite slowing sales, and the high prices will further delay recovery in sales and cash flows." Ind-Ra believes sales are unlikely to revive in FY18 and refinancing will increasingly become difficult.
Such a mood is echoed by CARE Ratings as well. It says that new launches will continue to be sluggish for at least a quarter going ahead. The fear of penalties and strict deadlines as well as the need to raise money for individual projects will see developers focusing on new projects which will fall within the RERA ambit. Smaller local developers (unlike the larger ones) with higher dependence on advances from customers may find it difficult to operate under the new regulatory regime. It also believes that agreements between various parties i.e. land owners, developers and financial investors may undergo changes with in line with the provisions of RERA.
On the other hand financial institution may see a greater role in funding real estate sector with developers preferring to launch the projects only nearing completion and not while the project is under construction.
What is worrisome is that the pressure of strict compliances could see an increase in costs of the projects with higher requirement of funding from developers & investors. That will increase the funding and registration costs, and  ultimately be passed on to the customer, explains CARE Ratings. .
But more importantly, it also means that the customer can feel more safe purchasing a property in any of the Union Territories or in the NCR where the model RERA laws have been implemented.  As for the rest of the states, consumers will have to study the situation a bit more carefully.
Maybe, in this way, the customer could still be king.
Comments can be posted to RNB@asiaconverge.com