http://www.freepressjournal.in/analysis/rn-bhaskar-rera-becomes-real-will-the-customer-still-be-king/1066031
Will diluted forms of RERA work?
— By RN Bhaskar | May 11, 2017 07:48 am
It was a concept that was being spoken of almost nine years ago.  Finally, this government has made it happen.  Nobody thought that the real-estate-developer lobby could be reined in.
On March 16, 2016 – almost a year ago – both the Rajya Sabha and the Lok Sabha passed the Real Estate (Regulation and Development) Act, popularly referred to as RERA.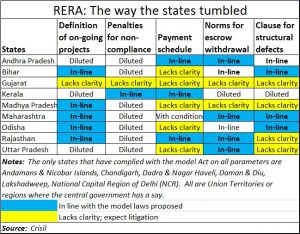 RERA sought to usher in transparency and fairplay for real estate transactions and to protect the interests of both buyers and builders. So the government introduced a model law.  All state governments were asked to introduce this in their respective states with the modifications that they were comfortable with.
The deadline given to states was 30 April, 2017. After all, land and real estate development are state subjects.  All real estate developers and agents are to register with their respective state regulatory authorities by 30 July.
However, as of now, only 13 states and Union territories (out of 29) have notified the new rules. So what will happen to the rest?  That is not very clear.  It is possible that they too will be forced to toe the line.For instance, protests have erupted in Karnataka asking for introduction of the undiluted RERA laws. It is also possible that banks will advance funds only to projects that are being developed in RERA-compliant-states and Union territories.  It goes to show that if the right laws are in place, and the processes are thought out very cogently, good practices can be made to prevail.
Three states — Maharashtra, Madhya Pradesh and Rajasthan — have already appointed their own housing regulators.  Maharashtra remains the only state which has even set up a website where developers and brokers can register or apply for new projects under the new Act.
Venkaiah Naidu, Union minister for Housing and Urban Poverty Alleviation (HUPA) said that the new law will make "buyer the king". Significantly, RERA does protect builder-interests too.
The developers will now have to get both ongoing projects (that have not received completion certificates) and new projects registered with regulatory authorities by end July.
But expect RERA to throw in its own complications and anxieties.  As a CRISIL Ratings research pointed out, quite succinctly, many states have tried to fiddle with the model laws.  Possibly under pressure from developers, some state governments have tried to shield their developer friends from harsher provisions in the model law.
Consider Gujarat.  It has made fuzzy all laws relating to all the key parameters that CRISIL examined. With laws that are not clearly articulated, and drafting left vague, expect litigation to hurt buyers.  The biggest beneficiaries of hazy laws will be lawyers and developers, and maybe a few corrupt officials.
Then consider penalties.  Almost every state – except for Kerala — has tinkered with this parameter.  The original laws required errant builders to go to jail.  In most states, the builders have managed to persuade their respective state governments to allow compounding of the offence and pay fines.
Some states have tinkered with payment schedules as well.  The model required 70 % of the money collected for a home project to be held in a separate bank account. Further, the money can be used only for the project and can be withdrawn according to the proportion of the project that has been completed.  One does not know how this law has been tinkered with in different states, but the CRISIL warning should make customers a bit more vigilant.
So will the customer still be king?
Maybe yes. It is quite possible that more funds will go to developing projects in NCR and other union territories which are fully compliant with the model RERA laws.  If that happens, other states like Maharashtra will soon be compelled to fall in line.
Of course, there will be problems.  India Ratings (IndRa) believes sales are unlikely to revive in FY18 and refinancing will increasingly become difficult.
Such a mood is echoed by CARE Ratings as well. It says that new launches will continue to be sluggish for at least a quarter going ahead. The fear of penalties and strict deadlines as well as the need to raise money for individual projects will see developers focusing on new projects which will fall within the RERA ambit. It also believes that compliances will increase the funding and registration costs, and will ultimately be passed on to the customer
On the other hand financial institutions may see a greater role in funding real estate with developers preferring to launch projects only nearing completion and not while the project is under construction.  Hopefully, RERA will finally kickstart projects in the real estate sector. Stalled or pending real estate projects are estimated to have blocked up funds estimated at Rs13.70 lakh crore in 27 cities, including 15 state capitals.
One curious omission in RERA is that it seeks to regulate builders and developers, and also lays down rules for consumers.  But it avoids laying down penalties for government officials who are often the principal cause for escalation of costs and for delays (http://www.asiaconverge.com/2016/12/gst-and-govt-corruption/). It will be seen how the developers manage to exert pressure on making the bureaucracy accountable as well. Or will public interest litigations compel the courts to step in where legislators were too scared to tread? Time will tell.  

Comments can be posted to RNB@asiaconverge.com