http://www.freepressjournal.in/business/india-argentina-moving-towards-building-a-stronger-bond/1179081
Argentina and India seek to boost ties
— By R N Bhaskar and Rahul Nayar | Nov 30, 2017 10:29 am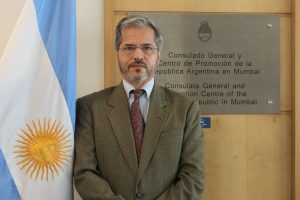 Relations between India and Argentina goes beyond trade. Both have extended their support to each other at various platforms of United Nation and multilateral bodies. India supported Argentina on the issue of sovereign debt servicing and holdout creditors. In order to understand this relation further, FPJ's R N Bhaskar and Rahul Nayar, spoke to the Acting Consul General of Argentina, Alejandro Zothner Meyer.
Meyer is a career diplomat with more than 25 years of experience in the Foreign Affairs Ministry. He is a lawyer and has a Degree in Pedagogy from the University of Buenos Aires, with Post-Graduate studies in International Relations from FLASCO and European integration from 'La Sapienza University, in Rome'.
He has previously served in the Argentine Embassy to the Vatican and in the Consulate General and Promotion Centre in Frankfurt, Germany, where he was responsible for trade and investment promotion. Between 2010 and 2012, he also served in the Undersecretariat of Investment Promotion in Argentina. Earlier, he even served in the North American Department and in the European Department of the Foreign Affairs Ministry.
What was the beginning point of Indo-Argentine relations?
India-Argentina relations are cordial and encompass political, economic, scientific and technological cooperation including Antarctic research and cultural cooperation.
India opened a Trade Commission in Buenos Aires in 1943 and later converted it into its one of the first Embassies in South America in 1949. Argentina had established a Consulate in Calcutta in the 1920s, which was transferred to Delhi as an Embassy in 1950. Argentina opened a Consulate General in Mumbai in April 2009.
Since 2015, a pro-business and pro-reforms government has come to power in Argentina. The Consulate in Mumbai is also a promotion Centre to take trade and business relationship to the highest level. Similar Consulates and Promotion Centre are located only in New York, Los Angeles, Shanghai, Sao Paulo and Frankfurt.
What has been the level of political relationship?
Prime Minister of India, Narendra Modi met the President of Argentina, Mauricio Macri on the sidelines of G-20 Summit in Hangzhou, China on September 5, 2016. The President of Argentina, Mauricio Macri and Minister of Foreign Affairs and Worship of Argentina, Susana Malcorra are expected to visit India in 2017-18. So it is going on to the highest level of political leadership.
What have been the key MoUs/agreements/treaties between the countries?
Two memorandum of understandings (MoU) were signed in 2016 namely MoU on cooperation in the field of research and education in Homeopathic medicine and the second one is an MoU on establishment of an 'academic chair' in Ayurveda between Central Council on Research in Ayurvedic Sciences, Ministry of AYUSH and Fundacion de Salud Ayurveda Prema.
What has been achieved in the areas of technical co-operation and training by the two countries?
India extends 35 ITEC scholarships to working professionals from Argentina every year. In 2015-16, out of 35 slots allotted for Argentina, 25 were utilised. Argentine diplomats attend training courses in the Foreign Service Institute of India from time to time.
How has been the co-operation between both countries in the global multilateral forums?
India and Argentina have supported each other on major international issues as well as each others candidatures to various UN and multilateral bodies. India has always extended support to Argentina on the issue of sovereign debt servicing and holdout creditors.
How has bilateral trade grown between the two countries?
It has really picked up since 2014 but the total balance is in Argentina's favour.
What are the major items of exports from Argentina to India and vice versa?
India's Exports to Argentina:
Major items of exports include organic chemicals, vehicles and auto-parts, lubricants, machinery, sound and image devices and garments.
India's Imports from Argentina:
Major items of imports are soybean oil, petroleum, copper, sunflower oil, leather, wool and ferroalloys.
What justifies Argentina as an agriculture business power house?
Argentina produces food for 400 million people at present and we plan to increase it for 600 million people by 2023. We plan to target India and China for food exports where we believe food needs will grow faster than food production. The largest soya bean crushing plant is in Argentina. Argentina is producing 0.6 million tonnes of pulses at present mainly to export.
Are there any investments and joint ventures by Indian companies in Argentina?
Several Indian companies have established operations in Argentina with investment of approximately USD 1 billion. These include TCS, CRISIL, Bajaj, Hero, Cellent, United Phosphorus Ltd (UPL), SintesisQuimica, Glenmark, Godrej etc. Argentinian investment in India stands at USD 120 million.
Sonalika Pvt. Ltd. has signed a joint venture with Argentine company Apache of Santa Fe for manufacturing tractors and Bajaj Auto have signed a joint venture with Corven Argentina to produce and sell motorbikes in the local market.
In 2014, Implantec Argentina developed a strategic alliance with the Indian company Appasamy Associates, a global leader in the ophthalmological market. Both companies have inaugurated the first producing plant of intraocular lenses in Argentina with a manufacturing capacity of 20,000 lenses monthly.
Ishka Renewable Farms Private Lt, Kerala signed a joint venture with Cooperative Alcaparras Argentinas to cultivate 1,000 acres of capers in the next 10 years in the Argentine province of Santiago del Estero Argentina.
There were other corporate events like in January 2017, India' s Hero Motocorp launched five models of motorcycles in Argentina. A delegation from the Solvent Extractors´ Association of India, an importers association, visited Argentina in January 2017 at the invitation of the Ministry of Agro industry of Argentina. Delegation of Indian Cereals and Pulses organisation visited Argentina in April 2017.
Invap, an Argentine company imported a reactor from India to make radio isotopes for medical purposes. Globant is an IT firm located in Pune and Techint is located in Thane.
What are the key energy resources found in Argentina?
Argentina has the second largest lithium reserves in the world which are so critical to solar power sector. It also has the second largest shale gas reserves and the fourth largest shale oil reserves.
What is the size of Argentina's population and how many Indians live in Argentina?
Argentina's population is around 42 million with 98 per cent literacy rate and 92 per cent of Argentina's population living in cities. Argentina has the largest English-speaking population in Latin America, around 42 per cent.
There are around 2, 400 overseas Indians living in Argentina. Most of the Non-Resident Indians live in the capital city of Buenos Aires, some having lived here for over 30 years. Majority of them are from the Sindhi community.
Others are professionals working with Indian companies and multinational corporations such as TCS, Cognizant Technologies etc. About 300 Sikhs from Punjab had settled down in Salta province in the course of the early and mid-twentieth century. Over time, they have assimilated in the local population and become Argentine citizens. Most of them are in retail and wholesale trade. The first generation immigrants speak Punjabi. A Gurudwara has been established in the town of Rosario de la Frontera, where Guru Nanak Day is celebrated every year.
Comments can be posted to RNB@asiaconverge.com