http://www.freepressjournal.in/business/samruddhi-mahamarg-a-sweet-deal-in-making/1173977
Samruddhi will open up Mararashtra's hinterland
— By Jescilia Karayamparambil and R N Bhaskar | Nov 21, 2017 10:37 am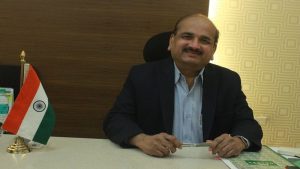 With every passing day, Maharashtra's 'Samruddhi Mahamarg' dream is coming closer to reality. As of now, the land acquisition process as well as tender for bidding of agencies are in progress. The execution responsibility of this project lies in the hands of Maharashtra State Road Development Corporation (MSRDC).
Kiran Kurundkar, joint managing director (administration and finance), MSRDC, shares the journey of this ambitious project so far. Kurundkar who took the role of joint MD in MSRDC in 2015, has previously served as the chief of MTDC as well. Kurundkar in conversation with Jescilia Karayamparambil and R N Bhaskar, highlights the opportunities Nagpur-Mumbai expressway will bring to the people living in and around the vicinity of the upcoming expressway.
Edited excerpts:
Give some details of this six-lane project?
This six-lane access-controlled corridor between Nagpur and Mumbai is of 701 kilometres (kms) and will cost around Rs 46,000 crore. This expressway will have service roads on both sides that will basically connect the underpasses. There will be more than 600 exist points for vehicles and pedestrians. Within every one km distance, there would be an underpass. Further, this east-west corridor will also have north-south connectivity (interchanges).
For the express highway, we have also incorporated a new company Nagpur- Mumbai Super Communication Expressway Limited (NMSCEL) and it will be operating the expressway. We will be a concessionary from the government to construct and operate the road. It is a 40-year concession and we would be constructing roads; collecting toll; and have development rights. There will be wayside amenities and new town areas that will be build. All the revenue will be used in repaying the debt that will be raised to build the highway.
This expressway has 24 interchanges where state highway, national highways and roads will cross the alignment. Around the interchanges, we thought about developing new towns. So, we have been notified as the new town development authority by the government for it.
Tell us about your new responsibility as a town development authority?
As a special planning authority, we will be bringing about growth in all the access points of this expressway. This will bring about planned development in those areas and this will leverage prosperity in the region. For instance, these interlinks will bring about agro-prosperity due to cold storage facilities, agro-based industry, food processing centres, etc.
Apart from agro-prosperity, there will be educational hubs, skilling centres etc. At least 24 new towns are planned in these interchanges and all of them will be green field projects. In Pune, Thane and Raigad, there will be new agro-based industry coming in. There will be investors, there will be cheap labour and the land rates in this areas will be still lower. We will just play the role of a planner and the landowner can sell the land to the private entities.
What is happening with tenders for expressway and new towns?
We are not looking at tenders for new towns as there is no expressway yet. At present, we are looking at tenders for the new expressway. As of now, the pre-qualification process for expressway's tenders are on. The per-qualification offers have come. Around 33 national and international companies have submitted their application which are being evaluated and examined. We will be finishing the job in next 15 days. We will be selecting the pre-qualified agencies to awarding contracts. Such pre-qualified agencies will be given request for proposal (RFP). After the agency/agencies are qualified, work on the financial part will commence. We have divided 701 kms expressway into 16 packages. All these packages will be issued RFP and by January, we will able to sort the financial bit.
How much headway is made in land acquisition?
We are in the process of acquiring land. We need more than 8,500 hectares for expressway. And the land requirement for 24 interchanges will be acquired privately. Wherever there is government land we have utilised it and others will be acquired.
Unless there is no expressway, there is no relevance of the town development. Our priority is to get the land for roads. For new towns, we will not acquire any land through purchase. We are inviting the farmers for land pooling. It is like the Amravati model and we want to make them partners. We will take the land for development and we will be giving them 30 per cent developed plot in that new town. This would be roughly 13,000 square foot plot for 1 acre.
Our new town would be in 1,400 acres. In six places out of 24 places, people have shown their willingness for land pooling. Rest of the places we are trying to convince them. But the minute they see the road construction, they will automatically come forward. That land will be of high-value, once roads come there and then investors will also come there.
When will the construction start?
To start the construction, you need minimum 80 per cent of the land in hand which means 8,500 hectares of land is required. By now, we have 1,000 hectares of government land; and we have purchased 1,500 hectares of land (until November 13, 3017). We are racing against time in purchasing land. Every day the land acquisition is taking place and the progress is good.
Land acquisition is in full swing which is based on negotiations. We have not made land acquisition compulsory because people are showing willingness and consensus for 3,000 hectares. But we have to convert that consensus into selling which is cumbersome process. For instance if the land is a family property then there are multiple parties involved and then there are or can be disputes and we need to finalise all that. Only after getting clarity in such disputes that we can make the purchase.
How do these land deals happen?
While all these purchases are happening on the basis of the valuation of each and every land parcels or land, given by the committee under Collectors. We (MSRDC) do not do the valuation. Collectors' committee do the valuation.
This committee does the study and then they decide on the price value of the land. Then the committee will inform MSRDC about the basic cost and how much has to be given to the land owner. The compensation can be more than four or five times of the actual price of the land and on that basis sale is happening.
Funds sanctioned for the project in 2017
| | |
| --- | --- |
| MIDC | Rs 1500 cr |
| MHADA | Rs 1,000 cr |
| SRA | Rs 1,000 cr |
| MMRDA | Rs 1,000 cr |
| CIDCO | Rs 1,000 cr |
Source: mahasamruddhimahamarg.com
Comments can be posted to RNB@asiaconverge.com