http://www.moneycontrol.com/news/trends/current-affairs-trends/gujarat-elections-how-the-hindutva-beef-ban-may-have-actually-hurt-the-bjp-2463527.html
Beef ban and Gujarat elections results may have a connection
The Bharatiya Janata Party has won an underwhelming victory in Gujarat. And, ironically, one reason the result is a damp squib in this laboratory of Hindutva could be the measures the BJP government at the Centre took to protect the animal that Hindus revere, the holy cow.
RN Bhaskar — Dec 18, 2017 12:37 PM IST
The Bharatiya Janata Party has won an underwhelming victory in Gujarat. And, ironically, one reason the result is a damp squib in this laboratory of Hindutva could be the measures the BJP government at the Centre took to protect the animal that Hindus revere, the holy cow.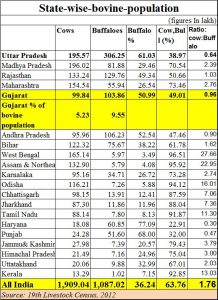 Many forget that Gujarat is not UP, or like any of the Northern states.  In fact, it is far more mercenary than many people realise. Every decision is measured in terms of money gained and money lost.  Yes, religion does play a part.  The Vaishnav cult and the Somnath loyalists do continue to advocate the cause of Hinduism. And Gujarat gaurav matters as well.  But after the emotions are done with, it comes back to money.
Two factors
That is where two factors worked against the BJP this time.  The ham-handed manner in which GST was implemented hurt many Gujarati businessmen.  The onerous rate of 18 percent on food (Gujaratis love food and eating out) hurt.  It was quickly rolled back. But the cumbersome requirement of having to register in each state where refunds could be claimed hurt businessmen. Thus, if a trader goes to Goa to meet a client, he cannot claim setoff against his hotel GST because he had not registered in Goa.  And if he does, he would be required to file returns every month.
For a party that talked about one-country, this was dividing up the country into tax-autonomous states, preventing claims from being made just because registration had not been done in another state.  All this could have been managed electronically, without inconveniencing the common man. It is only now that the government has decided to iron out all the wrinkles.  You can be sure that this will be done more expeditiously.
But a bigger inconvenience in Gujarat is the ban on cow slaughter, and the ban on the transport of buffaloes as well.  That hurt many Gujaratis.  The ban on slaughter alone could mean a loss of around Rs 1,500 crore per year.  This figure could be higher if one takes the market price of Rs 20,000 per cattle in the pre-ban days.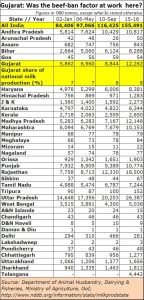 For Gujarat ownership of cows and buffaloes is not just an issue of milk.  Even Hindus in the Kheda and Anand districts used to sell their non-lactating cattle to the trader.  They did not want to engage in the businesss of slaughter.  But the purchase of a cow that costs anywhere between Rs 40,000 and Rs 60,000 is a commercial decision.  When a cow becomes old, it is replaced with another young cow.  Part of the purchase amount for the new cow is offset by the proceeds the farmer gets from the sale of his old non-lactating cattle.
One of the reasons why Prime Minister Narendra Modi was popular as the chief minister of Gujarat was his refusal to introduce a ban on the slaughter of cattle.  During his chief ministership, he did not impose any restriction on the transport of cattle as well. Obviously, there must have been other pressures which forced his hand as a prime minister which made him first introduce a ban on cow slaughter, and worse, even introduce a ban on transportation of buffaloes to unlicensed slaughterhouses.
Country for cows
In fact, many Hindus and Muslims had already begun moving away from owning cows to owning buffaloes. They were thus doing what every other state had been doing.  States, which had advocated the ban on killing cows, were the first to see a decline in the population of cows in favour of buffaloes.
Overnight, those who talked about protecting cows had actually helped in diminishing the ownership of cows (see table). States where the ratio of cows to buffaloes is below one are those where you find the most virulent of gau-rakshaks.  This ratio is more in benign states like West Bengal, Tamil Nadu and Kerala. Mercifully, the Supreme Court has stepped in to demand accountability from states where such gau-rakshaks have run wild.
If Gujarat accounts for over 6.8 percent of the country's bovine population, its share of the country's milk production is even higher at 8 percent (see table).  Go to any part of Gujarat, and you will find backyard rearing of cows/buffaloes a thriving business. Each cow/buffalo generates at least Rs 100 as surplus (after expenses) each day for 300 days a month.  So a family which tends to 4-5 cows/buffaloes makes a good Rs 500 or more each day.  That is a fortune for rural areas.
But when cattle stop lactating, they must be replaced.  And that is where the farmers need a market for such cattle.  The trader who picked them up and sold them either to cattle sanatoriums (gau-shalas) or to the slaughter houses played this role.  He paid farmers an average of Rs 20,000 per cattle head.
Huge losses
The ban means a loss of this money.  It also imposed on the farmer additional costs of looking after an old animal prone to disease.  Our calculations show that Gujarat farmers stand to lose at least Rs 1,500 crore assuming 5 percent of the cattle population were to die each year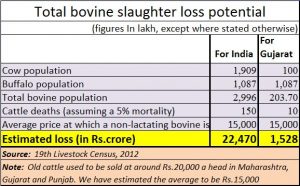 (see chart), not to mention the additional money they need to spend to keep the old cattle. And from the state GDP viewpoint, there is also the loss of income for the butchers.
Somewhere, India's policymakers forgot that the people who were trying to decide the future of cattle were often those who had never purchased such animals, and had certainly not looked after them with their own money.  They often used moneys from charities or the state to do the things that they wanted poor farmers to do.
Clearly, the government will have to rethink its plans and policies.  It will have to become more tolerant of people who eat beef.  Even Goa – which has refused to ban the eating of beef – has admitted that the supply of beef from neighbouring states is proving to be a problem.
The coming days will tell you whether the government can do all this.
Comments can be posted to RNB@asiaconverge.com