Source: http://www.moneycontrol.com/news/business/economy/will-lithium-become-the-new-bottleneck-2476297.html
Lithium is in demand.  Will it outstrip supply?
Solar and wind power – even hydro power – cannot be stored. They must be consumed, or the energy is lost. That is why the battery becomes important.  And the best battery as of now is the one which uses ithium.  Hence demand for lithium has soared.  Will this outstrip supply?
RN Bhaskar — Jan 05, 2018 01:42 PM IST
The race to popularize electric vehicles could well elevate the little known lithium to a status of precious metal. But therein lies the challenge as well. Does the world have enough of lithium?
Lithium's speciality is its light weight, making it one of the most  efficient material for energy storage.  Storage is important if anyone who has to migrate from oil or coal.  Oil has energy packed within it; so does coal.  So does gas, though it often comes to you in a compressed liquefied form. All the three can be stored, though with the required precautions that must be taken into account.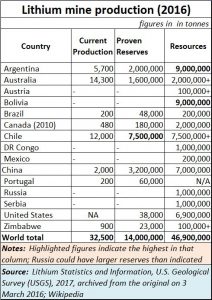 But solar and wind power – even hydro power – cannot be stored.  They must be consumed, or the energy is lost.  For centuries, the energy potential of sun and wind was untapped because man did not have the means first to harness it, and then to store it.
And while wind and solar energy environmentally friendly, they still have their disadvantages.  When the wind stops blowing, the power generation stops.  A little fleck of cloud over the sun will cause solar power to drop.  Hence you need something to smoothen out the intermittent power, so that you can then supply it to the grid – or use for your machines — in a steady stream.  That is where inverters can help.  But if you need to store it, you need batteries.
Till recently, the big problem was the high cost of batteries.  But in the last five years, battery prices have dropped almost 70%, according to a Bloomberg report (http://www.asiaconverge.com/2015/06/battery-a-dirge-for-fossil-fuels/).
The report predicts that prices could fall by another 70% in the next 5-7 years.  At this price-point, batteries begin to make economic sense, and for the first time unsubsidised solar power will cost nearly the same as (if not less than) grid based power.
But good batteries require lithium. These batteries aren't new.  They've been popularized by Sony, and are used in mobile phones, toys and other electronic gadgets. But the energy stored in these batteries are just a minuscule fraction of what is required for electric vehicles, more so for the trucks that the US energy and transportion disruptor Tesla Inc wants to introduce.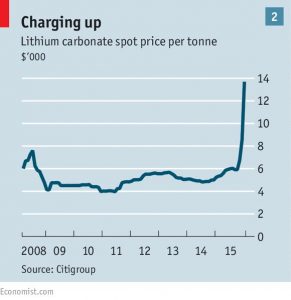 This could boost demand for lithium.  Expecting this, in June 2017, Tianqui Lithum (an Australia based subsidiary of the Chinese group Chengdu Tiangi, the world's largest producer of lithium-ion batteries) said that the demand for lithium could increase by three to four times by 2025, and that projected supplies will not keep up (https://www.businessnews.com.au/article/Lithium-supply-to-fall-short-Tianqi). Such fears were voiced even earlier.  As early as in December 2015, Goldman Sachs said predicted that lithium would be the new gasoline, as its  unique properties made it a key enabler of the electric vehicle revolution (http://www.goldmansachs.com/our-thinking/pages/macroeconomic-insights-folder/what-if-i-told-you/report.pdf)
According to some media reports (https://www.bloomberg.com/news/articles/2017-06-28/china-is-about-to-bury-elon-musk-in-batteries) , China has already chalked out plans to build factories that will churn out more than 120 gigawatt-hours of battery storage per year by 2021. That according to Bloomberg would be enough to cater to the storage needs of 1.5 million Model S vehicles.  Clearly, China expects the demand for such batteries to come not only from Tesla, but from every other vehicle manufacturer who might want to go electric. This includes Maruti-Suzuki, Mahindra, Hero Moto, Tata Motors, and Toyota in India and Daimler VW and BMW overseas.
Other investment research organisations like Canaccord Genuity have set demand projections at 687,000 tons by 2025, while UBS is expecting demand to hit 873,000 tons in the same year. Current production hovers around 32,000 tonnes.
So will there be a crisis?  Some commodity experts believe a bull market in lithium is imminent.  But there are others who feel the math does not support such a trend.
Talk to key planners in Argentina.  They are already working on expanding their mining operations.  And they are also considering setting up battery manufacturing facilities in their own country.  And do note, the figures do not include US production which for some reason are not easily available.
Yet there is no denying that the price of lithium has begun climbing. Since there are no markets where this metal is traded as yet (hence a fragile market where prices can go up or down in a moment), one has to go by commodity reports instead.  One such report, by Metalary.com, points out how a tonne of lithium cost $1,460 in 2005. By 2010, it rose to $4,350 per tonne. But that was because earlier, there were no major uses for this metal.  By 2010 lithium-ion batteries had become the standard.  But even thereafter prices continued to rise.  It hovers around $14,000 per tonne today according to data published in The Economist quoting Citigroup.
Can these high prices sustain?  Hard to say.  But as economists often explain, the high prices are a cure for high prices, as more producers enter the fray.  Increased competition helps cool Moreover, some of the best research laboratories in the world are working on new metals that can store power more effectively and at lower prices.
Any of these could cause lithium prices to fall.  For now, expect punters to entice you to invest in lithium companies, if not in indices (because lithium based indices have not yet surfaced).  Caveat emptor. Buyers beware!
Comments can be posted to RNB@asiaconverge.com