http://www.freepressjournal.in/analysis/go-chanda-kochar-please-go/1269603
Why Chanda Kochar must go
RN Bhaskar | May 03, 2018
Last week witnessed the first public appeal being made by mainstream media asking Chanda Kochar (currently managing director of ICICI Bank) to step down from her post. (https://economictimes.indiatimes.com/industry/banking/finance/banking/icici-deserves-a-statesman-not-a-leader-in-hiding-letter-to-chanda-kochhar-from-another-ceo/articleshow/63893641.cms?curator=alphaideas&utm_source=alphaideas).  In what was captioned "an open letter" the article stated that  "ICICI deserves a statesman, not a leader in hiding." This author too agrees that she must step down immediately, but for different reasons.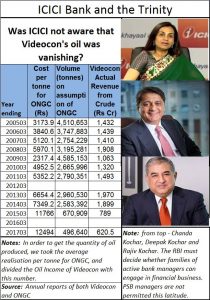 Sadly, in a media interview, she refused to permit a third party enquiry.  This appeared to contradict an earlier assurance to mutual funds companies a week earlier that there would be an investigation.
After all, it is not difficult in financial circles to take up a debt exposure of under 10% of a loan to a company, and then persuade another bank to become the lead manager of the debt consortium.  When a blue-blooded bank throws its hat in the ring, other banks become willing to follow suit.  Such a structuring is normally done by an intermediary, and there are good (though unconfirmed) reasons to believe that Rajiv Kochar (RK) and Chanda's husband Deepak Kochar (DK) played this role.
Therefore the defence of no major exposure and not a lead manager is quite facile.  It is surprising that the ICICI board – comprising industry hardened professionals — blithely supported this argument (http://www.asiaconverge.com/wp-content/uploads/2018/04/2018-03-28_ICICI-letter-to-BSE.pdf).
Yet this is precisely what the ICICI Board informed the Bombay Stock Exchange on 28 March 2018: "With regard to ICICI's current exposure to Videocon, the Board also recorded that
In 2012, a consortium of over 20 banks and Financial Institutions sanctioned facilities to the Videocon Group (Videocon Industries and 12 of its subsidiaries as co-obligators) for a debt consolidation programme and for the group's oil and gas capital expenditure programme aggregating approximately Rs.40,000 crore.
ICICI Bank's current exposure to the Videocon group is part of this syndicated consortium arrangement.
ICICI Bank was not the lead bank for this consortium and the Bank only sanctioned its share of facilities aggregating approximately Rs.3,250 crore which was less than 10% of the total consortium facility in April 2012."
Today, the loans remain unpaid. Both the banking sector and the government have thus made losses, as much of the loans amount was advanced by government owned banks (PSBs).  ICICI Bank's customers too will suffer through the levy of additional charges.  The only beneficiaries will remain the Kochar family, and Videocon, This is unacceptable.
What is surprising is that ICICI Bank chose not to read  the warning signals.
As early as March 31, 1998, an article authored by journalist Sucheta Dalal pointed out how Videocon was on the bailout list. Warning ignored.
Since 2013, Videocon has stopped publishing in its annual reports the volumes of oil it produces in India.  Remember, Videocon was already a political beneficiary (in the late 1990s) of some of the most lucrative oilfields that ONGC had.  Videocon's cashflow from oil was used to justify bigger loans. Videocon was allowed to make higher profit per tonne of oil than ONGC, because the latter had to sell to OMCs (oil marketing companies) at administered prices. Did ICICI Bank ignore this change in reporting.
By 2013, Videocon also stopped publishing details of its subsidiaries ("co-obligators"). There is nothing on record to show that ICICI Bank raised any cautionary flags.
By 2016, Videocon's oil production volume was just 11% of the production volume of 2005.  Neither the government nor ICICI Bank asked questions. The oil fields could not have been sold because they belong to the government.  But they could have been attached as loans were not being repaid. Is that being contemplated? True, value-wise the 2016 figure was still 43% of 2005 revenues.  But that was because oil prices were higher than in 2005.  Videocon's subsidiaries were sold off.  Videocon's annual reports do not include valuation reports.
When Reliance Industries registered a fall in oil and gas production, the government slapped a hefty fine on that company.  Has this been done with Videocon? Will the Kochar trinity explain this preferential treatment to Videocon?
There is no knowledge where Videocon's oil volumes from Indian oilwells have disappeared.  Is the oil being sold on the black-market?
Why is that many of the companies for which RK has raised money or done business, are today stressed assets (http://avistaadvisory.com/transactions/restructuring/)?  Is there a pattern?  Was the trinity involved in defrauding both banks and the government of India?
These are very serious questions.  Videocon, ICICI Bank and the government have to provide explanations. Standing in the way to these answers is Chanda Kochar as ICICI's head who dismisses the thought of a third party enquiry. She must leave for the scam to get unraveled.
Comments can be posted to RNB@asiaconverge.com