https://www.moneycontrol.com/news/business/companies/interview-serum-institutes-adar-poonawala-plans-new-vaccines-and-an-nbfc-2674811.html
Adar Poonawala rides ahead with even bigger plans
RN Bhaskar — Jul 05, 2018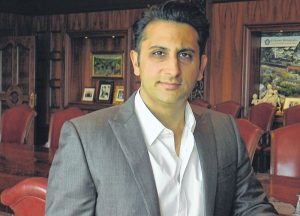 In 1966, when the Indian vaccine industry was at a very nascent stage, the Poonawala family decided to set up the Serum Institute with a  meagre capital of Rs.5 lakh. 
The Poonawalas' passion for horses might have had a lot to do with this venture.  After all, the serum of horses was often used to create antidotes for anti-snake-venom.  But that involved a bit of laboratory work as well.  From there to making vaccines has been a long but immensely successful journal, both for the family and for India. Serum Institute of India has become the world's largest producer of vaccines in terms of number of doses.
Adar Poonawala took over from his father Cyrus, to guide the fortunes of the group.  In an exclusive interview, Adar spoke with R.N.Bhaskar about some of the group's activities.
Given below are edited excerpts from that interview. A video of the interview can be accessed from https://youtu.be/LkY0jCLXACw
RNB: Your group has been incredible in the manner it's become the world's largest producer vaccine in terms of dosages. How did you come to this business and what made you tick where many others fell by the wayside?
Adar Poonawalla:  Well, you know, when my father started in the '60s. even he had not imagined that we'd one day become the largest vaccine producer in the world. He wanted to address the issues of shortages as far as the masses were concerned, and he wanted to get into the line of business that addressed affordable vaccines and affordable healthcare, which wasn't available at that time. Even today we struggle to get access to affordable vaccines.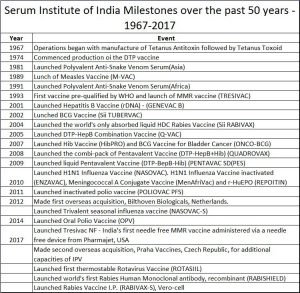 I took that strategy forward. I've now been in the business for the last 13, 14 years and I took over as CEO in 2011. We have now embarked on addressing and producing all the vaccines that Africa, South America, India, Asia require, and most importantly that are affordable. And what happened as a result of this – of taking this strategy forward — is that most of the other vaccine producers in the West walked out of the business of making these vaccines, which are for less than $1.
RNB: Wow!.
Adar Poonawalla:  And now you see many Indian vaccine manufacturers who have also come up and are producing the same vaccines that we're producing. Today we produce something like 1.3 billion doses of vaccines a year. But our turnover is just you know three quarters of a billion dollar. So you can imagine our average selling price is, you know, far less than $1.
RNB: So, you're relevant more to the developing world?
Adar Poonawalla:  Yes. We do have some new patents in vaccines – for some we've partnered with some of our colleagues — and we're going to launch some vaccines in the next two to three years in Europe and the United States as well.
We've built a whole brand new campus. We've spent something like about Rs.2,500 to 3,000 crores on developing EU and US compliant facilities, and of course to add some more capacity to the existing campus here.
So including these two campuses we've got in India, we have two more manufacturing sites in Europe, one in Czech Republic, one in Holland. We have spent more than €400 million over the last five years developing our capabilities over there, and that should start producing in the next year or two, thus substantially adding revenues, and also to the bottom line.
RNB: So with these new patented vaccines, you will be entering the upper crust market as well?
Adar Poonawalla:  Yes. We've got a bladder cancer vaccine that we already sell in Europe. We will hopefully sell that one day in the U.S. as well. We've got a bunch of other vaccines that are coming there like for cervical cancer for women…We've got the pneumococcal vaccine, which we'll launch by 2020, for the developing world. Pneumonia is one of the [biggest] killers of newborn babies.
We've also got a dengue monoclonal and dengue vaccine coming, so hopefully that will help.
RNB: Wow!
Adar Poonawalla:  We are also in the business in monoclonals, which is basically an antibody and a cure for anything that you get. So, so far we launched the world's first rabies monoclonal antibody in India, a couple of months ago. This is a monoclonal. This is not a vaccine.
It's the first of its kind in the world. We partnered with [the biotech division of] the University of Massachusetts for this And, we've got the dengue monoclonal for which we've got worldwide rights from a company called Visterra in the U.S. So in two years time, we will be launching a cure for dengue. So, when you get hospitalized, we've just put you on a drip for 20 minutes and then you're cured.
RNB:  One question as a layperson, what would the difference between a vaccine for rabies and a monoclonal?
Adar Poonawalla:  A vaccine is a preventive. A monoclonal is a a readymade human antibody that you give. Whereas the vaccine is generally a preventive that you take, so that you don't get say cervical cancer, you don't get pneumonia et cetera.
And a monoclonal is something that you give — usually you could give it intramuscularly or through a drip in a hospital, which will prevent the disease from progressing and neutralize the virus.
RNB: How many vaccines would you have in your range in terms of approximate numbers?
Adar Poonawalla:  Probably around 12 to 15 and we're launching at least three vaccines in 2020 and in 2022 another two vaccines then. So that will take us to close to about 15 to 16 vaccines in total.
RNB: Did the horses have anything to do with developing the vaccines?
Adar Poonawalla:  Well, nothing really. It's just that, you know breeding horses was something that my grandfather was doing. And then my father decided to use that to generate anti-tetanus toxin and anti-snake venom serum. That is the only connection to horses. And then, you know, we went into making tetanus vaccine and on to other human vaccines.
RNB: And today, if you look at your new investments for new vaccines what would be the investments be like?
Adar Poonawalla:  Well, you know, for each vaccine to be developed and to take them through clinics normally takes — as a general rule of thumb — somewhere between $20 million to $30 million. And you know that coupled with the capital expenditure that you need to put in – it is a very, very capital intensive activity – it takes us three to five years to develop. So you don't know if you've gone right or wrong and you have to wait for  five years to know if you made the right decision or not. So it's a very tricky business and that's part of the reason why the barriers to entry are so high. You know no one wants to take risks that they don't really have full control [over the processes involved]. That's part of the reason why there's just a limited number of vaccine manufacturers that have succeeded.
RNB: Today how many centres do you have that are producing vaccines?
Adar Poonawalla:  Well, we have two plants in Poona. We have two plants in Europe as I mentioned in Czech Republic and in Holland that those two European facilities make bladder cancer vaccines and the injectable polio vaccine, which is a key product required for the elimination of global polio; to eradicate polio from the globe.
The oral polio has its issues and that's why that's being phased out and as companies slowly build-up the capacity for injectable polio, the world will switch to injectable polio.
RNB: And you are intent on remaining the largest producer of that vaccine?
Adar Poonawalla:  Well we're not the largest yet in injectable polio, but we should be within the next two to three years when our plants are fully functional. At the moment they're just being qualified and the regulators are just checking those facilities to see that they can ply. In two years' time, we should start production there.
RNB: Typically, when you become the largest in the world, you have the ability and possibly even the moral responsibility of setting standards for your country, which means that you become the leader of the industry, also guide the industry.  Do you have any plans in that direction?
Adar Poonawalla:  Yes, and that's why we formed an association.  We'll be talking about that in two weeks' time when we actually officially launch it.  It'll be 'the "Vaccine Manufacturers Association of India" which will put out the kind of information and messaging and also interact with the public or the medical fraternity or the government to shape policy and shape the way the country needs to look at preventative measures like vaccines and other things in order to bring down child mortality and address so many other issues that are being neglected right now.
RNB: How many vaccine players will be there in the country today?
Adar Poonawalla:  Oh there are probably seven or eight, but I think there are three to four major vaccine producers.  And I think a total of maybe eight to ten.
RNB: Okay that's takes me to the second area which I believe is a passion with you — that's waste management.  Could you talk to me about that?
Adar Poonawalla: We started this and launched our waste management initiative at the hands of the honorable Chief Minister of Maharastra two and a half years ago.  And this was a personal commitment — it was beyond CSR.  A lot of people asked me: "Is it CSR?"  We have spent five times the budget of our annual CSR budget on this because this is what was required.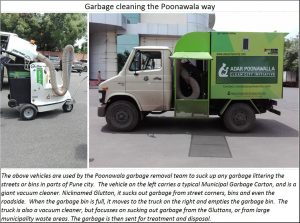 In fact, we're still running short of funds.  We're covering only half the city which is about 450 square kilometers/ We've imported important machines from Belgium and Holland – we have around 170 trucks now which are going around the city picking up waste.  We've provided bins.  We're creating awareness campaigns for the public to segregate their waste.
And this was something that I thought of . Yes, it's the government's job.  But they need to partner with a private group in every major city.  I think, that's a workable model that we're trying to now replicate in other states.  And we've got a lot of inquiries to do that because you need both the technology and the ability to implement all these things which the government can't do.
You know they have their own political and other bureaucratic hurdles that they have to deal with.  And so partnering with a private group such as ours or so many others in other cities also is the way forward to address India's waste management. Of course, the ultimate aim is to convert waste into energy…  …instead of it just being dumped and piled up or land filling…
It is disastrous for the environment and also the local people living in that area.  You know it's being burnt or it's been rotting over.
Another reason, I got into it was because I'm very proud to be Indian, but my pride always takes a little bit of a hit when I come back from my overseas visits and you land and then from the time you go from the airport to your home or wherever you are going, you see all the filth around.
And it creates a bad impression and a negative impression. Whether it is foreigners or investors coming into your country, what must they be thinking? And I thought if we could try and improve that impression and that India has so much to offer; sometimes certain aspects can put you off. And I wouldn't want foreigners who come here to get the wrong impression and sort of you know rethink [their desire to work with India].
RNB: What are your investments in waste management?
Adar Poonawalla:  Well, we spent about 100 crores so far, close to 100 crores. It's capex and opex. You know, we are spending around 2.5 crores a month on the opex, which is basically the maintenance of the vehicles and the staff. We've got 350 full-time people managing these machines and trucks. We've got 170-odd machines and trucks. So the opex is quite a bit and the initial capex to buy all this also was there. I just looked at the figures, it's very close to 100 crores now, which is what we've forecast two years ago. And we'll continue to support this, and hopefully, we'll have other partners who will also join in.
RNB: Do you convert the waste to electricity or into methane?
Adar Poonawalla:  Well, the plan right now is to use Swedish technology, which we found most suitable for our kind of waste. They are the world experts.
They import garbage and all that and they convert a lot of that in their country to energy. Now, the government here in our country needs to look at a sustainable model that it can offer as a tendering process whereby it becomes sustainable for private operators to convert the waste into electricity.
RNB: Will some of the waste go into methane generation?
Adar Poonawalla:  No. None of that. Because we haven't got land given to us by the government to process this. You need land. It's a very cumbersome process, but we're talking to the highest levels in the state and we are confident that in the next one year we will try to put up a project to [convert waste into methane].  We need all the public support also…
RNB: How many people do you employ in the group?
Adar Poonawalla:  Well, we've got 5,500 people in Pune, in Serum Institute and another 600 people in Europe, between the two plants there. We have another 350 to 400 in my Clean City initiative and another 100 in our foundation which is now providing clean drinking water. One hospital which is meant for the for the poor and we give everything almost free there. The hospital's in Pune.
And we've got around six schools now which are fully operational in the rural areas. One in Kolhapur, Baramati, Uruli Kanchan, Alibag.
So we are we're doing things where – these aren't centres of excellence, but this is the basic education that is required that we are trying to address at the affordable level, including our healthcare in the hospital, which is not a very big hospital. It's just a 65-bed hospital, but when you don't have a choice and you just don't have insurance like you have in the West. How does one pay for whatever…So we decided to provide that too for people who can't afford the healthcare.
RNB:. And are there any other activities that you like to talk about from the group's perspective?
Adar Poonawalla:  Well, we are in the process of starting an NBFC to lend to businesses and to individuals.
That's taking shape and we're looking at an online platform whereby, you know, you can make payments. The whole world is going toward that now, so that you have an app [which allows you to] borrow funds, you can make payments, you can make your electricity payment, pay people, book hotels. Do all of that, you know, which is what everyone is doing at the moment. And I just see that that market is growing so [rapidly]
A lot of artificial intelligence coming in. So, even though there is a lot of competition, the market is growing so [fast].
So we're looking at deploying our funds which are not being used back in the business. You know, we use – we reapply most of our profits back in our main business.
But to get a better return, for your treasury income we thought that starting a small NBFC and growing it. That would be a more prudent way of doing it. We were looking in the market to acquire some NBFCs, but the valuations are very high and the profits these NBFCs were making were very low. You know, they were just going by a loan-to-book ratio and asking for some ridiculous valuations.
So we felt that it's better to just start our own. Build our own team and do it.
RNB: What could the startup corpus be?
Adar Poonawalla:  We haven't decided that yet. It depends, you know, maybe about Rs.100 crore and then we go from there. And very soon, once we have systems in place then it's very easy to deploy. But we just want to make sure that our systems are in place. And then, you know, in a year's time you could easily scale it up to Rs.2,000 crores 3,000 crores, a year or two's time…
Once you have your system that is safe and is checking everything properly then it's very easy to deploy.
All this keeps me busy between my social work and my own business.
So that's it for now and we're very excited about the next few years where we'll launch these new vaccines, and hopefully be able to save so many more lives.
Comments can be posted to RNB@asiaconverge.com