http://www.freepressjournal.in/analysis/india-swiss-banks-and-black-money-r-n-bhaskar/1310375
India's black money may not be in Swiss Banks
— By RN Bhaskar | Jul 05, 2018
Last week the political climate was charged with accusations that the government had actually begun encouraging the promotion of black money.  Prima facie, the charges seemed to have some merit in them.  Swiss bank deposits from India had swelled by 50%, one of the largest increases in recent times (see chart).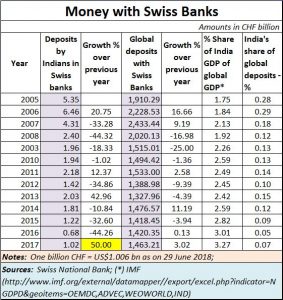 But the accusation was a bit uncharitable.  For three specific reasons.
First, even though the percentages seem high, the total amounts involved in Indian deposits with Swiss banks are not.  At CHF 1.02 billion – even after accounting for the 50% jump – the amount is significantly lower than the CHF 6.46 billion in 2006 when the UPA was in power.
In fact, Indian deposits with Swiss banks had been declining for the past three years – right from 2014 when Prime Minister Modi formed his government.  It was only last year that the trend was broken and Swiss deposits began climbing again.
The second reason was that Indian deposits with Swiss banks account for just 0.07% of global deposits with Swiss Banks.  That is one of the lowest levels ever during the last decade, overshadowed by an even lower share of 0.05% in 2017.  At such percentages, India's deposits with Swiss Banks are not much to rant and rail about.
There is a third reason why people who are tracking black money should not be looking at Swiss Banks.  True, they were the best shelter for clandestine money in the past.  But Switzerland has entered into several bilateral treaties for making disclosures about bank deposits to requesting states.   That includes a treaty with India to provide real-time information with regard to Indians from January 2019. Obviously, any Indian who wants to stash away black money will not do so with Swiss Banks, because he would stand exposed.
There could thus be one credible explanation for the quantum of deposits in Swiss Banks going up.  It could be found in the government's decision to ram through amendments to the Foreign Corrupt Practices Act (FCRA) in March this year (http://www.asiaconverge.com/2018/03/corruption-collusion-legislative-filibustering/) which seeks to exempt political parties from disclosing their source of funds from overseas.  The courts had earlier demanded that political parties make these disclosures and the government thought it wiser to try and change the law instead.  This move is now being challenged before the Supreme Court as being unconstitutional by public spirited persons like EAS Sarma (http://www.asiaconverge.com/wp-content/uploads/2018/02/2018-02-16_EAS-Sarma-Retrospective-amendment.pdf).  The decision of the court is still awaited. The amendment to the FCRA technically permits politically connected parties to put their money back with Swiss  Banks where it is safer than in tax havens with not-so-unblemished a banking record.  If this explanation is correct, one could say that the government, in collusion with all other political parties (all have kept quiet about these amendments), are responsible for the spurt in Swiss deposits.
As mentioned in these columns earlier, if people want to look for black money, they should first demand a full fledged investigation into the agriculture income disclosures before the tax authorities during 2011 and 2012 (http://www.asiaconverge.com/2018/02/aadhaar-npci-uidai-pnb-and-corruption/). What makes those disclosures horrifying is (a) they were larger than ever before; (b) the cumulative value of disclosures during the two years was a mind-boggling Rs.874 lakh crore (Rs.874 trillion); (c) the cumulative value  of disclosures was eight times India's GVA for 2013, and almost 100 times the total tax collected in that year.
It can be found in the decision of the enforcement authorities of not auctioning off properties they have seized in the past – irrespective of whether they relate to the NSEL Scam (http://www.asiaconverge.com/2014/06/auction-off-nsel-defaulters-assets-restore-investor-confidence/) or the politicians who are being investigated for corruption (on extremely narrow charges). Attachment of properties makes for big news, full of sound and fury.  But the refusal to auction them off points to collusion.
It can be found in the files of scores of senior officials who were suspended, when fraud was discovered, and then reinstated when public memory died.
It can also be found in the files that routinely get burnt in fires that take place at government offices – possibly aimed at making evidence disappear – especially when it comes to corrupt deals and land development scams.
But these are things politicians do not like to talk about.  Many of them are collusive partners in the generation of black money.  Their silence in permitting the amendments to the FCRA is ample proof of their willingness to allow a cover-up.
The rantings and ravings against Swiss Banks are therefore of no consequence.
Comments can be posted to RNB@asiaconverge.com