https://www.moneycontrol.com/news/business/troubled-waters-who-owns-the-right-of-way-on-indias-coasts-2739121.html
Cabotage and the right of way
The National Union of Seafarers of India (NUSI) wrote to the government last month, saying the move to relax cabotage 'is ill conceived'
RN Bhaskar – Jul 20, 2018
Almost the entire Indian shipping industry is protesting the government's move to relax cabotage. Cabotage is the right of domestic flag vessels to ply along the coast of the country for ferrying coastal cargo. The National Union of Seafarers of India (NUSI) wrote to the government last month, saying the move to relax cabotage "is ill conceived".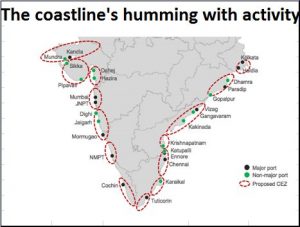 While international ships (even those owned by Indian businessmen but sailing under foreign flags) can pick up cargo for other countries and bring it to India, the right to move such cargo along the coast of India has generally been a right enjoyed by ships flying under the Indian flag and hence registered in India.
NUSI's main objection is that India has always embraced a strong cabotage policy, meant to provide impetus to Indian ship owners and also ensure gainful employment for Indians. It points to the survey done by the UK based Seafarers Rights International (SRI) involving 193 countries (members of the United Nations). If one excluded land locked countries and those having just one port, almost 91 countries had in place some form of restriction in their maritime or shipping laws against foreign flag vessels in their maritime cabotage trades. The most common way of maintaining cabogate was by reserving or giving priority to their own national flags. "Some of the leading maritime nations of the world such as China, United States of America, Russia, Japan, Republic of Korea, Brazil, Chile, Argentina, Canada and Australia are prominent examples of countries which have strict cabotage," adds the NUSI letter.
Foreigner friendly?
Not to be outdone, The Maritime Union of India (TMUI) has also opposed the move.  In its letter to the government, TMUI said, "Indian shipping companies employ Indian Seafarers on board its vessels without exception. The Indian ships are therefore a source of guaranteed employment for Indian citizens.
In order to promote the growth of Indian tonnage, there exists a ROFR (Right of First Refusal) on the basis of which Indian ships can carry cargo but at the lowest rate offered by a foreign flag.
This ensures that cargo is carried on Indian tonnage, at the lowest cost and on assets which contribute to the economy which are continuing to function under the Indian flag despite various taxes which make them less competitive as compared to foreign flag ships. Thus cargo is fairly shared between Indian and foreign ships.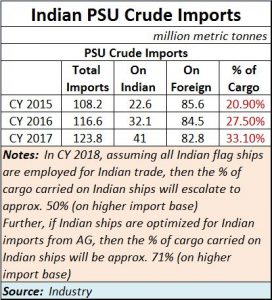 We are given to understand that the government intends to completely do away with the provisions of the ROFR thereby completely crippling the Indian shipping industry. . . . . .This will lead to a decline of Indian flag ships and consequently impact the employment of several thousand Indian Seafarers!"
The government's defence
Privately, government officials shake their heads.  It is not that simple they say.  Yes, domestic business must be protected for Indian flag ships.  But where are the Indian vessels?
Consider for instance how even with cabotage rules in place, Indian flag vessels  ferried barely 20-30 percent of India's coastal cargo (see chart) .
But that was precisely why the ROFR system was put into place, counters the shipping trade.  "We know that India does not have enough ships registered in India.  That is why, each time there is a need, the shipping company puts across the business proposition to the director general of shipping, and gets a go ahead in case it is not picked up by Indian ships," says one shipping executive who prefers anonymity.
But why should there be any ROFR, counter foreign ship owners?.  That is another type of licence raj, and nothing short of a permit system, they say. Yet, the foreign ship owners are silent when told that almost every developed country has cabotage rules in place.
However, there is a difference.  Most developed countries have a vibrant shipping industry own their own, and depend little on foreign carriers.  That is why while international trade is open for all, domestic trade along its own coast is generally reserved for local flag ships.
However, it is also true that these countries show their shipping industries flourish because of the incentives their respective governments gave the industry.  It is not a one-way street, say Indian ship owners.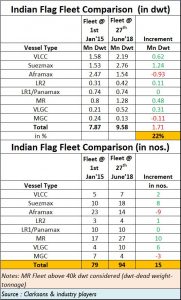 Few Indian vessels
The fact remains that the growth of the local shipping industry hasn't been anything to write home about.  The industry grew by just around 10-22 percent  (see chart) over a period of three years – depending on whether you are looking at DWT (22 percent) or the number of vessels (10 percent). That was slower than the rate of economic growth and certainly lower than the rate of growth in coastal shipping which has generally witnessed double digit growth (around 15-20 percent).
The growth in the number of ports along India's coasts is testimony to the growing volumes of coastal trade.  These volumes are tipped to grow at an accelerating pace.
But then the shipping industry worldwide has grown only when there are incentives from the government to facilitate its growth.  This is done in two ways.
First, the government encourages private shipyards to set up business in India to make ships within India.  This means fine-tuning the tax and financial access structures in such a way that the final cost of ships made in India remains competitive when compared with ships acquired overseas.
Obviously, when a businessman finds that overseas acquisition of a ship makes more economic sense, it hurts India in two ways.  First, the shipping business itself has moved away from India.  Second, the business it does across the world goes out of the ambit of Indian tax authorities.  Thus while a person employed on foreign ships is exempted from paying income tax irrespective of the number of days he is on board, Indian crew on Indian ships get tax exemption only when they have proof that they have spent more than 180 days on board.
This is iniquitous in two ways.  First, it taxes Indian crew on Indian ships more harshly than Indian crew on foreign ships.  This is quite different from the practice that is adopted for crew on aircraft. Second, it encourages more Indians to seek employment with foreign ships, which suits businessmen who acquire ships overseas.
Thus the government's policies do not provide any incentive for Indian shipping to grow faster than the rate at which they have grown till now.
So what should the government do?
Obviously, abolishing the ROFR will be detrimental to the growth of the Indian shipping industry, especially at a time when India is encouraging the building of more ports and more coastal economic zones (CEZs).  The concessions will provide huge advantage to anyone who makes acquisition of ships overseas.
At the same time, there is no denying that the permit raj – even in the form of ROFRs – can be quite vexatious.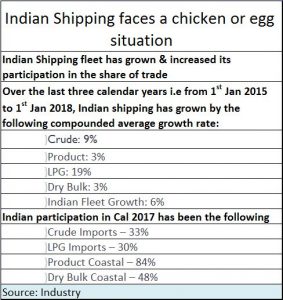 If the government wants to do away with the ROFR route, it must first sit down with the industry and work out alternative plans.
One would involve a better financing deal for businessmen keen on ordering ships made in India.
Second would be the government's incentives for a local ship building industry to grow. This includes having better tax laws for Indians employed on Indian flag vessels.
A third way would be to impose a tax on foreign flags picking up coastal cargo along India's shores for coastal trade.  That would neutralise to some extent the imposition of GST which Indian businessmen have to bear.  It would also provide an economic cost advantage for businessmen opting for Indian vessels.
If the government does not adopt the above, it would be fair to believe that the new policies being planned are nothing short of a sellout to foreign interests.
At a time when the government is talking about Make in India that would be most unfortunate and unwise.
Comments can be posted to RNB@asiaconverge.com