https://www.moneycontrol.com/news/trends/current-affairs-trends/opinion-foreign-aid-will-flow-to-kerala-whether-the-centre-wants-it-or-not-2873771.html
Disaster relief will flow to Kerala despite the central govt's dictat
There are several ways of looking at humanitarian aid. These came into sharp focus after the Union government refused to let the UAE donate Rs 700 crore as relief aid to flood-struck Kerala
RN Bhaskar — Aug 23, 2018
There are several ways of looking at humanitarian aid. Each of these viewpoints has a grain of truth in it. Some of these viewpoints came into sharp focus on account of the refusal on the part of the Union government to let the UAE donate Rs.700 crore as relief aid to the flood-disaster struck state of Kerala.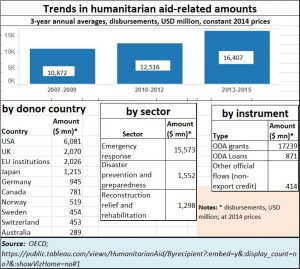 Fact #1: Humanitarian action saves lives. It alleviates suffering. It also helps maintain human dignity following conflict, shocks and natural disasters.
The OECD, a club for rich countries, tracks donations by its members (see chart) and the sums appear to be growing.  It would, therefore, appear, that the world community has not become more miserly.  In 2016, the members collectively contributed around $16.7 billion  of public funds as humanitarian aid. Such numbers reaffirm the belief that aid is needed for providing aid and relief at times of distress. According to other sources (https://www.theguardian.com/global-development/poverty-matters/2014/jun/24/global-humanitarian-aid-spending-2013-syria-south-sudan-typhoon-haiyan), such aid swelled to an all-time high of $22bn last year, spurred by typhoon Haiyan and conflicts in South Sudan and Syria
Fact #2 People often focus on problems like violence, terrorism, and instability, In reality disasters are far more destructive. For instance, as Vox points out, (https://www.vox.com/2015/4/1/8321471/disaster-relief-media-coverage) between 1980 and 2000, disasters like earthquakes, tsunamis, and floods killed around 1.5 million people. They affected 2.3 billion people worldwide. Economic losses from these catastrophes average between $250 billion and $300 billion per year, a number that's expected to increase in the future. And the impact falls disproportionately on poor countries. That was bigger than the number of people killed in wars or in terrorist attacks. Yet governments are liberal in giving grants to victims of such attacks (India included).
Fact #3 The amount of aid a country, or a disaster struck region receives is proportionate to the amount of media attention it gets.  This can be unfair to countries that do not have a voice or a location recall for the rest of the people in the world. The discrepancy is even greater for smaller disasters, which, when added up, account for the majority of deaths and displacement but don't make the headlines, and hence receive even less attention from donors.
Fact #4: Foreign aid, if unregulated lead to a variety of problems as well.  Potential recipients become choosy about which donor to embrace, and which items to accept.  That is not good for either dignity or the concept of aid.
Fact #5 Over the years, countries have begun to realise that direct aid can be counter-productive to national self-esteem and objectives.  It is sometimes better to refuse aid, or else to channel aid to a government body which then decides how to spend it.
These are the issues that are being talked about ever since the Kerala floods battered the state, and offers for aid began pouring in.  The inability of the government to come up immediately with a decent rescue package for rehabilitation made such offers even more attractive.  As the Kerala chief minister pointed out, UAE is not just another country.  Most of the workers in that territory are from Kerala.  It is like a second home for Keralites.  Surely, this could be seen as a family helping out its kinsmen?
The problem lies with a decision the government of India took in 2004, in the wake of the Tsunami crisis that India would not accept aid any more; that it was capable of managing on its own.  India had accepted foreign aid and relief earlier.  It had accepted foreign aid during the Uttarkashi earthquake in 1991, Latur quake in 1993, Gujarat earthquake of 2001, Bengal cyclone in 2002 and also during the Bihar floods of 2004.
So what should the government do this time?
If it does not formulate a policy soon, private individuals will intercede on behalf of the state of Kerala, take the money, and send it from UAE as private remittances.  As these individuals are non-resident Indians, they cannot be subjected to tax either.  But then, that will lead to undesirable consequences of creating new channels for funds flow into India.
As of now, the government has yet to take a stand on how these funds should be channeled.  It is quite possible that some of the money will come into India – one way or the other.  The government cannot do anything about it.  It may be worth remembering that as of March this year, the legislators have modified the Foreign Contributions Regulations Act (https://www.moneycontrol.com/news/india/comment-corruption-collusion-and-legislative-filibustering-will-cripple-democracy-2531493.html) permitting political parties to receive funds from overseas, without disclosing the source.  This very law could be used to defeat the government's ban. That unwise amendment could haunt the government in the days to come.
It is obviously time the legislators sat down and prepared laws that are good for the country – both ethically and financially.
Comments can be posted to RNB@asiaconverge.com