http://www.freepressjournal.in/business/new-name-new-logo-same-old-drive-and-values-garware-technical-fibres
Garware Technical Fibres has bigger plans for the future
— By RN Bhaskar | Aug 16, 2018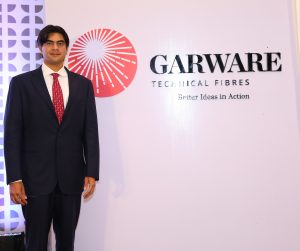 For a company set up in 1976, Garware Wall ropes, now rechristened Garware Technical Fibres, has come a long way.  The company takes pride in the manner in which it was set up by Padmashree Abasaheb Garware, grandfather of the present chairman and managing director Vayu Garware. 
"He set up this company to cater to local needs. He was the first in India to to introduce Nylon, Polyethylene. Supplies from importers were not reliable, so he thought a domestic manufacturing capability of high speciality technical textile fibres would be a good idea," explains Vayu, the third in the line of succession at this company.  "Ramesh Garware, who passed away in 2013, expanded our product offerings to international markets especially the tough and demanding markets of Europe, N. America. He led R&D teams and manufacturing towards forward integration delivering value added solutions."
Today, Garware Technical Fibres is a composite technical textilecompany beyond ropes and cordage providing solutions in more than 75 countries around the world. It has a range of products and solutions of over 20,000 varieties. All its products are made in state-of-art manufacturing facilities rated as one of the top 25% of global lean practices. It provides employment to around 6,500 people directly and indirectly of which over 1,600 are women.
More importantly, it is ranked at #34 among the "Best places to work"  in India in the mid-sized category.
Vayu agreed to an exclusive discussion with RN Bhaskar of FPJ. Given below are edited excerpts:
How do you see competition?
"It is difficult to give an answer to such a question because of the vast range of products and services we offer.  In fact, I don't think there is any one company that offers such a vast range in the areas that we cater to.
Which sectors do you operate in?
Broadly speaking, we cater to four segments…
We are first and foremost in the food sector.  We cater to acquaculture and to fisheries.  Some of the best and scientifically designed fishing nets come from our company.  They are designed to meet specific objectives – to ensure that only big fish is caught, leaving small fish to float away.  We make nets that can carry huge tonnages.  And each kind of fishing application has a different type of fibre and netting design. We design nets for fish farms.  Once again, depending on the fish that you wish to grow, we design a net for that purpose.
The same thing goes for poly houses for farming, where we provide the netting to withstand sunlight throughout the day and keep insects out.  Once again, depending on the application and the terrain, we actually design a different product.
The second segment we look at is sports – this is where we make nets for games – be it for Wimbledon's tennis matches, or the badminton nets back home.  We are strong players in this market.
The third would be infrastructure – what we prefer to call geo-synthetics
Geosynthetics are technical textiles used in infrastructure construction to replace traditional methods and improve life, efficacy and cost. The estimated spend in the infrastructure development is US 85 billion in India. Garware geo-solutions are used across India in landfill construction, coastal and flood protection, sea wall embankments, rock-fall-protection and other turnkey solutions.
And the fourth would be solutions for defence services.  This is a big market and could grow enormously in the coming years.  This is because  technical textiles related to the defence market is around Rs.1,700 crores. Our efforts also blend with the government's "Make in India" objective as a majority of such products are currently imported.  To grow well in this market, we have entered into technical collaborations with various defense research organizations including Israel's AERO-T for Aerostat balloons
And which segment generates the maximum revenues for you?
It is from fishing.  We derive 65% of our business from this area – from nets for a variety of fishing and aqua-farming applications.  Given the looming population growth and food shortages, we see this segment growing more rapidly than most other sectors in the food industry.
And what about profits? 
I think that Fishing and Acquaculture would also be the most profitable.  Our margins are between 20-30% in this field because of our design and the respect our customers have for our products.  We enjoy a brand premium of 30-40%.
What is your biggest challenge?
Educating people on why new generation fibres and designs are important. It took us almost 8-9 years to persuade the Indian consumer to migrate from nylon to polyethylene.
Which state in India accounts for the largest share of your market?
Since we are into many products, we are fairly well dispersed.  But when it comes to fishing, Tamil Nadu is one of our biggest markets.
In fact, it is because we are into designer products, we do not have a single one-time big-bang approach to capital expansion.  We are consistent in the way we gro.  We have a capital outlay of around Rs.40 crore a year.  Like a textile mill which adds more looms when business grows, we add specialised looms and equipment when there is a need for a new product.
Our core investment is in people, in our research teams and our ability to create new products that the markets want.
So, what kind of growth do you envisage?
We thing our current growth rate of 20% compounded – CAGR – will remain constant for some more time. Yes, as new technologies come in, new products will emerge.  And growth rates may vary.  But we think we will stay at around 20% CAGR for a few more years.
Comments can be posted to RNB@asiaconverge.com