http://www.freepressjournal.in/business/mumbai-is-upgrading-to-a-more-reliable-and-world-class-lifeline-mumbai-metro-rail-corporation-managing-director-ashwini-bhide/1341762
Mumbai, metro and superior mobility
— By Jescilia Karayamparambil and R N Bhaskar | Aug 24, 2018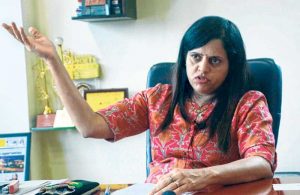 'Mumbai is upgrading' — and many are waiting to see this upgrade. But in this process of upgrade, it did stumble at a few places but that didn't stop or delay the project. Mumbai Metro Rail Corporation Managing Director Ashwini Bhide, in an interview with Free Press Journal's Jescilia Karayamparambil and R N Bhaskar, talks about the hiccups faced by the Metro 3 project (Colaba to Seepz).
Edited excerpts:
How will Metro change Mumbai?
Mumbai needs that infrastructure revamp especially in the public transport segment. The present public transport has served its purpose till date and continues to serve the people of Mumbai. However, this system is hugely overburdened. This is creating a lot of risk and discomfort. People are moving around in subhuman conditions. There is no doubt that we want to enhance and revamp our entire public transport.
What is your view on the inconvenience caused to Mumbaikars due to these projects?
A crowded and linear city like Mumbai does not have much scope. The alternative is limited as there is no open space. Under such conditions, there will be opposition from the community. They do understand the need for such a project. But when people are already struggling in their lives, they find it difficult to deal with such temporary inconvenience. This inconvenience is caused on account of implementation. In such cases, we have to go back to people and convince them that this inconvenience is for a temporary period. We have tried our best to minimise this inconvenience. We all want a bright future. We need to do this for our future generations.
What is the timeline for this project?
The project will be completed by 2021 and we are planning to commission phase 1 from the car depot to BKC from June 2021. The remaining corridor will be done by December 2021. That means it will take three more years.
As we move ahead and work progresses, the inconvenience will minimise. The initial phase— where area is secured and traffic is diverted— takes too long.
The entire area will be recovered as soon as the station box is done (after which work will take place inside the tunnel). The inconvenience will drastically come down.
The courts had to intervene in this project on several occasions. How do you view that?
I see court intervention in two ways. I agree that court interventions are bound to be there. This is mainly because we are a democratic country and people have the liberty to express their views. If anyone wants to challenge something in court, this a legal process they are entitled to adopt. So we cannot object to that. This allows us to discuss new facets and it helps us improve our functioning. At times, there are aches when a project goes to the court and we have to stop working. Adding to it, is the delay in hearing the matter within the stipulated time frame. This is when we face a challenge.
In case of the tree cutting matter, we did face some challenge. Nevertheless, the courts have not issued any stay order. If the intervention of the judiciary helps us improve our proceses, it should be welcomed.
Does that mean there will be significant time or cost overruns?
For a project of this size (Metro 3 is worth Rs 23,000 crore) there will be interventions and such delays have been accounted for when the project was reviewed. The approved timeline for the project was six years which includes the tendering process. The working period for the project is four-and-a-half to five years.
There were some delays but there were days when we could catch up and make up for the delays. Five years is a pretty long time. That is why it will be premature to say that there will be cost and time overruns due to the interventions. On account of tree-cutting case, there was a cascading effect and there has been some level of delay. This too has been factored in when I said that our project will be commissioned in 2021. There is a clear instruction given to contractors to make up for the lost time. Over a period of time, we will start to take stock of the progress of the project. It is only then we will be able to say that intervention resulted in cost or time overruns.
Given you entire scope of work, would you say that the time for maximum inconvenience is over?
The inconvenience caused to people because we are working at certain intervals will continue. That inconvenience will remain till the project is fully commissioned. In terms of grades or scales, it is going to go down. For example when we were doing piling to demarcate our station, that time the noise levels were very high. It was quite irritating but we have finished 80 per cent of the piling work.
Piling work and excavation work had to be done in batches and the traffic had to be managed accordingly. Once piling and excavation is done and the traffic is in place, then everything will get normalised.
What should Mumbai look forward to?
Mumbai should look forward to an efficient, faster and safe mode of transport. This route will carry 14 lakh passengers per day initially and then it will go up to 17 lakh passengers per day. This is a 33.5 km underground corridor with 26 stations (there will be stations every one kilometre). Unlike the suburban train, here you will not have to take another mode of transport for the last mile connectivity. This corridor is connecting five-six business districts or employment centres which are not connected by current railway transport network.
We have technologies that make the whole journey reliable. That is why Mumbai will travel in a way it has not in the past. This will lead to sustainable development as it is passing through some congested areas. It will revive the spaces it is passing through.
Will suburban railway remain relevant to Mumbai post Metro 3?
It will stay relevant. Railways would not be able to change the route but they will be able to upgrade their system and technology especially for the commuters. Metro is an alternative that will give railways some space to improve their old system. Suburban trains and metro rail will be complementary to each other. There will be interlinkages. Now, MMRDA is working on a common mobility card that is going to usher in more integration. This will make travelling easy for Mumbaikars.
Will there be any compartmentalisation of the metro trains?
As of now, we do not plan to compartmentalise the metro train. The way our rolling stock is structured, there is no way we can do that.
What is the current status of the project?
For the entire corridor, we dug two tunnels. The total tunnel length is about 52 kms, out of that we have completed around 7 kms. This work got completed with eight machines. Out of 17 Tunnel Boring Machines (TBM) 16 have already arrived in Mumbai out of which 14 are underground and 12 of them are commissioned.
The speed of tunnelling with double, triple and then quadruple in few months. In the whole process of tunnelling and building stations, a lot of murk is generated. As per our contract with contractors, we have identified certain abandoned quarries on the outskirts of Mumbai like in Palghar or Thane districts. These quarries are allotted to contractors and they are supposed to put the debris in those quarries. So that some land can be recovered there. That is a more environmental friendly way to deal with debris. However, the contractors are in the liberty to find other solutions, provided that they do it in an environmental safe manner. Some of the murk/ debris is getting recycled and that is within the scope of work of the contractors.
If Mumbai Port Trust needs debris for land filling, our contractors take their debris to them. If the timing matches, this debris will be utilised for coastal road projects as well.
When will the mobility card be launched?
The mobility card is under the purview of MMRDA. About 13-14 stakeholders are involved here. The deliberation process is on and that card will start working before the Metro projects are commissioned. This card can be used in Metro, Railway, Bus, Mono-rail etc. The idea is to have interconnectivity between different corridors. Such hard and soft integration makes transportation seamless.
Comments can be posted to RNB@asiaconverge.com