https://www.freepressjournal.in/business/brandix-building-a-sustainable-future-through-apparel-and-waste-management
Brandix has big plans for its India venture
The company has made environmental sustainability a core part of its business, which has led to a positive impact on the environment and society as a whole.
Brandix is a leading apparel solutions provider headquartered in Sri Lanka with a manufacturing presence in India, Haiti, Sri Lanka and Bangladesh. The company has been providing 'Inspired Solutions' to renowned brands across the world for nearly 50 years.

The company has made environmental sustainability a core part of its business, which has led to a positive impact on the environment and society as a whole. Since its inception, Brandix's 1000-acre apparel park in India has been committed to nurturing the environment and actively working towards a sustainable future.

In conversations with Dominic Rebello and RN Bhaskar, (both from the Free Press Journal) Mariam Omar, Head of Communications, shares her thoughts on the company's future plans and what does it take to create a truly inspired workplace.

The company's operations are guided by Priyan Fernando, who is the Non-Executive Chairman Ashroff Omar, who is the Group CEO. Priyan is based in New York and his professional background spans the globe where his 30+ year career saw him provide leadership to large teams at American Express, Boston Consulting Group, and Ernst & Young. Ashroff Omar is the Group Chief Executive Officer and has been instrumental in redefining the Sri Lankan Apparel industry for over four decades.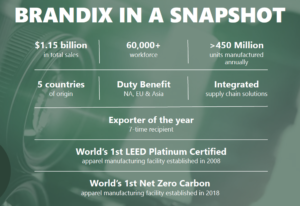 How big is the Brandix group?
Brandix operates several joint ventures, making it a company with total revenues of approximately $1.15 billion. Our primary focus lies within six distinct categories spanning underwear, bras, sleep and lounge wear, active wear, knit tops and woven bottoms. Active wear encompasses leisure sportswear, complementing the other categories seamlessly. While our main export market is the United States, we also serve customers in Europe and Asia.
How many manufacturing units do you have in Sri Lanka and how many units do you have around the world?
Our operations are spread across Haiti, Bangladesh, India, and Sri Lanka. Thus, we maintain three manufacturing units outside of Sri Lanka. Our annual group turnover is solely derived from exports.
How many people do you employ?
We employ approximately 50,000 people across all our manufacturing units.
Sri Lanka has been going through difficult times, especially the last four or five years. This has affected your operations at the homefront and the global markets too are shrinking and this has affected your sales even globally. What is your strategy to cope with these twin challenges?
It has been a very active period for us. At the core of our operations are our people, and they are actively working to optimize end-to-end costs by eliminating waste. Our approach is not to cut jobs but rather to find ways to ensure that our sewing machine operators continue to receive the promised salaries while we improve on waste reduction.
We are also focusing on enhancing efficiency in the use of fabric, considering it is a significant cost component in garment production. This involves optimizing marker efficiency and strategically placing patterns for maximum effectiveness.
The global market slowdown has presented us with a unique opportunity to thoroughly assess our processes from start to finish. It has prompted us to rethink our strategy for the next five years, and we are currently undergoing an intensive transformation to minimize waste. What was once a challenging aspect in the textile industry has now become an innovative approach for us.
In times of prosperity, it's easy to keep moving forward due to a steady stream of orders. However, during periods of slowdown, we see it as a valuable opportunity to re-evaluate and optimize our operations while we continue manufacturing and exporting.
So, you plan to streamline your operations to make them more cost effective?
Instead of merely streamlining, our plan is to proactively address waste in order to optimize our current processes.
What are Brandix's future plans? Do you plan to add new manufacturing units, in terms of adding the range of products?
Our strategy revolves around a strong focus on our current categories of operation, with potential expansion into additional categories in the future. We have invested in three fabric mills, including a 1000-acre manufacturing facility in India, located in Vishakapatnam, which operates as a vertically integrated unit. Within this setup, we also have a fabric mill (Brandix India Apparel City: https://www.youtube.com/watch?v=1DCgCooRsMo).
Our primary objective is to delve deeper into fabric development in collaboration with our investor partners, aiming to pioneer cutting-edge fabric innovations. Concurrently, we intend to optimize our operations and continue doing what we currently do, but in a more efficient and improved manner.
How big are your Indian operations?
Brandix India Apparel City (BIAC) is one of the largest dedicated apparel and textile manufacturing parks in Asia, bringing together world-class apparel supply chain partners to collaborate and co-create 'Inspired Solutions' for renowned global brands. The 1000-acre world-class park is strategically located in the coastal city of Visakhapatnam, Andhra Pradesh offering a one-stop, industry-specific hub, creating a 'plug-n-play' production environment for global partners.
Our 1000-acre apparel park has been caring for the environment and contributing towards a sustainable future for our people, the communities in which we serve, and the planet, since its inception.
Sri Lanka is a better place from where to export than India. So in India are you looking at the Indian domestic market or are you looking at exporting from India also?
Currently, we are primarily exporting our products from India. However, as part of our future strategy, we are also exploring opportunities within the Indian domestic market.
Anything more that you would like to add…
Indeed, our manufacturing facility in Sri Lanka, situated in Batticoloa on the East Coast, proudly holds the distinction of being the world's first net-zero carbon apparel manufacturing facility (more on Brandix' Key environmental sustainability highlights cn be found at https://www.youtube.com/watch?v=71Wg39OjjKQ. By the end of this financial year, specifically by March next year, all our operations in Sri Lanka will achieve a net-zero carbon status.
Our ambitious goal is to have all our operations in every country where we are present achieve net-zero carbon status by the year 2030 (World's First Net-Zero Carbon apparel manufacturing facility: https://www.youtube.com/watch?v=AduTX9y0NYI). Our strategy to attain this objective involves a focus on renewable energy, resource optimization, and promoting circularity in waste management, alongside an increased use of sustainable materials.
We have a comprehensive sustainability report available on our website for those interested in learning more about our sustainability initiatives.
Our overarching aim is not only business growth but also to apply our success for the betterment of the communities in which we operate. We are fortunate to have customers who share our commitment to long-term sustainability and the well-being of our planet and local communities. Most of our corporate social responsibility (CSR) efforts are concentrated in the regions where our factories are located. In India, for instance, we have eye care as a prominent CSR initiative.
The apparel industry is seen as an exploiting industry. How do you take care of your employees?
While the apparel industry is sometimes viewed as exploitative, at Brandix, we are committed to ensuring the well-being of everyone associated with us. As part of our efforts, we organize eye camps on every second and fourth Sunday of each month. These eye camps are open to the entire community, not just our employees, and have been held 106 times so far. This service is provided free of charge and has benefited over 41,000 individuals. We offer eye care, including eye wear and necessary surgeries.
In addition to our eye camps, we run career enhancement programs that are closely aligned with the brands we collaborate with. One such program is PACE (Personal Advancement and Career Enhancement), a module-based learning initiative that covers various skills, including negotiation skills, personal hygiene, and more.
Our CSR initiatives are split across 3 pillars: Provide, Educate and Engage to ensure our interventions are purposeful and make an impact.
Under the "Provide" pillar, Brandix is dedicated to enhancing the quality of life of employees and communities enabling access to safe drinking water, clean sanitation facilities, better healthcare, and food security. The "Educate" pillar facilitates access to education through initiatives such as English language learning programs, University scholarships, and the donation of school essentials. Under "Engage" we are continuously interacting with the communities where we operate to better understand their needs and provide purposeful interventions.
Another example of all of this coming together is our aim to ensure access to clean water and sanitation facilities for all our employees and extend these services to key locations such as schools, temples, and the communities in which we operate. This initiative is known as the Model Village Project, and it has resulted in the installation of approximately 4,800 clean water sources, benefiting over 300,000 individuals.
You have over 50,000 employees. So do you, like most garment companies employ more women than men?
Indeed, 73% of our workforce comprises women. Consequently, our efforts in personal advancement and career enhancement are focused on promoting gender diversity and ensuring women have opportunities to assume leadership roles within our organization. We are actively engaged in targeted development initiatives aimed at empowering women and creating pathways for them to advance in their careers.
A key aspect of our strategy is to encourage male leaders to become sponsors for women to assume more leadership roles within the organization. This sponsorship model plays a crucial role in not only enhancing women's professional growth but also in fostering gender-inclusive leadership within our company.
Any other initiatives that Brandix undertakes…
In addition to our internal initiatives, we also engage in community outreach efforts tailored to the specific needs of the areas we operate in. For instance, during the Covid-19 pandemic, we provided oxygen concentrators and transformed our facilities into immediate care centers. We ensure that our interventions are purposeful and directly address the needs of the communities we serve. Our commitment extends beyond the confines of our office, and we actively collaborate with local communities to make a meaningful impact.
For instance, amid the economic crisis in Sri Lanka last year, we focused on food security initiatives by partnering with organizations like UNDP and involving other private companies as well. Together, we cultivated numerous acres of land to address food scarcity.
Furthermore, our dedication to giving back is exemplified by our community blood donation efforts. Remarkably, one out of every 100 blood donors in Sri Lanka is a Brandix employee. This demonstrates that it's not solely the company's initiative; rather, it's a culture of care instilled among all our team members. While the company organizes these initiatives, it is the employees who actively participate and donate, making us the largest blood donor in Sri Lanka for the past 11 years.
Comments can be posted to RNB@asiaconverge.com